10 Creatively Inspiring Tea Packaging Designs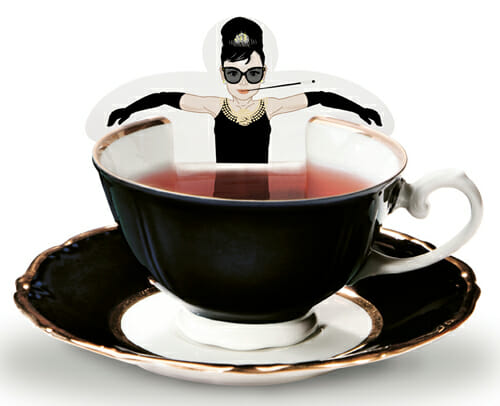 Ralph Waldo Emerson once said, "There is a great deal of poetry and fine sentiment in a chest of tea." And in recent times, the creativity and innovation that companies, as well as design students, have put into the graphics and form of tea packaging shed new light on those sentiments. Tea is one of the world's most popular beverages, serving as a hallmark of culture, leisure and nutrition – at once a luxury item and an everyday indulgence. In order to bridge those consumer gaps, graphic designers the world over have reached into their imaginations to offer the world fine tea products that are both tasty and aesthetic. And with the comforting, age-old hot beverage that is tea acting as such a creative muse for designers, we bring you ten inspiring examples of tea packaging.
10. Hanger Tea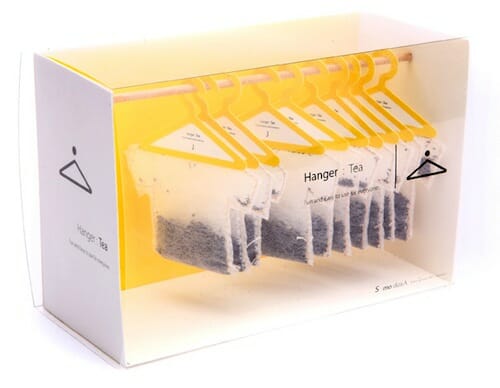 One way to separate yourself from successful mainstream tea brands is to throw in some humor. Soon Mo Kang's cheeky Hanger Tea packaging has been lauded on design blogs all over the world. The product appears easy to use: simply dangle the tea bag by its "hanger" over the inside of your mug or cup. One food blogger suggested that this might be "the best design for a teabag" but for the hook holding the bag too close to the top of the receptacle. Still, Hanger Tea fans prize the cuteness factor and inspired aesthetics of the design, in spite of those utilitarian details.
9. Tea Forté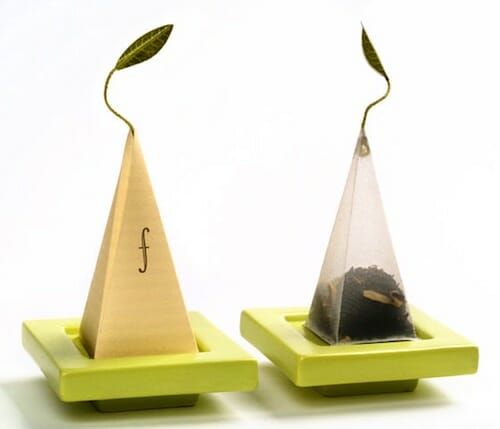 Conceived and marketed as a high-end product, Tea Forté's aesthetically pleasing teabags come close to being a work of art. The Silken Tea Infusers are each handmade, with the company boasting that such infusers are the superior method by which to enjoy tea. The sophisticated outer package design with simple leaf embellishments complements the clean look of the inner packaging. Meanwhile, the pyramid shape is timeless but also functional: unlike traditional tea bags, it accommodates first-rate whole leaf teas. Tea Forté is sold in high-end stores, tourism hot spots and spas throughout the world.
8. Dovely Tea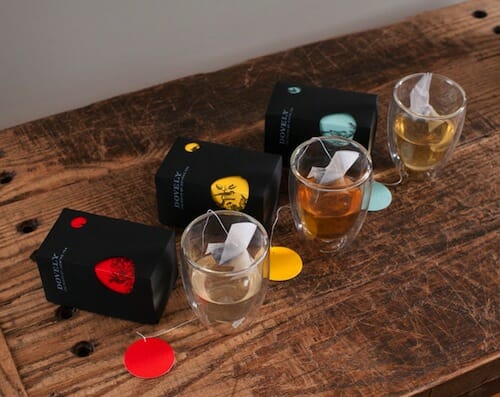 What could be more tranquil and peaceful than origami and tea? Dovely Handmade Goods blends both relaxing elements in the packaging of its products. Dovely Teas' artistic and crafty design involves textured black material with a hand-cut "window," offering a peek into what you are about to enjoy. The designers at YIU Studio fashioned the handcrafted packaging employing silkscreen, letterpress and stamping methods. What's more, the dove – hand-assembled into a tea bag through origami – is a popular symbol of peace in various religious cultures around the world, perhaps opening the door for the use of Dovely Teas in various celebratory events. In any case, available for purchase through Etsy, the product and its packaging are sure to calm and center one's afternoon cup of tea experience.
7. Lotus Seed and Red Date Wedding Tea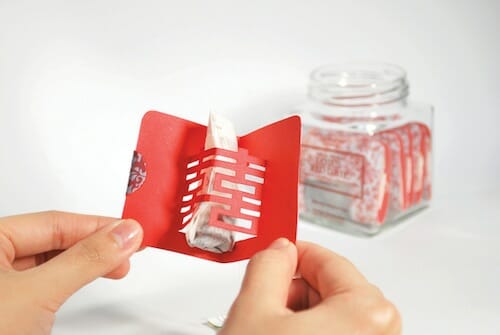 The Gryphon Tea Company affirms that its founder, Tian Wee, "expresses his creativity by creating exciting and innovative tea blends." This mission aligns perfectly with graphic designer Suzannaa's endeavor to present a distinct packaging design in a special series: the Lotus Seed and Red Date Tea for the traditional Chinese wedding tea ceremony. The tea bags themselves are wrapped within the folds of the two entwined Chinese characters for "happiness," producing a pattern signifying "double happiness." These bags are aimed at the growing sector of young, sophisticated and worldly engaged and newly married couples. Suzannaa explains that her design "consists of a fusion of modern and traditional paper cuttings, motif designs as well as the colour red, which is symbolic in Chinese traditions."
6. Lost at Sea Tea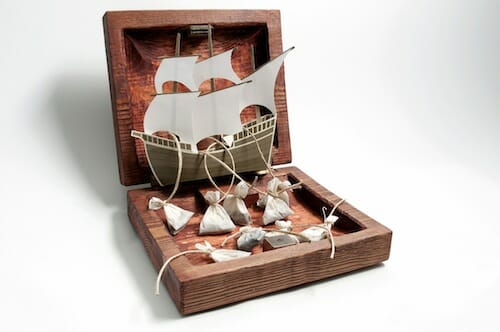 Nostalgia is an element within all graphic designers' toolboxes that needs to be carefully wielded lest it appear sappy or kitschy. It takes a clear vision and a steady focus to pull it off, and in the Lost at Sea tea packaging design, Chris Eshnaur does so with apparent ease. He discloses on his site that he created this product and company "in order to bring a more interactive approach to tea packaging." The emblematic look of Eshnaur's nautical motif draws the consumer directly into the experience. A handmade wooden box with wood-branded logo opens to reveal a pop-up ship with the tea bags tied as anchors. Remember when you used to sit with your father or grandfather, helping him put together his models? Well, even if that picture is more fancy than memory, with its creativity and craftsmanship, this unique concept is sure to enchant.
5. Halcyon Tea Company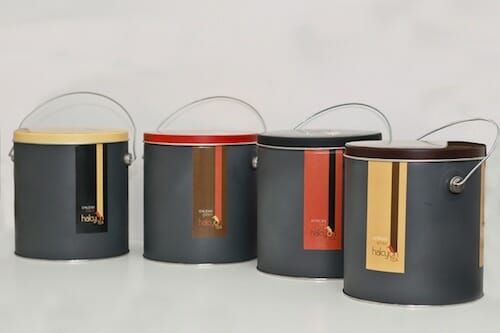 With clever paint can-style packaging like this, it's no wonder Halcyon Tea Company was honored with a Color in Design Award in 2012. In these tea package designs, a warm autumn color palette highlights a polished and chic black paint pail. What's more, a carefully selected sans serif typeface hints at the exotic while suggesting elegance. Every aspect of the design intimates a story: the person gifting you with this tea just jetted back from a foreign adventure, a safari or a glamorous rendezvous and thought of you along the way.
4. Tea Party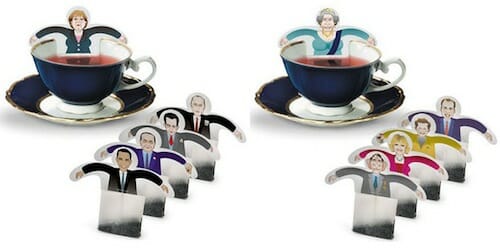 Donkey Products in Germany produces these adorably iconic tea bags under the name Tea Party and sells them in the United States through Amazon. However, fear not, this Tea Party reaches with open arms across party and national lines, representing figures like President Barack Obama and Chancellor of Germany Angela Merkel on their bags. The designers pay homage to pop culture, too, celebrating movie icons such as Audrey Hepburn in Breakfast at Tiffany's, John Wayne and Charlie Chaplin in their Cup of Fame bags. Donkey Products boasts an astounding inventory of famous tea bag character representations – from Olympic athletes to "RoyalTea," which features members of the British royal family – and they're all depicted arms spread, finding their niche in a teacup. Now you can finally say you had tea with the Queen. Fun design clearly knows no bounds.
3. Simply T Tea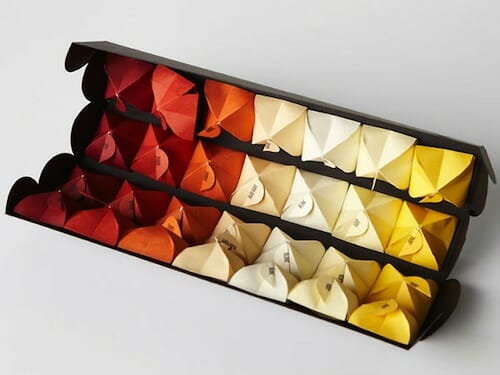 Uncomplicated and modest, Simply T packaging has captured the attention of design connoisseurs across the web. Created by Canadian design firm Paprika Works' student designer Maria Milagros Rodriguez Bouroncle, the product appears to be almost a blank canvas when closed: black and sharp with a single "T" embossed on the side. In opening the packaging, the consumer is reminded not to judge a book by its cover. The proverbial caterpillar becomes a butterfly, and the open container seems to gloat in its colorful glory. The tea pods are arranged by shade and form an impressive rainbow of the autumn color palette. Each is folded like a little flower pod – an appealing variation on the usual triangular or square bag. This clever design would make an immediate conversation piece at any dinner table.
2. Teapee Amerindian Herbal Teas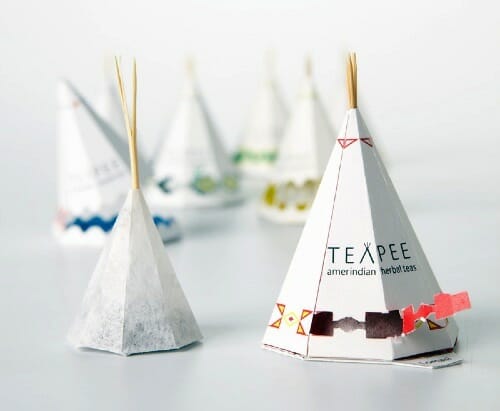 Tea is one of those commodities that is cross-cultural, and the making of teas itself holds a hallowed place in Native American traditions. Way before colonists staged the Boston Tea Party, these indigenous people brewed medicinal teas vital to their customs. Canadian design student Sophie Pépin pays tribute to this intriguing practice in her Teapee tea bag and package design. The name immediately conjures up Native American imagery – and combining it with teepee-shaped packaging is marvelous. Here, no detail is left to chance, as even the leaves seem to have been chosen to honor the native medicinal ways, while the teepee "pole" itself is utilized to steep the infusion.
1. Teastar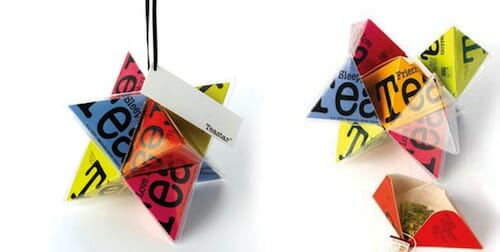 Teastar is a colorful little gift offering for your hot water available in five different organic loose leaf concoctions. Its manufacturer likens its design to that of a "yap yap toy." These items remind us of the notes we used to fold and craft in class, in the days before texts and emails. The external packaging conjures up the warmth of ornaments, and the transparent silk tea bags inside allow consumers to see their contents. The typewriter-style font is also a crowd-pleaser – a typeface likely to resonate with almost all consumers. While much tea packaging seeks to create a sense of calm, Teastar, through its mission statement, aligns itself with "stars" of a more vibrant variety – think: rock stars, film stars and starfish.