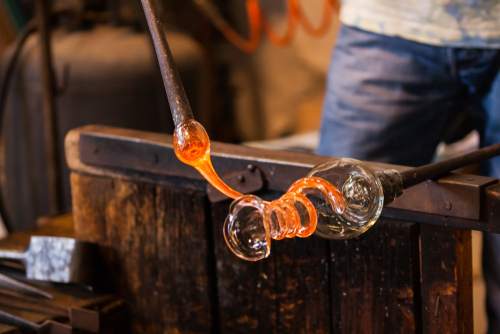 By: Kelsey Fox
As the title suggests, this is an article about the most amazing glass artists alive today, which begs the question: What makes someone an amazing artist?
For the purpose of this list, artistic greatness is defined as possessing a variety of attributes and experiments that add up to artistic eminence. These include unique processes, prestigious awards won, books written, classes taught, films, museum collections, and high-profile clients, to name but a few. It's difficult to rank artists based on the perceived quality of their work, so instead this list is ranked by the over-all length of their resume. Those artists with more impressive credits, and whose work is part of more prestigious collections, are ranked highest.
But most of all, we want to take this opportunity to highlight the dynamic and often-overlooked of glass art.
30. Carol Milne
Carol Milne is known worldwide for her unique Knitted Glass work, for which she won the Silver Award at the 2010 International Exhibition of Glass in Kanazawa, Japan. Milne began her career in Landscape Architecture, before studying sculpture, and finally, glass art. It wasn't until 2006 — when "knitting wasn't yet cool" — that Milne began to incorporate techniques of knitting, lost-wax casting, mold-making, and kiln-casting to create her Knitted Glass. Milne has won five prestigious awards and has been the subject of solo shows all around the world.
29. Sergio Redegalli
Sergio Redegalli is an Australian glass artist and the owner of Cydonia Glass Studio. He specializes in "optifuse," his own unique technique that preserves the character of broken glass shards as one inherent mass. Redegalli's most famous piece is "Cascade," a 12-ton wave-shaped sculpture that was originally commissioned for the 1988 World Expo in Brisbane. Consistent with Cydonia's specialty, "Cascade" includes 500 precision-cut pieces of 6mm clear glass. Today, "Cascade" is on permanent display in the beautiful Adelaide Botanic Gardens. Unfortunately, Redegalli has recently become more famous not for his art, but for his controversial political work against Muslims and the burqa.
28. Karen LaMonte
Not long after graduating from the Rhode Island School of Design, New York-native Karen LaMonte was awarded a Fulbright scholarship to study at glass casting studios in Eastern Bohemia. While there, she developed what has become her most famous work, "Vestige," a cast-glass, life-size sculpture of a dress. The amazing piece took a year to complete, and required the development of special technologies, including introducing the lost wax process to Czech glass casting studios. Since the creation of "Vestige," LaMonte has stuck with using clothing as a metaphor for "identity and exploring the human in absentia." She has won nine awards worldwide, and her work has appeared at the Knoxville Museum of Art, the Oklahoma Museum of Art, and the Smithsonian American Art Museum, among others.
27. Dellene Peralta
With a childhood spent in Albuquerque, New Mexico, and two musician painters for parents, it's no wonder Dellene Peralta grew up to become an artist. The graffiti-filled neighborhoods she grew up in instilled in her an appreciation of street art that is evident in the glass pipe art and signature glass high heels she has become known for. Peralta's career first took off in 2002, when she handily won Albuquerque's first annual Flame Off with a sculpture of Jerry Garcia holding a fairy. Since then, she's won fourteen more Flame Offs throughout the country, and held a feature show at the prestigious Goose Fire Gallery in Long Beach, California. In 2012, she was the only female artist featured in the film "Degenerate Art: The Art and Culture of Glass Pipes."
26. Harry Pollitt
It was as a child that Harry Pollitt first became fascinated by the movement of water around rocks in a brook. He first tried to capture the feeling of the movement with sand, then with a pen on paper, always searching for "the experience of capturing the perfect set of interconnected curved lines and planes." In 2009, Pollitt discovered the world of sculptural, kiln cast glass and, as he describes it, "the fire was lit anew." Pollitt's process includes the unique "lost wax" step, in which solid wax sprews are attached to ensure that the glass flows evenly to all parts of the piece. Pollitt is mostly self-taught, which is especially amazing considering his work has appeared in world-class galleries, museums, and expos all over the country.
25. Cathryn Shilling
British artist Cathryn Shilling is known for her bold and experimental "woven" techniques that produce art work resembling fabric more than glass. Shilling first studied glass in Connecticut, though her personal style and career didn't take off until 2004, when she returned to England and joined Peter Layton's London Glassblowing Studio. Uniquely, Shilling uses a kiln to manipulate the shape, color, texture, and light of glass. In 2012, Shilling's "Synergy Series I" was selected by the Corning Museum of Glass 'New Glass Review 33,' while another piece, "Glasswork Quilt," was selected for the prestigious British Glass Biennale.
24. Jean-Pierre Canlis
Trained in Hawaii, New York, and Washington, Jean-Pierre Canlis's big break came when Dale Chihuly hired him as a hot shop employee at Pilchuck Glass School. Canlis spent nine years working with and learning from Chihuly and Lino Tagliapietra before setting out to create his own Canlis Glass. Unlike most other galleries, Canlis's focused solely on promoting Jean-Pierre's work. Canlis says he is especially inspired by nature and the ocean (he grew up in Hawaii), and strives to make the complex simple. "Anyone can make something simple seem complex," he says. "It's taking the complex and translating it into the simplest form that inspires me." Today, Canlis's work can be seen all around the world in restaurants, hotels, private collections, and corporations.
23. Rashad Alakbarov
Azerbaijani artist Rashad Alakbarov does everything from painting and sculpture, to theatrical decoration and video art, though it's his incredible "light paintings" that land him on this list. Alakbarov held his first public showing in 2000 in Baku, Azerbaijan, and instantly found himself a critical and popular success. Like most of his pieces, Alakbarov's "light paintings" are large installations and very powerful in their subtlety. Colored shards of glass are hung from the ceiling in a pattern that then casts light onto a nearby wall. In his images of cityscapes and mythology, Alakbarov emphasizes the character of the Eastern world, global social problems, and current events. Most of his work is held in private collections in Azerbaijan, Turkey, Italy, and Russia.
22. Charlene Foster
Since moving to the United States from the Philippines at age ten, glass artist Charlene Foster has gone all over the country to better her craft and exhibit the magnificent results. Charlene first discovered glassblowing during classes at Avon Place Glass in Cambridge, Massachusetts, and since then has studied at The Boston Center for Adult Education, Penland School of Arts and Crafts, the prestigious Pilchuck Glass School, and the Corning Museum of Glass in New York. Her work has been featured in myriad art-related magazines, and has been auctioned off at The Liberty Museum in Philadelphia, The Urban Glass Blowers' Ball in New York, and at Wheaton Arts in New Jersey. Now based in Brooklyn, Foster focuses on creating custom and personalized glass jewelry for museums, galleries, and a range of high-end customers.
21. Shayna Leib
Shayna Leib first saw glassblowing when she was seven years old. "We all have that inner pyro," says Leib, "and mine wasn't the same after that." Originally from the Central Coast of California, much of Leib's artwork is inspired by her love of the sea. Her series "The Deep Aquarium" became a permanent acquisition in Hull, England, while her Wind & Water series has been acclaimed critically. Though Leib works with a long list of materials that includes ceramic, stone, metal, photography, and fabric, glass remains her professional preference for its ability to express flow and movement. Leib has won seven awards to date, and was recently nominated for the prestigious Louis Comfort Tiffany Grant.
20. Tom Fruin
Each day, hundreds of thousands of people can witness Tom Fruin's signature piece as they walk through the streets of Dumbo, cross the Brooklyn or Manhattan Bridges, or travel down FDR Drive. Fruin's "Watertower" is a colorful sculpture of — you guessed it — a watertower, and sits atop the rooftop of 20 Jay Street. The massive piece is made of approximately 1,000 scraps of locally-sourced plexiglass, and includes interior and exterior access ladders and a fully-functioning roof hatch. Born in Los Angeles in 1974, much of Fruin's work is inspired by the Funk Art of the Sixties which moved away from minimalist designs and towards complex constructions made from "forgotten" elements. Fruin has spent much of his artistic career in Los Angeles, and currently works at his studio in Brooklyn.
19. Martin Blank
After graduating from the Rhode Island School of Design, Martin Blank was given the opportunity to study with the great Dale Chihuly. Less than a decade later, Blank was creating and selling his own work while working as an instructor at the Pilchuck Glass School. Much of Blank's work celebrates what he refers to as the "complementary relationship of natural and figurative objects in space." For example, his 15-feet high, 210-feet long installation "Fluent Steps," located at the Museum of Glass in Tacoma, Washington, pays homage to water in its various incarnations. The piece consists of 754 individually hand-sculpted pieces of glass, and required a team of over 40 artists, architects, and engineers to create and install. Blank's work can be seen in Chicago, Detroit, Nashville, Seattle, and at the Bellagio Hotel in Las Vegas.
18. Kait Rhoads
With a childhood spent living on a boat in the Bahamas and Virgin Islands, it should be no surprise that artist Kait Rhoads sees beauty and artistry in all things related to the sea. In fact, it's her Soft Sculpture series, inspired by the aquatic realm, for which Rhoads is best known. Each unique sculpture in the series is made up of hollow blown glass hexagonal tubing, called "hollow murrine," linked together with copper wire. While Soft Sculptures consists of realistic interpretations of kelp, coral, and sea creatures, another of Rhoads' series, Sea Stones, is a much more subtle homage to the ocean. Rhoads has won a number of prestigious awards including a Fulbright Scholarship for the study of sculpture in Venice. Her work has been exhibited throughout the world, and can be found at the Seattle Art Museum, the Corning Museum of Glass, the Toyama Institute of Glass in Japan, the Museum of Glass in Shanghai, and the Glasmuseum in Denmark.
17. Kevin Gordon
Kevin Gordon was born in Norway, but moved to Scotland and, finally, Australia, with his glass-engraving, artist parents, Rish and Alasdair Gordon. Gordon has worked with glass for more than twenty years, and excels in both architectural glass and glass art/glassblowing. In fact, his specialized pieces are highly sought after by collectors and museum curators from around the world. His work has won a number of prestigious international awards, and many of his pieces are part of the permanent collection of the National Gallery of Australia in Canberra.
16. Christine "Chris" Wood
Christine "Chris" Wood studied glass at the Royal College of Art, where she worked on large, architectural-scale projects the dealt with issues of light and space. From that point on, the glass artist with the ironic name was left in awe of glass' potential to reflect light in colorful patterns. "Glass is a material which allows me to exploit the aesthetic potential of light," says Wood. "Minimal structures, support simple arrangements of glass, which interact with light to create complex patterns of light and shade, which change depending upon the position of the viewer and the angle of the light source." Wood has been commissioned by large corporations such as Deloitte and Touche, IPC Media, Barclays Wealth Management, The Wellcome Trust, Gardner Theobold, and Premier Inn.
15. Steve Tobin
Despite studying Mathematics at Tulane University, artist Steve Tobin has made quite a name for himself in the world of art. His portfolio includes an igloo made from the windows of M60 Patton combat tanks and glass cocoons that he hung from a chapel in Belgium, but Tobin is best known for his glass waterfalls. His "Waterglass" series may look like waterfalls miraculously springing from ceilings and stairways, but in fact they are made of 2 to 4 million glass capillary tubes! In fact, the waterfall installations, which debuted at Retretti [art museum] in Finland were so amazing that Tobin afterwards decided to retire from working with glass because "[he] could never top what [he] did at Retretti." Since then, Tobin has worked with everything from bronze to bone marrow. Besides his waterfalls, his best known piece is "Trinity Root" at St. Paul's Chapel in Lower Manhattan. Tobin took out a home equity loan to fund the $330,000 bronze sculpture, which commemorates damage done to the church during the September 11 attacks on the World Trade Centers. He works from his studio in Bucks County, Pennsylvania.
14. Sonja Blomdahl
Sonja Blomdahl's glassblowing journey began in college, when laughter from a glass class distracted her from her own drawing class. Upon earning her degree, Blomdahl attended the renowned Orrefors Glass School in Sweden before finally settling in Seattle. Today, she is well-known for her beautiful, classical pieces. Her work can be viewed in a number of museums worldwide including the American Craft Museum, the Corning Museum, the Museum of Fine Arts in Boston, the Renwick Gallery, and the White House Collection of American Craft. A former faculty member at the Pilchuck Glass School, Blomdahl currently serves on the Board of Trustees at the Pratt Fine Arts Center in Seattle.
13. Gary Beecham
Gary Beecham received his education in glass art at the J & L Lobmeyr Glassworks in Vienna, Austria. Upon returning to the United States, Beecham branched off on his own and began free-blowing, fusing, and carving his own pieces. Much of Beecham's work is influenced by ancient glass, which was often treated as a plastic gem material that could be colored, stretched, melted, and carved. Over the course of his career, he has become especially well-known for his carved glass vessels. Beecham's work has been collected by the Glasmuseet Ebeltoft in Denmark, the Dusseldorf Art Museum and Glasmuseum Frauenau in Germany, the Asheville Art Museum and the Mint Museum of Art in North Carolina, and the High Museum of Art in Georgia.
12. Ikuta Niyoko
One of the most famous glass artists in Japan, Ikuta Niyoko is known for her ethereal and geometric layered sculptures. Every piece Niyoko does is inspired by a feeling she wishes to convey. She explains, "My motifs are derived from feelings of gentleness and harshness, fear, limitless expansion experie=nced through contact with nature, images from music, ethnic conflict, the heart affected by joy and anger, and prayer." To achieve such lofty feelings, she first draws a sketch, then cuts thin laminated sheets of plate glass that she attaches in graceful shapes and designs. Niyoko's pieces have been acquired for collections at the Victoria and Albert Museum in London and the Corning Museum of Glass, among many others.
11. Ginny Ruffner
Ginny Ruffner is a glass artist located in Seattle, Washington. In 1991, she was involved in a car accident that left doctors believing she would never walk or talk again. Though the accident has left Ruffner with speech and walking problems, the artist has hardly been slowed down. In fact, Ruffner's glass sculptures have paved the way in the creation of "torchworked" glass art worldwide. Ruffner has created everything from a 30-foot tall water feature (located in Seattle) to art for pop-up books. Regardless of the project, Ruffner seeks to incorporate accessibility and thought into everything she does. Her work is in a whopping 42 permanent museum collections around the world. She has also been profiled on the NPR show "Weekend America" and in a full-length documentary by ShadowCatcher Entertainment.
10. Marta Klonowska
While attending art school in Wroclaw, Poland and Dusseldorf, Germany, Polish-born artist Marta Klonowska fell in love with using glass as an artistic medium. Today, she is known for her glass-shard sculptures of animals, especially the canine companions of important historical figures. To construct these unique works, Klonowska begins with a metal skeleton that she then carefully covers with sharp shards of colored glass. Her work has been exhibited in Finland, Germany, France, Sweden, and other European countries, and has been on display at the Corning Museum of Glass since 2011. Klonowska lives and works in Dusseldorf.
9. Rick Satava
Rick Satava first discovered glassblowing in high school, and went on to further study the art at California State University, Chico. In 1977, he opened his own Northern California-based glass studio called Satava Art Glass. Each of Satava's pieces are designed as one-of-a-kind and made from glass that Satava formulates himself. Satava's most famous pieces are undoubtedly his realistic glass jellyfish sculptures preserved in glass, which are highly sought after by clients both private and corporate. Like fellow glass artist Jack Storms, number two on this list, Satava's artwork was featured in the mass hit "Guardians of the Galaxy."
8. Richard Royal
Richard Royal is known internationally as one of the most talented glass artists in the world. A native of the Northwest, Royal began his career as a glass sculptor at the Pilchuck Glass School in Seattle. After years of hard work, and a stint as a gaffer for glass legend Dale Chihuly, Royal finally emerged as a solo artist in the 1980s. Since then, his work has found its way into the collections of notable museums such as The Mint Museum of Art + Design, The High Museum, the New Orleans Museum of Art, The Tampa Museum of Art, and the Daiichi Museum in Japan. His artwork is also owned by the SAFECO Collection, Price Waterhouse Coopers, IBM, and the Westinghouse Corporation. Royal was one of the first Artists-In-Residence at the Waterford Crystal Factory and continues to teach at Pilchuck Glass School.
7. Robert Mickelson
Robert Mickelson became one of the most important glass artists in the industry through years of hard work. Raised in Honolulu, Mickelson left school after only one year of college. While apprenticing with a professional lamp maker, he began to sell his own designs at craft fairs. A glass making class with Paul Stankard convinced him to stop doing craft fairs and to market his work through galleries. Since making that monumental decision, Mickelson's work has appeared in the finest of museums worldwide, including the Renwick Gallery of American Arts and Crafts at the Smithsonian, the Corning Museum of Glass, The Toledo Museum of Art, the Carnegie Museum of Art, and The Mint Museum, to name but a few. Mickelson is one of only a few prominent artists to work with flameworking, and has published a number of technical articles about this unique process.
6. Howard Ben Tré
Thanks to a rough start in glass blowing, Howard Ben Tre has become what "Glass" magazine calls a "pioneer" in the technique of pouring hot glass for casting. From his studio in Pawtucket, Rhode Island, Tre creates fine art castings by pouring molten glass into sand molds, applying heat, and then cooling them for months at a time. The form is then sandblasted, cut, ground, and polished before individual designs, such as gold leaf, are added. His work has been called "part of the glass revolution," "timeless," and a "kind of pleasure that we don't usually associate with art." Tre's piece, "Siphon," is currently on display at the Metropolitan Museum of Art in New York City, and various works exist at the Corning Museum of Glass.
5. Lino Tagliapietra
Most glassblowing artists today have Lino Tagliapietra to thank for many of the processes and techniques that have become the industry norm. Born in 1934, Tagliapietra grew up on the Italian island of Murano, where glass making has been an island tradition since at least 1291. Such an environment provided an ideal education for Tagliapietra, who began his first apprenticeship at age 12. When he became a "maestro" at age 25, he married Lina Ongaro, whose family has been involved in Venetian glass production for centuries. Since then, Tagliapietra has continued to both create and teach. He creates his own colors that he uses almost exclusively in his own work. His pieces exist in museums and galleries all over the world, with an especially impressive piece — a 35-boat glass armada — located at the Columbus Art Museum in the United States.
4. Sidney Hutter
From his studio in Newton, Massachusetts, renowned glass artist Sidney Hutter designs original, sculptural glass vessels. Each Hutter piece is created using a one-of-a-kind design style influenced by architectural art and consisting of unique cutting, polishing, and laminating processes. His work is mostly three dimensional, and has become more and more technically complex over the years. Hutter's pieces are part of numerous collections both public and private, including the Boston Museum of Fine Arts, the Metropolitan Museum of Art, the Museum of Art and Design in New York, the Renwick Gallery, the White House Craft Collection, and many Hyatt and Hilton hotels throughout the world.
3. Jack Storms
Since discovering his love for contemporary art at a later age, Jack Storms has developed an incredibly rare type of glass art work that has solidified his name in the history books of the industry. In fact, his intense cold-glass process can take up to 24 labor-intensive weeks for a single project. Each glass sculpture begins with a core of lead crystal which is cut, polished, and laminated to create reflective mirrors. When wrapped in optical glass, the refraction of light as it passes through creates rainbows of color. Then it's hours and hours of repetitive grinding, cutting, and polishing. Storms utilizes the Fibonacci Theory (a mathematical theory about math as seen in nature) to create natural flow and beauty into each of his pieces. Since opening his own studio, StormWorks, in 2004, Storms has received nothing but success. His work has been commissioned for Derek Jeter and the President of Nigeria, among many others, while two of his pieces recently appeared in the film "Guardians of the Galaxy."
2. William Morris
There aren't many living artists who can say they've changed the history of art, but William Morris is one of the very few. Educated at California State University-Chico and Central Washington University, Morris entered the world of glass art as a truck driver for the Pilchuck Glass School. While there, he learned the art and eventually worked his way up to the role of instructor. Since then, he has created pieces with the intent of adding to the "architectural record of humankind." Unlike most of the other artists on this list, Morris manipulates glass's ability to transform into wood, bone, fiber, and sinew, and much of his work is inspired by ancient civilizations. Though Morris officially retired in 2007, his work can be seen in the Metropolitan Museum of Art (New York), the Corning Museum of Glass (New York), the American Glass Museum (New Jersey), Hokkaido Museum of Modern Art (Japan), Musee des Arts Decoratifs (Paris), Auckland Museum (New Zealand), and the Victoria and Albert Museum (England).
1. Dale Chihuly
Ask a random person on the street to name one glass artist and they will almost certainly come up with Dale Chihuly. Even in the field of blown glass, Chihuly's work is unique and often resembles large-scale sculptures. A series of accidents that left him with an injured right shoulder and a blind left eye caused Chihuly to make the momentous decision to become "more choreographer than dancer, more supervisor than participant, more director than actor" to his work. Since stepping back, Chihuly and his team have created and sold more than $29 million in artwork. Permanent Chihuly collections exist in 32 states at such notable locations as Makers Mark Distillery (Kentucky), University of Wisconsin, St. Peters Church in New York City, Rockefeller Center, the Bellagio Hotel (Las Vegas), the Mayo Clinic (Minnesota), and Chihuly Garden and Glass in Seattle.
Related Resources: