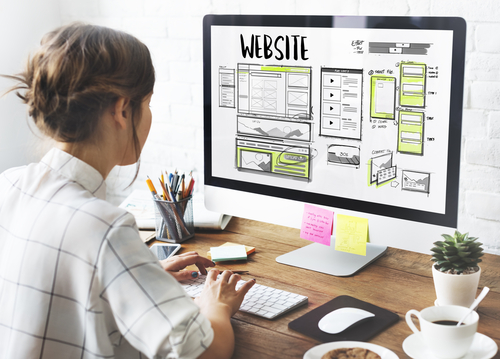 In a world where technology has taken on increasing importance and the user experience is paramount, graphic design and web development jobs proliferate. One would be hard-pressed to find a single successful corporation out there that doesn't have a significant web presence. Students who plan on getting a graphic design degree or a degree in web development should do what they can to find at least one internship that will suit their needs, build their tech skills, and enhance their creativity. Below is a list of both challenging and prestigious graphic design and web development internships, most of which are with Fortune 1000 companies.
The selection was first compiled by selecting the corporations from the Forbes Fortune 1000 List that offer attractive programs to students majoring in graphic design, computer science, or information technology, with an emphasis on web development. The companies are presented in order of their Fortune 1000 ranking. This selection was then supplemented with a limited number of companies not on the Fortune 1000 List that offer interesting opportunities to tech students. You will find that the list provides something for everyone, as opportunities exist in industries ranging from telecommunications to journalism to computer software.
Apple
Internships and Co-Ops
Website
Understandably, computer science and graphic design students often want to intern at Apple. Apple has been at the forefront of computer technology for years now and has designed interactive graphics and user interfaces for some of the most popular high-tech gadgets in the country. Students who are accepted into the company's internship/co-op program work on critical projects such as designing new iPads, developing the next generation Mac operating system, and manufacturing and marketing new products.
Company's Fortune 1000 Ranking: 6
Hewlett-Packard
Java Developer Internship Program
Website
Hewlett-Packard is known for delivering top-notch products and services to the information technology world. Java developers at HP work with software developers to design and test new products and web components, provide technical advice to clients, and enhance code performance. Developers also get to put their knowledge to good use by creating new pieces of code for various projects.
Company's Fortune 1000 Ranking: 15
Microsoft
Technical Writer Internship
Website
Most people who think of the IT industry don't expect people working in said industry to have a degree in English or Communications. However, technical writing is important to many computer and IT companies, and Microsoft is one of them. Tech writers are responsible for designing, developing, and deploying various content across many functional areas. Much of their writing ends up on the web and represents the Microsoft brand on the internet.
Company's Fortune 1000 Ranking: 35
Amazon
University Tech Internships
Website
Part of Amazon's success is due to the fact that it infuses everything the company does with a focus on technology. As an internet retailing site, Amazon has a definite need for web developers and programmers. Web developers must have both a knowledge of various technologies, such as JavaScript, HTML5, and SQL, as well as a strong design aesthetic. Web development interns work on projects across a variety of affiliate sites and are responsible for converting design concepts into high-quality code and a positive web interactive experience for customers.
Company's Fortune 1000 Ranking: 49
Intel
Graphics Architecture Internship
Website
Graphic architecture interns at Intel have a lot of responsibility, so most candidates have just completed a master's degree in computer science, electrical engineering, or a related field. Interns collect graphics and GPCPU workload characteristics, propose models for new architectural features, and study the performance and power of current architecture. Interns take on a crucial role in brainstorming solutions and giving presentations about experimental results.
Company's Fortune 1000 Ranking: 54
Google
User Experience Internships
Website
As a company that has perhaps a stronger presence on the internet than any other business in the world, Google considers the user experience to be incredibly important. Google hires user experience interns to work on web development and graphic design projects that will take complicated processes and make them easy to use for consumers. After interns prove themselves, they are often given the lead on projects and are valued for their unique ideas and creativity.
Company's Fortune 1000 Ranking: 55
Walt Disney
Creative and Graphic Design Digital Media Internship
Website
Working as a graphic design intern for Walt Disney is the perfect way to combine your creativity with a love for the entertainment industry and all things Disney. Students who are hired for these positions have a number of responsibilities, including developing mobile apps and games for children, working on animation projects for use in product development, and creating miscellaneous content for the company's digital networks.
Company's Fortune 1000 Ranking: 66
DirecTV
Graphic Design Internships
Website
Working at DirecTV is a great way to get experience working at the number one entertainment provider in the United States. The company hires students majoring in a variety of subjects, including graphic design and information technology. Internships are 12 weeks long and are available to both undergraduate and graduate students. Interns get ample opportunity to network and explore different career opportunities while being compensated at competitive rates.
Company's Fortune 1000 Ranking: 102
Nike
Footwear Product Development Internship
Website
Graphic design isn't all about web development – some companies hire graphic artists to come up with product designs as well. At Nike, interns learn how to turn two-dimensional designs into 3D renderings that can then be applied to actual products. Interns are part of the creative process from start to finish and are assigned various special projects over the six month duration of their internship.
Company's Fortune 1000 Ranking: 126
Xerox
Multimedia Development Internship
Website
Multimedia interns at Xerox are responsible for developing web-based learning solutions at one of the world's premier companies for document management and business processes. Interns are responsible for creating interactive content, producing multimedia artifacts by incorporating their aesthetic vision, and integrating animation and graphics into a variety of content. Students should be knowledgeable about a variety of computer and graphic editing programs and have experience with web development.
Company's Fortune 1000 Ranking: 131
Arrow Electronics
Web Development Internship
Website
Web development interns at Arrow Electronics support the company's e-commerce business by developing website code, reviewing code developed by other teams, troubleshooting applications, and participating in design sessions. As a part of the internship, students participate in networking opportunities, working with an individual mentor, giving presentations in front of executives, and getting to know coworkers in small forums.
Company's Fortune 1000 Ranking: 141
CBS Corporation
Sports Graphics Internship
Website
Working in sports graphics at CBS is perfect for students who are creative and love design but also have an interest in sports and the news. Students must have an artistic imagination and be able to work with interactive production teams and graphic artists to guide multimedia projects from start to finish. By working with CBS, students will find that their work reaches millions of people each week.
Company's Fortune 1000 Ranking: 186
eBay
Mobile Software Engineering Internship
Website
Mobile software engineers at eBay are responsible for developing web applications for smart phones and conducting web testing. Interns should have experience with multiple coding languages, know how to interface front-end and back-end components, have a strong creative streak, and possess as passion for building things. Students are lucky enough to tap into a number of key benefits as eBay employees, such as social events and health and wellness programs.
Company's Fortune 1000 Ranking: 196
Viacom
Graphics, Creative Design, and Digital Design Internships
Website
Interns at Viacom can work in several different creative areas. Off-air creative design interns work with the visual communications department to handle print materials and advertising campaigns, on-air graphics interns work with designers and animators to prepare graphics for on-air broadcasting, and digital design interns use a variety of software programs to craft images for web publication.
Company's Fortune 1000 Ranking: 198
Barnes and Noble
Nook Creative Internship
Website
Creative interns within the Nook division of Barnes and Noble get practice working with a list of visual design, animation, and web technologies to produce products and content for the company's e-reader. During the 10-week internship students are compensated, participate in Lunch & Learns, get access to senior management officials, and gain exposure to multiple business areas – even outside their field of study. Interns are also assigned to summer-long projects and are expected to give a presentation regarding their progress at the culmination of the program.
Company's Fortune 1000 Ranking: 360
Cablevision
Graphic Design Internship
Website
Students interested in cable programming and television entertainment can find internships within several areas of study at Cablevision. The company looks for students to take on positions in promotions, sports, studio operations, graphics, and interactive media, among others. This internship is the perfect opportunity to combine an affinity with graphic design with an interest in journalism and the media.
Company's Fortune 1000 Ranking: 382
Hershey
Graphic Design Summer Internship
Website
Working at Hershey is ideal for intern candidates who have a desire to work in the entertainment or hospitality industry. Hershey graphic design interns collaborate with the creative services department to create graphics and multimedia presentations related to seasonal events, photo shoots, and commercial shoots. Interns also design content for use in advertisements, brochures, billboards, and miscellaneous marketing materials.
Company's Fortune 1000 Ranking: 384
Mattel
Design Internship Program
Website
The Design and Development Team at Mattel offers internships to both design and engineering students. These interns take on design projects of medium complexity and are expected to employ their creativity and problem-solving skills to come up with solutions to product design issues. Internships typically last for twelve weeks over the summer.
Company's Fortune 1000 Ranking: 395
Gannett
Talent Development Intern Program
The TDIP at Gannett offers students a great opportunity to enter the job market while gaining experience in digital operations, multimedia journalism, digital sales, and mobile development. Interns are given both a mentor and a TDIP Graduate Ambassador and are sometimes offered stipends over the course of the program, which could last anywhere from 10 weeks to 12 months.
Company's Fortune 1000 Ranking: 467
Avaya
IT Internships – Web Development
Website
Web developers at Avaya are primarily responsible for front-end quality assurance by performing defect tracking and debugging. Interns must be familiar with all the basics of web development, including Javascript, HTML5, Unix/Linux, and content management. In addition to QA, interns will also take on responsibilities related to data entry and tracking.
Company's Fortune 1000 Ranking: 477
Facebook
Design and User Experience Internships
Website
Most web developers and graphic designers would love the chance to get IT experience at Facebook, a company with one of the largest online presences in the country and which helped popularize the value of social media. Interns within the Design and User Experience department take on a variety of roles and responsibilities, which could include incorporating research and insights into product cycles, running statistical analyses, and working to improve the customer experience.
Company's Fortune 1000 Ranking: 482
Frontier Communications
Design Internship
Website
Frontier is a telecommunications company specializing in broadband, voice, and video communications as well as internet data access. Design interns at Frontier work with interdisciplinary teams to work on projects ranging from print design to digital interactions to multimedia presentations. Students should be skilled at prototyping and production as well as have a clear passion for visual design.
Company's Fortune 1000 Ranking: 492
Yahoo!
DNS Operations Internship
Website
Yahoo! hires a number of interns each year to assist on projects related to the maintenance of their Mail, Flickr, Fantasy Sports, News, and other web outlets. Operations interns could be assigned to any number of departments, but generally should have an understanding of C Programming, Perl or Python, Unix/Linux system administration, and shell scripting, among other IT topics. Students will construct and maintain high-performance networks and manage site security, to name but two responsibilities.
Company's Fortune 1000 Ranking: 494
CA Technologies
UI/UX Design Internship
Website
CA Technologies is an IT management solutions company that provides customers with complex IT environments to help maintain and secure business services. Design interns must have strong graphical user interface skills and be able to invent creative solutions employable through HTML/CSS coding. Internships are twelve weeks long for 25 to 30 hours a week, and participants are compensated for their time.
Company's Fortune 1000 Ranking: 499
Discovery Communications
DNews Production Internship
Working for Discovery Digital Networks means creating content for the generation of TV watchers that streams most content via the internet. Productions interns' responsibilities include producing graphics for thumbnails, creating descriptive content for shows, and assisting with general studio production needs. Applicants must be proficient in Photoshop, be highly creative, and be willing to commit to working at least 24 hours a week.
Company's Fortune 1000 Ranking: 531
Adobe Systems
Technical Internships
Adobe, as a software company, is a great place for web developers and graphic designers to intern. Interns receive overwhelming benefits, including competitive salaries, holiday pay, social events, community service opportunities, employee discounts on Adobe products, and numerous networking experiences. Computer science and IT majors can find technical internships in areas as diverse as software engineering, user interface engineers, and information systems specialists.
Company's Fortune 1000 Ranking: 540
Apollo Group
"DevOps" Operations Team Internship
"DevOps" interns at Apollo mostly work with engineering and applications teams to develop programs for online learning platforms. Interns are responsible for building, maintaining, and implementing various infrastructure projects; creating automation tools, and using Ruby to collaborate around the maintenance of existing tools. Interns also must be able to troubleshoot effectively and should have experience in customer service.
Company's Fortune 1000 Ranking: 554
Intuit
User-Center Design Internship
Website
Intuit seeks interns on an annual basis for their summer training programs and hires students from IT/computer science backgrounds that include expertise in engineering and quality assurance, finance, process excellence, marketing, and user-centered design. Students work on assignments with clear-cut goals, benefit from a "buddy program" that provides supplemental guidance, network during fun social events, and get the chance to meet Intuit's senior leaders.
Company's Fortune 1000 Ranking: 558
Electronic Arts
Arts, Development, and Engineering Internships
Website
Students who have a love for video games and have played any of the ones that EA offers would thoroughly enjoy an internship at Electronic Arts. Internships include those in the arts (animators, modelers, computer graphics artists, etc.), engineering (gameplay programmers, programmers specializing in graphics, etc.), and development leadership (producers and game designers). Responsibilities include everything from creating animated characters to using software programs to craft background designs.
Company's Fortune 1000 Ranking: 565
Quad/Graphics
Display Design Internship
Website
Working in Display Design for Quad/Graphics entails completing a number of creative and technical tasks. Interns collaborate with lead designers to design POP displays, incorporating aesthetically pleasing designs to increase customer satisfaction, and developing 3D renderings using software programs such as Adobe and 3D Studio Max. Students should be majoring in design or a related field and be knowledgeable about CAD software.
Company's Fortune 1000 Ranking: 567
Washington Post
Newsroom Web Design Internships
Website
The Washington Post offers Newsroom Internships in areas such as visual journalism, interactive production, and web design. Internships tend to last for twelve weeks, during which interns are matched with projects at the local, sports, finance, editorial, and style desks. The program is an especially good experience for students who hope to get paid experience in the field of journalism, and there's no reason interns can't find their work featured on the front page!
Company's Fortune 1000 Ranking: 580
Expedia
Software Design Engineer
As an internet retail corporation, Expedia has a significant need for students with both technical and business prowess. Regardless of their major, interns need to be entrepreneurial and have superior problem-solving skills. Software designers or "Code Gurus" at the company are responsible for creating all the underlying architecture that powers Expedia's many interactive, web-based products. Applicants should have experience with C++ on a Windows platform as well as multiple other technologies.
Company's Fortune 1000 Ranking: 583
Tiffany
Information Technology Internship
Just because the Tiffany company primarily sells jewelry and is not as web-based as others on this list doesn't mean that the business doesn't have a need for IT interns. The responsibilities of students in these positions include tasks ranging from supporting client technology to building up web services. Applicants must have experience with software programs such as MS Office and should have excellent time management and organizational skills.
Company's Fortune 1000 Ranking: 611
SiriusXM Radio
Web Design Internship
Website
Although you might not think of radio as an industry requiring the needs of visual artists, even the largely audio-based SiriusXM still has a website to maintain! Web design interns report to the Director of User Experience and use software programs like Photoshop and Illustrator to create various design elements, including production-ready graphics, for use on the company website. Candidates should have substantial experience in web design and be proficient in multiple software applications.
Company's Fortune 1000 Ranking: 652
HSN
Digital Commerce Internship
Website
Careers at HSN combine the excitement of TV retail with the challenge of information technology. Digital commerce interns work at the corporate headquarters in Florida and collaborate with staff members in the search engine optimization (SEO), affiliate management, and social media departments. Students integrate their knowledge of technology with the importance of marketing to drive web traffic and create executable content on multiple media platforms.
Company's Fortune 1000 Ranking: 666
Citrix Systems
Marketing and Design Internship
Website
Marketing and design interns at Citrix are responsible for using multimedia solutions to market HR programs; contribute visual materials to emails, blogs, posters, etc.; design aesthetically pleasing materials for employees; and update communications across a variety of web platforms. Interns may also need to prepare presentations and/or help plan special events. All applicants should be skilled at creating visual content that is appealing to Citrix Systems' primary audience.
Company's Fortune 1000 Ranking: 789
Groupon
Tech Internships
Website
As one of the primary internet retailers in the discount product space, Groupon requires the help of several IT aficionados, web developers, and graphic designers to keep its site interface functioning with maximum ease and accessibility to users. Tech interns work on both local and global projects and gain experience working on everything from mobile applications to GPS integration. All interns work alongside mentors and have the opportunity to provide designs that are seen by millions.
Company's Fortune 1000 Ranking: 851
Autodesk
Software Development Cloud Platform Internship
Website
Interns at Autodesk have the unique opportunity to help software developers create cloud platforms and explore various open-source technologies. Students who are hired for these positions are tasked with building up client libraries, creating infrastructure for distributed tracing systems, and working with other projects that make up the Autodesk portfolio. Students should be pursuing a computer science degree and have experience with languages such as Java and Scala.
Company's Fortune 1000 Ranking: 853
Scripps Networks Interactive
Broadcast Design and Motion Summer Internship
Website
Scripps is a global media company that offers ample graphic and web design opportunities to those interested television and the media. Interns who work in the Design and Motion Department assist with logo and storyboard designs, style guides, branding, billboards, graphics packages, marketing promotions, and other miscellaneous graphics projects. The internship is ideal for students majoring in digital media who are able to commit to regular part-time work over twelve weeks in the summer.
Company's Fortune 1000 Ranking: 855
AOL
Graphic Design Internship
Website
AOL has been around since the early days of the internet and continues to maintain a large web presence. The company hires interns for a number of departments, including graphic design, where students get practice designing functional, crisp graphics for use in online marketing materials. Interns provide assistance on presentations, contribute their perspective on essential department functions, and are often asked to assist with assignments in other IT departments.
Company's Fortune 1000 Ranking: 880
E*Trade Financial
Technology Internships
Website
Although E*Trade is primarily a financial services company, it has a need for technology interns who can help maintain and update the business's advanced web and mobile applications. Participants who are selected into the program receive nine weeks of training, including six weeks of intensive education in one of several departments, including mobile applications development, systems engineering, or server systems engineering.
Company's Fortune 1000 Ranking: 883
Valassis Communications
Desktop Artist Internship
Website
Desktop artists at Valassis utilize their technical knowledge and skills to create media products, execute visual projects to maximize consumer impact, and interpret work requests from internal clients. Interns may also interpret typesetting, assemble digital files, and create various multimedia layouts for the web. The ideal candidate will have a degree in graphics as well as professional experience after high school or technical school.
Company's Fortune 1000 Ranking: 893
New York Times
Thomas Morgan Internships in Visual Journalism
Website
Internships at the New York Times are not unlike those at the Washington Post listed earlier in this article. The NYT offers a specific subset of internships for design, graphics, and photography students. Design interns work with art directors to produce the visual displays for both print and online publications, and should have experience with typography. Graphics interns work with the appropriate editors to create charts, graphs, and diagrams; participate in design specialist workshops; and create other miscellaneous graphics materials for widespread publication.
Company's Fortune 1000 Ranking: 923
VeriFone
Graphics Design Internship
Graphic designers at VeriFone take on a number of roles within a company that is a leader in the electronic payment technology industry. Interns are responsible for collaborating with other team members to create easy and accessible user interface elements for point-of-sale functions. Students must be able to understand products' operations and business rules as well as have the ability to incorporate transaction flows into graphics.
Company's Fortune 1000 Ranking: 984
Business Insider
Graphic Design Internship
Website
Business Insider is another media outlet with the need for an intern with strong graphic design acumen. Interns must take on everything from basic Photoshop design requests to more complex assignments, such as the creation of charts and infographics. Students who are hired for this position are encouraged to stretch their creative capabilities as they as they build relationships with other designers and journalists. Interns are encouraged to have fun in the position and are even allowed to take ping pong breaks!
Company's Fortune 1000 Ranking: N/A
Moment
Graphic Design Internship
Students who are perfectionists, detail-oriented, and highly creative should consider interning in the graphic design department for Moment. The company's clients include widely recognized names such as ESPN, Walt Disney, Bloomberg, and American Express, and interns are tasked with the creation of beautiful, functional design projects for use across multiple platforms. Applicants should be able to articulate their ideas clearly, have knowledge of working technologies such as HTML and CSS, and be working toward a degree in graphic design.
Company's Fortune 1000 Ranking: N/A
Strategic Air and Space Museum
Graphic Design Internship
Working at the Strategic Air and Space Museum provides a unique opportunity to meld interests in technology, engineering, and education. Graphic design interns work closely with the marketing and public relations department to create posters, brochures, postcards, web graphics, advertisements, and other design projects in conjunction with the museum. Applicants must have experience with Adobe Creative Suite and have prior professional experience in graphic design.
Company's Fortune 1000 Ranking: N/A
VOX Global
Web Development Internship
VOX Global is a bi-partisan public policy firm that works with many well-known companies and organizations around the globe. Web developers work with the digital team to create cutting-edge multimedia and digital campaigns for use in politics. These paid internships require candidates to be knowledgeable in both HTML and CSS and to have experience in Dreamweaver, WordPress, and numerous social media platforms, as well as other software applications.
Company's Fortune 1000 Ranking: N/A
Marvel Entertainment
Web Design Internship
Website
Working for Marvel is a dream come true for graphic designers who have a strong comic-loving and superhero-worshipping streak. Interns work in both New York and California and in all of Marvel's entertainment segments, including comics, movies, and television shows. Web design interns help code the back end of the Marvel website and must be skilled at HTML production, MySQL, PHP, and Quality Assurance, among other tasks.
Company's Fortune 1000 Ranking: N/A
Kennedy Center
IT (Electronic Media Department) Internship
The Kennedy Center, one of the premier entertainment venues in the nation's capital, offers interesting web development internships that charge students with the task of maintaining all Kennedy Center and National Symphony Orchestra web pages. Interns also work on electronic mailing campaigns and graphic creation, and so must have knowledge of Dreamweaver, ColdFusion, Flash, and Fireworks. Internships are ideal for students who thrive in a fast-paced environment and can commit at least 40 hours a week to the job.
Company's Fortune 1000 Ranking: N/A
Related Resources:
Sources: