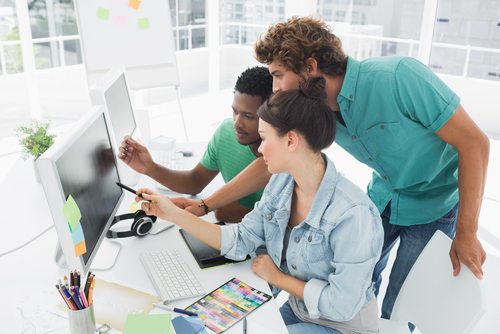 An internship is not formally required for most graphic degree programs, but they are highly encouraged. Certain companies, such as Pixar and Disney, primarily hire through their internal internships. Most employees expect potential hires to have a bachelor's degree, a completed internship and an impressive portfolio.
What are the Benefits?
Graphic design internships are the best ways to acquire hands-on skills while learning real world applications and techniques. Interns are able to gauge how much they have learned, identify their strengths and improve their weaknesses. Interns usually complete their program with stronger creativity and confidence. This is possible because interns interact with many creative minds and have ample opportunities to fine tune their artistic skills and innovative ideas. Internships introduce interns to current trends and techniques used in the graphic design industry. This includes new software programs and changing preferences for standard processes. Internships allow provide exclusive networking opportunities that may result in long lasting relationships and job opportunities down the road.
What are the Drawbacks?
Only approximately half of all internships are actually paid. This may create difficulties for college students who are living on a budget. It may also create problems for full-time students who are working. Internships may require long-term planning and even a small loan to temporarily pay for expenses. Competition for prestigious internships will be fierce and successful interns must be wary of complacency once they are accepted. Some of the work that interns perform may seem menial and monotonous. In the end, unpaid internships still provide valuable skills, contacts and experiences.
What are Typical Internships Like?
Most internships will expect the individual to be currently enrolled in a related program or be a recent graduate. Interns must have demonstrable passion, innovation and entrepreneurial drive. Thus, interns must have the right balance of art, business, technology and project management skills. Most interns work at least 20 hours per work, but some may work up to 30 hours. Interns are often assigned to work with senior graphic designers and assist with support tasks. Interns must have excellent verbal, written and interpersonal communication. Interns should also be quick learners, self-starters and work well without supervision. They must also have the ability to work well under pressure and meet tight deadlines.
Sample Internships
A graphics design intern that is assigned to a sales or marketing department will be expected to be proficient in and knowledgeable of social media platforms and programs like Adobe Photoshop and Illustrator. They will accept direction from other team members, prepare initial sketches and apply feedback to hone their skills and improve their sketches. They will create a variety of content for social and digital media projects on a variety of platforms. Conversely, a production artist intern will use approved sources to add new graphics to print advertisements. They may be tasked with proofing and revising ads by checking for missing elements or re-arranging graphics.
The benefits of a graphic design internship can be maximized through avoiding complacency and building an impressive portfolio.
Related Resources: