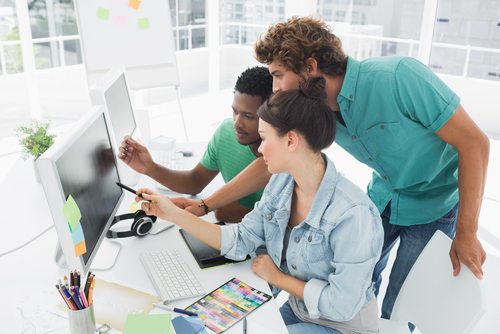 The Importance of Internships
Above all, a degree in graphic design is required to begin a career in the field. But in many cases, companies want a portfolio from degree holders appended to it.
Colleges are aware of this, with many graphic design majors working closely with businesses relating to the profession. Graphic design is a rewarding career choice that has a higher rate of success when students are engaged in internships before completing their courses.
Most are unpaid but some are, though the benefits of having experience with clientele and people further into the career outweigh the temporary lack of compensation. Truthfully, students do pick up lots of useful information and extend their reference when salaried employment comes along.
Should a Graphic Design Internship be Undertaken?
An internship is not formally required for most graphic degree programs, but they are highly encouraged. Certain companies, such as Pixar and Disney, primarily hire through their internal internships. Most employees expect potential hires to have a bachelor's degree, a completed internship and an impressive portfolio.
What are the Benefits?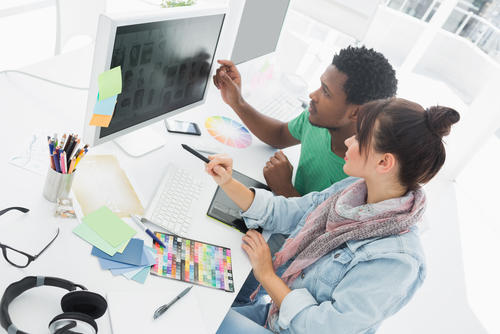 Graphic design internships are the best ways to acquire hands-on skills while learning real-world applications and techniques. Interns can gauge how much they have learned, identify their strengths, and improve their weaknesses. Interns usually complete their program with stronger creativity and confidence. This is possible because interns interact with many creative minds and have ample opportunities to finetune their artistic skills and innovative ideas. Internships introduce interns to current trends and techniques used in the graphic design industry. This includes new software programs and changing preferences for standard processes. Internships allow providing exclusive networking opportunities that may result in long-lasting relationships and job opportunities down the road.
What are the Drawbacks?
Only approximately half of all internships are paid. This may create difficulties for college students who are living on a budget. It may also create problems for full-time students who are working. Internships may require long-term planning and even a small loan to temporarily pay for expenses. Competition for prestigious internships will be fierce and successful interns must be wary of complacency once they are accepted. Some of the work that interns perform may seem menial and monotonous. In the end, unpaid internships still provide valuable skills, contacts, and experiences.
What are Typical Internships Like?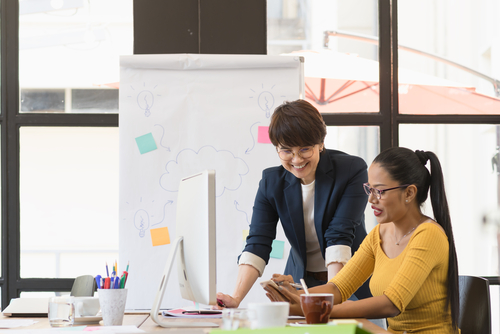 Most internships will expect the individual to be currently enrolled in a related program or be a recent graduate. Interns must have demonstrable passion, innovation, and entrepreneurial drive. Thus, interns must have the right balance of art, business, technology, and project management skills. Most interns work at least 20 hours per work, but some may work up to 30 hours. Interns are often assigned to work with senior graphic designers and assist with support tasks. Interns must have excellent verbal, written, and interpersonal communication. Interns should also be quick learners, self-starters, and work well without supervision. They must also have the ability to work well under pressure and meet tight deadlines.
Sample Internships
A graphics design intern that is assigned to a sales or marketing department will be expected to be proficient in and knowledgeable of social media platforms and programs like Adobe Photoshop and Illustrator. They will accept direction from other team members, prepare initial sketches and apply feedback to hone their skills and improve their sketches. They will create a variety of content for social and digital media projects on a variety of platforms. Conversely, a production artist intern will use approved sources to add new graphics to print advertisements. They may be tasked with proofing and revising ads by checking for missing elements or re-arranging graphics.
The benefits of a graphic design internship can be maximized by avoiding complacency and building an impressive portfolio.
Frequently Asked Questions


1. What is the primary benefit of internships for graphic design?
Other than working while learning during semester courses, an internship done by a graphic design major involves doing many of the activities that a permanent employee would do. However, some of the responsibilities might be lowered. The benefits are plenty.
Knowing how a job works by participating in it during the study shows employers that students have or are picking up the capacity for learning the job at an early point. The earlier the experience, the more students will know how to work with clients, engage co-workers, and let their creativity show in the work they create for them.
Exposure to the career lets them build connections for other employers to consider when they scout for new talent. Additionally, a graduate majoring in the field can potentially earn a higher salary starting with a new job. They come into it knowing the peculiarities of completing tasks and duties.
2. Are internships recommended after completing a degree?
If a recent graduate hasn't taken an internship but wants to, it's highly recommended. Even while students should do this before graduating, the experience is the same. Based on the circumstances, finishing school before interning might be in the best interest of an individual student.
Not all students have the time or capacity to succeed in their course, hold a salaried job, an intern at the same time. But for those that do, the payoffs come sooner than the graduates choosing to wait late. Getting a good-paying job is the intention, a goal easier to reach as a student intern. Graduates then focus their post-college efforts on finding positions that aren't entry-level.
3. What is the difficulty in getting accepted for an internship during college?
Most college-level internships are available for students working a bachelor's. Applications vary from when they're open to students. Some internships might take place in the summer months to avoid interference with a student's study. However, work could be present during semesters as well. Some companies could have work on the weekends but there are positions open for students to work on weekdays.
As far as difficulty in acceptance is concerned, a business may actively scout for students that are interested or have a relationship with a particular college. Alternatively, applying by contacting businesses is an option, though it might take longer to land an interview for an intern position. It isn't uncommon for college students to apply with several organizations before work contacts them.
4. What are the long-term results of starting an internship early?
With any job, skill, experience, and a degree are what later set them up for long-term positions, higher salaries, more opportunities to learn different skills related to graphic design.
For instance, an internship within the final year of a student's time in college can commission them into work in a leadership position with a company. If this occurs, senior positions could open, one where they get to oversee the work of others.
Client recommendations will come faster, as will a larger portfolio to show. For interns with an interest in later doing freelance work as a career, familiarity with work at a company can set them up for a relationship with clients years later into their self-employment.
5. How best to balance the need for income with an internship?
A frequent complaint about internships is their lack of duties that provide payment to the interns undertaking them. However, some internships are paid. These positions aren't always easy to find, a business might offer them to interns that are expected to remain with the same company after finishing their degree.
Many colleges offer assistance to students having trouble balancing out internships, work, and the responsibilities given to them in class. Many internships and jobs can adjust the work schedules of students to fit better with time in between study and their free hours. Interns typically don't work a full week when courses are being attended. This could change around summer breaks.
6. Does having the experience of an internship look good on a resume?
Companies that employ graduates with a graphic design major will often look to see if there's any experience included on their resume. An internship provides them with firsthand on-the-job training and an understanding of how seasoned graphic designers work.
Recruits must be confident that job seekers know the subject on paper with a degree and whether they understand the duties they employ for in practice. Internships increase the depth of a graduate's learning in the workplace.
Past internship experience can even open doors to related careers, such as UX design. It's a portfolio in itself and helps recruits get a glimpse into how quickly a graduate will catch on to duties without needing extensive training.
7. What are the day-to-day activities of interns working in the graphic design profession?
On most days, graphic design interns will work with digital materials to craft digital media. Work could be done for a client or a different organization entirely. Using the software, interns may alter incomplete images. A deadline could be given for when the media is expected to be quickly submitted.
Given that the job is an internship, it's within reason for interns to expect a thorough review for much of the work they submit before being given to clients. Some course projects might be assigned for this, where the work interns do is part of assignments set forth by a professor.
The creation of printed material is also commonplace for graphic design interns. A creative director may work above an intern, monitoring presentations done before they're evaluated by a graphic design manager.
Crafting images and printouts can't always be done without close collaboration from many parties. Interns may work together in groups, particularly when major projects are in the works. Some of the software used is identical to what's learned in coursework, such as InDesign, Illustrator, or Photoshop. Stil, graphic design is in no way limited to these programs.
If asked to show a presentation on their own, it helps them to better articulate their work and explain their designs to co-workers, supervisors, and clients.
Programming may also be learned. Knowing a programming language helps designers in building a larger portfolio. Done also as an extension for a larger project, programming skills with graphic design are abilities that game developers look for, same as illustrators, event planners, and auxiliary software development positions.
8. Do graphic design interns create pieces for clients or make more innovative curations?
Most graduate-level designers are encouraged to let their talent show in their creations. Something to be expected on grounds of them taking college courses. But at some point, interns are taught how to handle tougher assignments, duties that aren't always fun or innovative for designers.
Although graphic designers enjoy working with clients, the work can sometimes become repetitive. But regardless of repetition, the tasks done must be fresh and unique with every presentation. Learning to build distinguishing art, illustrations, and printouts makes students sharpen their expertise, while before finishing their degree.
9. Will graphic design internships become harder to pursue during the completion of a degree in the future?
Nothing specifies this to be a possibility. The requirements for graphic design majors to successfully finish their degree may change, as will some basic requirements that are to be learned. But the internships themselves will remain. Wherever there are graphic design programs in a good college, internships shouldn't be too difficult to find.
10. Can a graphic design degree holder have a successful career without an internship on their CV?
A college degree in graphic design might be enough to land a job, especially for job seekers with a relevant bachelor's. The internship expands the chances of getting jobs without the hassle of having to wait or start an internship at a more inconvenient time. The intern experience is attractive by giving more assurances to people with no experience whatsoever.
11. Can Self-Taught Designers Succeed?
Self-taught graphic designers do exist, though it becomes an exceptionally harder career without the proper major.
Many majors are related to graphic design, however. These include marketing, UI design, 3D illustration, and fashion design. With certain jobs, one or more of these form networks and collaborate. The fundamentals of graphic design are often learned in their careers, even while some of it might not feature as part of their coursework.
Building a Portfolio with a Graphic Design Degree
Graphic design is a challenging and fulfilling career set about from the moment college begins. Students can grow their expertise and talents with internships from the start. More jobs than ever ask college graduates about their participation with internships. Starting one before graduation could be the factor that puts a student ahead of other recruits for a good job.
Related Resources: