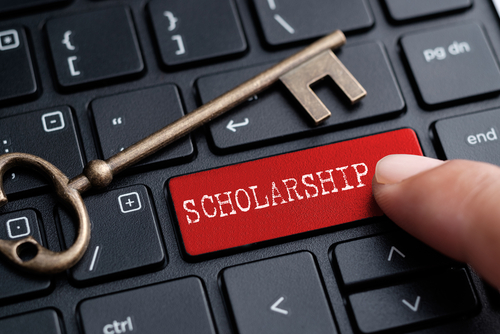 Today's websites use increasingly sophisticated graphics to improve the visitor experience, and most designers consider enrolling in graphic design degree programs to prepare themselves for this exciting career field. While web development firms are the most popular employers of many graphic design graduates, there are also career opportunities available to them in traditional advertising agencies, print design firms and corporate marketing departments. However, job growth for the career field is expected to be slower than average according to the Bureau of Labor Statistics, and many prospective graphic designers wonder if the cost of getting a degree in graphic design is worth it when they are not guaranteed to find jobs in their field immediately after graduation. Here are some examples of scholarships that are available to graphic design students to help them realize their academic dreams in this highly creative field.
The Most Promising Logo Design Scholar
Nearly all branding strategies include the development of logos that are inspiring, endearing and memorable. Some graphic design students excel in this niche area of visual design and understand how to make their unique pictures capture the spirit of a product, company or industry. A private company called FreeLogoServices awards graphic design students $1500 scholarships for original logo designs relating to the automotive, construction and beauty industries. Additionally, students must demonstrate one year of academic excellence in a graphic design program and provide two letters of recommendations. Winners of the scholarship can also start establishing their professional reputations in the industry as their design work gets published through the company.
Graphic Arts Entrepreneurial Spirit Scholarship
The Electronic Document Scholarship Foundation (EDSF) offers several financial awards for students who major in document management and graphic communications related disciplines. One of the awards is called the Graphic Arts Entrepreneurial Spirit scholarship that is a part of the Andy and Julie Plata Honorary Scholarship fund. The $2,000 scholarship rewards graphic design students who demonstrate the desire to start their own design firms or to support the design interests of fledgling businesses. EDSF administers its own scholarships as well as other awards that are sponsored by companies operating in the document management and visual design sectors. Funding for the awards come from organizations like Canon, Pitney Bowes and the Xerox Corporation. Students who apply for the Graphic Arts Entrepreneurial Spirit Scholarship are eligible for other EDSF scholarships.
Artistic Excellence in Print Design and Marketing Scholarship
Much of the work done by graphic designers is used in marketing campaigns that seek to promote awareness of products, services, companies and people. Industry leaders understand that fresh ideas are needed to fuel progress in the marketing career field, and some decide to invest in future visual artists. For instance, a printing and design company called Printaholic awards $1000 annually to a deserving undergraduate or graduate graphic design student who has a cumulative grade point average of at least 3.0 at an accredited university in the United States. Competing students must brand themselves and submit personal marketing packages that include business cards, flyers, posters and brochures that depict their marketing and graphic design prowess. The personal marketing portfolio should tell the story of artists' goals and previous academic achievements.
Conclusion
Many scholarships are available to those who want to major in graphic design at an accredited university. However, the competition for those financial awards may be high, and students enrolled in graphic design degree programs need to be prepared with top notch portfolios of their work and possibly work experience through internships.
Related Resources: