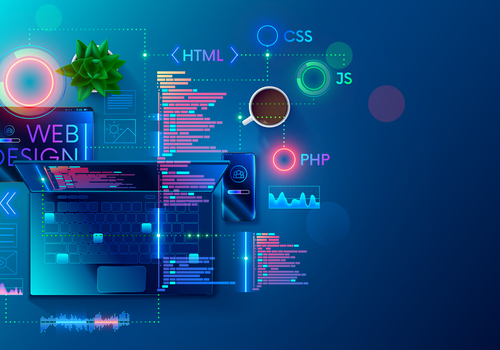 Individuals who are interested in building computer programs are often torn between the worlds of coding and graphic design, a factor which leads to an important question: Is coding for a graphic design degree right for me? By learning more about the fields of coding and graphic design, you can make an informed decision regarding which career path would be most appropriate and advantageous for you. 
What Is Coding?
In the world of computers, coding is defined as the process of writing, assembling, or otherwise compiling computer codes. The "code" is basically the instructions for hardware and software that make them function properly. For example, HTML is a type of computer code or "language" which you can appropriate for the purpose of creating a web page. Coding is an integral aspect of computer processes such as the analysis, understanding, and problem-solving work pertaining to the world of algorithms. Specifically, coding work involves the implementation of an algorithm in a target programming language.
What Is Graphic Design?
Although both coding and graphic design involve the use of computers, the latter field is vastly different from the former. In short, graphic design is a field that involves effectively conveying messages to an audience through the use of words, space, and image. (This field is often viewed as a subset of communication design and visual communication, but it can also be deemed synonymous to the aforementioned fields as a result of the fact that the skills involved in each sector overlap.) To convey meaning to their audiences, graphic designers employ visual arts, typography, and various page layout techniques to create an aesthetically appealing and/or idea-rich concept. Oftentimes, graphic designers make use of logos and branding, print advertisements, billboards, posters, signs, and/or website graphics to communicate with the public. One reason that many people feel drawn to pursue graphic design professionally results from the fact that the images and ideas produced through it are ubiquitous and can have a profound effect upon their observers. As AIGA notes in discussing the scope of the field, "From humble things like gum wrappers to huge things like billboards to the T-shirt you're wearing, graphic design informs, persuades, organizes, stimulates, locates, identifies, attracts attention and provides pleasure."
Coding vs. Graphic Design
Individuals who find themselves torn between pursuing a career in coding and graphic design often do so because of their love for computers and the creative processes they involve. However, recognizing the distinctions between the two fields can help you decide which will be more appropriate for you. For example, coding generally involves working with numbers and computers in a somewhat methodical, mathematical way that is more scientific than "creative." On the other hand, graphic design affords individuals the opportunity to make use of their artistic and creative abilities through the construction and modification of images and words. If you prefer being creative in a manner that involves playing around with language and icons in order to produce a meaningful and aesthetically appealing final product, graphic design may be an excellent alternative to coding.
Conclusion
If you are thinking about pursuing a career in coding or graphic design, you should know that either field can offer personal and professional benefits. By learning more about the difference between the two degrees and the type of work you would do within the respective fields, you can answer a simple and important question: "Is coding or a graphic design degree right for me?"
Related Resources: