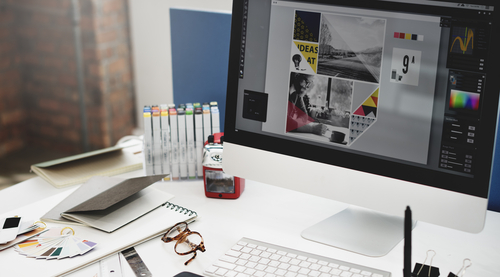 If you want to earn your graphic design degree without committing to a face-to-face school, consider earning your graphic design degree online. The only difference between a traditional school and an online school is that you need to do most of your learning on your own. You won't have a professor sitting in his or her office waiting for a student to drop by, and you can't get advice from your classmates in the library. For many students, online graphic design courses let them convert their interest in graphic design into a high paying career.
What do Graphic Designers do and Where do They Work?
Graphic designers look at the needs and budgets of their clients and create products for those clients. They often use computer software and programs to create those products, but some designers still use pen and paper. They choose the type of font, colors and background images used in the materials and they work with the slogans, logos and other materials given to them by advertising companies. Graphic designers can work for advertising companies, for some of the leading publishers in the world or in the manufacturing industry.
Types of Online Graphic Design Degrees
Though you can earn your design degree online, you need to give some thought as to the type of degree that is best for you. An associate's degree is good for those who want a basic introduction to the field. You can complete this program in two years or less, but you won't take many in-depth courses. Students usually spend around four years in these programs, but you can finish your degree faster. Once you finish your graduate degree, you can apply for a master's level program in graphic design.
What Classes do You Take?
Online graphic design students take a large number of courses that prepare them for working in the digital world. While some programs still offer traditional courses that deal with creating advertising for newspapers and magazines, most programs now focus on the digital world. You'll take courses on taking digital images and editing those images, using publishing software to create publications from a computer and graphic design for the web. Many online schools also give you the option between focusing on traditional print media and digital media.
How to Avoid Scams
When you look at earning your graphic design degree online, you need to realize that not all schools are the same. Scam schools, also known as diploma mills, abound on the Internet. The U.S. Department of Education refers to a diploma mill that does not have accreditation from a government approved agency and/or a school that gives students credit for work experience. Many scam schools also do not offer many courses and give students the option of earning a degree in just a few weeks or months after making one payment. These programs often prey on those studying art and design. Before handing over a single penny, make sure you choose a good school with accreditation.
Graphic designers use art and design techniques to create advertising space, websites and hundreds of other products for their clients. While you can take classes face-to-face and earn your degree through a traditional college, you can also save money, have access to the same classes and have more free time when you earn your graphic design degree online.
Related Resources: