September 2016
An artsy scene and creative vibe is often the soul of a small town. Community theaters, art fairs, statues and street murals — a town proud of its art and artists is the type of place that people want to move to, or at the very least, visit on the weekends.
Featured in this article are the 20 most creative small towns in America. To come up with a definitive list, we first considered only those towns that have populations of fewer than 100,000 people. Beyond that, we considered the towns' aesthetic beauty, number of hosted festivals and art fairs, the existence of things like community theaters and art galleries, and overall artsy vibes.
1. Abingdon, Virginia

Founded in 1778 in the midst of the beautiful Blue Ridge Highlands, Abingdon, Virginia is a charming town full of old wood-frame houses, brick sidewalks, tree-lined avenues, and tons of history. Abingdon is also the home of Barter Theater, one of the nation's most acclaimed performing arts stages and the longest-running professional Equity theater in the country. Patricia Neal, Gregory Peck, Frances Fisher, Ned Beatty, Hume Cronyn, and Ernest Borgnine have all performed here at one time or another. The theater draws nearly 200,000 people annually, most of whom come to Abingdon specifically to see a show produced by Barter's full-time company.
2. Berea, Kentucky

1960s San Francisco meets Little House on the Prairie in Berea, a small town in western Kentucky that is just as famous for its annual arts fair as it is for its counterculture and hippie vibes. Home to hundreds of working artists, Berea hosts the annual Berea Craft Festival that attracts both artists and art lovers from all over Kentucky and the surrounding region. The quality of art is top-notch at the Fair and includes everything from handcrafted furniture and glass works, to pottery, jewelry, leather works, and just about anything else you can think of. Even on a normal day in Berea, one is likely to enjoy a walk through the gallery-heavy downtown where artists from all walks of life are proud to display their creative endeavors.
3. Bisbee, Arizona

When the local copper industry failed, Bisbee, Arizona became better known for its eclectic arts scene and artists' colony. Referred to as "Greenwich Village West," Bisbee's art ranges from the over-the-top and unique to classic. On the same downtown block, one is likely to see local residents dressed in 19th century attire, cars festooned with toys or painted images of hula girls, and high-end galleries filled with expensive landscape photography or painted portraits. On every second Saturday of the Month, the Bisbee After 5 art walk helps to spotlight the town's more than 30 galleries, plus the many local musicians. Speaking of music, Bisbee's chamber music series, For the Love of Music, offers outdoor concerts from the fall through the spring.
4. Carmel-By-The-Sea, California

With its classical Spanish architecture, lush vegetation, and stunning views of the Pacific Ocean, beautiful Carmel-By-The-Sea is practically a work of art itself. Carmel has long been a favorite getaway spot for the rich and famous (Clint Eastwood was once its mayor), most of whom are attracted to the town's natural beauty and the more than 80 art galleries selling everything from modern sculpture to landscape photography. The 700-seat Sunset Center hosts world-class musicians and vocalists, while the Golden Bough Playhouse, Circle Theatre, and the outdoor Forest Theater also produce quality shows throughout the year.
5. Cody, Wyoming

The Rocky Mountain backdrop, teeming wildlife, and crisp air all make Cody, Wyoming a pretty inspiring place. The local art league, with the help of an arts council, is credited with helping Cody evolve from a sleepy Wild West town whose main claim to fame was a gate to Yellowstone Park, into an artsy town that has attracted both eclectic artists and traditional craftsmen — with the expected amount of Western Art artists and galleries, too. Each year, Cody celebrates its arts scene with the Rendezvous Royale, during which the Buffalo Bill Art Show & Sale attracts art lovers from far and wide.
6. Delray Beach, Florida

It wasn't long ago that Delray Beach, Florida was a boarded-up ramshackle place. Luckily, the artists stepped in, and today Delray Beach is a non-stop beach town with a downtown area that has been called the "artsiest" in America. Art galleries and trendy clubs and restaurants line the town's vibrant streets. Delray Beach's exciting music scene happens around The Arts Garage, where unique and experimental forms of music are produced daily. For artists, the go-to place is Artists' Alley, a section of downtown in which old industrial warehouses have been converted into innovative galleries and workshops. At the Delray Beach Center for the Arts, the 100-year old former high school, artists have access to a number of spaces in which to rehearse and rehearse visual art. Art is everywhere in Delray Beach, and to show it all off, the town also hosts frequent Art Walks for the community and visitors to fully enjoy all that is being created here.
7. Fredericksburg, Texas

Settled by German immigrants in the 1800s, Fredericksburg, Texas is a charming small town that has both a distinctly Bavarian vibe and a thriving arts scene. Acclaimed galleries line the downtown area, and include those of Dan Pfeiffer, the innovative contemporary sculpture artist Johann Eyfells, and classically trained Dresden artists Friedrich Richard Petri and Hermann Lungkwitz. The Fredericksburg Art School and the Fredericksburg Art Guild are both active community organizations, and often put together art festivals, fairs, and walks to show off the local talent.
8. Gatlinburg, Tennessee

Gatlinburg, Tennessee may be better known for its more touristy spots (think Elvis-themed wedding chapels), but beyond all of the neon and commercialism is a thriving artistic scene that can trace its roots back to before the American Revolution. Indeed, the studios and workshops of the largest independent arts community in North America are located just outside the Gatlinburg city limits. Explore the eight-mile Tennessee Heritage Arts & Crafts Trail, and you'll see dozens of artists whittling, painting, sewing, casting, weaving, silver-smithing, carving, basket weaving, and quilting, plus making everything from candles and leather, to jewelry, dolls, and stained glass. This is one of the few places on earth where such traditional art forms are being celebrated, and in most cases, the artists are creating their pieces using the same methods and tools as their ancestors.
9. Lewisburg, West Virginia

Lewisburg, West Virginia may not be near any big cities, but it is a hub for all things theater, dance, and music-related. Lewisburg's famous Greenbrier Valley Theatre produces nearly 200 shows a year, and not surprisingly, theater lovers flock in from all over the country to see them. The Lewis Theater, located just down the street from the Greenbrier, is home to the Trillium Performing Arts Collective. Finally, Lewisburg has one of only four remaining Carnegie Halls, which hosts musicians from all over the world, and puts on a free outdoor summer concert series that is popular with both locals and visitors.
10. Madrid, New Mexico

It might be more accurate to call tiny Madrid, New Mexico — population 150 — an artist's commune, rather than a small town. The town was founded nearly half a century ago, when a group of artists left big cities like Boston, Pittsburgh, and Detroit for a "two-week vacation" that turned into a lifetime. Madrid, located between Santa Fe and Albuquerque, is a colorful collection of old wooden houses, galleries, and studios all held together by a wood-plank sidewalk. Over 40 shops sell unique and wonderful pieces, while a smattering of restaurants (including an old-time ice cream parlor) are perfect resting spots during a day of viewing and shopping for Madrid's one-of-a-kind pieces.
11. Manitou Springs, Colorado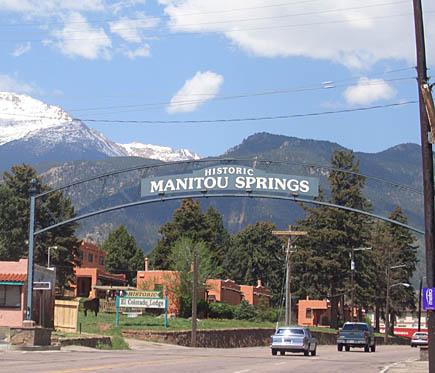 Not only is Manitou Springs, Colorado one of the most colorful small towns in America, it is also one of the most creative. Situated at the foot of beautiful Pike's Peak, Manitou Springs is home to dozens of boutiques and funky art galleries, plus more than 20 working studios for the town's growing artist population. To show off these artists' work, Art Walks occur frequently, while art fairs and festivals (some of which also feature the town's impressive chamber music organization) present further opportunity for artists to showcase and sell their pieces. Even a walk through Manitou Springs' downtown will yield views of all kinds of public pieces that help to brighten this already colorful little town.
12. Marfa, Texas

There is a lot to love about little Marfa, Texas, beginning with the town's quirky arts scene. Unique art installations dot the entire town, and range from thought-provoking to downright strange. Downtown, several art galleries and the Chinati Foundation, a contemporary art museum that houses what the New York Times described as "the last great American art of the 20th century," can be enjoyed by art aficionados and newbies alike. Another unique art gallery, Ballroom Marfa, exists in an historic building from the 1920s, while the Marfa Film Festival is an annual event that combines the town's unique appreciation for art with the medium of film.
13. Montpelier, Vermont

Montpelier, Vermont, the smallest of the 50 state capitals, has long enjoyed a reputation as an artistic community. The Vermont College of Fine Arts and the renowned New England Culinary Institute are both located in Montpelier, the latter of which provides a solid base for the city's impressive collection of restaurants, cafes, bakeries, and even bars. Museums and galleries are also abundant in Montpelier, and each year the city plays host to the Green Mountain Film Festival.
14. New Bedford, Massachusetts

New Bedford, Massachusetts has been called by Complex.com one of the "10 Cities That Creatives Should Move to That Aren't NYC or LA," and has on numerous occasions been named one of the most artistic cities in America. Part of the reason for New Bedford's stellar artistic reputation is the AHA! organization, which raises money to help support the town's artists and overall artistic cause. A visit to New Bedford's "work of art" urban park is one way to experience the town's authentic artsy vibe, while downtown's Alison Wells Fine Art Studio & Gallery, Gallery X, Arthur Moniz Gallery, New Bedford Art Museum, and the Zeiterion Performing Arts Center are all worthy stops for any kind of art lover.
15. Oxford, Mississippi

Creativity is the beating heart of Oxford, Mississippi, where dozens of talented and well-known writers, performers, artists, musicians, and filmmakers live and work. Oxford fully embraces its artistic reputation, and hosts a variety of music, theater, dance, comedy, and book-related events throughout the year. The University of Mississippi is in Oxford, and its Ford Center for the Performing Arts hosts top-quality concerts and musicals put on by performers both local and world-renowned. The Double Decker Festival occurs around mid-Spring, while Oxford's most famous event, its annual book conference, draws book lovers and other literary minds from all over the world.
16. Portland, Maine

Over the last decade, hundreds of artists, photographers, writers, and designers have moved to Portland, Maine, and the city's infrastructure is beginning to reflect their many talents and contributions to local life. The historic Old Port waterfront district has become one of the trendiest places in town, complete with new shops and restaurants. Another popular area is Bayside, a district that has transformed scrap yards and warehouses to student housing, fun eateries, and even a popular bowling alley. Touring Broadway shows now stop in Portland, though that hasn't taken away from the town's own opera company, two ballet companies, and symphony. On the first Friday of every month, community members and local artists gather together for First Friday Art Walk, a popular gallery-hop in Old Port that shows off the work of many local artists.
17. Sag Harbor, New York

Sag Harbor, New York may be a 200-year old fishing village, but in recent years it has gained quite the reputation as an artsy scene. The downtown streets are lined with boutiques and art galleries of all styles and price ranges. During the summer, the town hosts a number of art shows and fairs, plus dance performances and a series of outdoor theater events. At any time of year, the Bay Street Theatre produces excellent productions that draw audiences from the local area and beyond. Much of Sag Harbor's growing arts scene has been thanks to the Sag Harbor Fine Arts Center, an  organization that has done a fabulous job fostering anything and everything creative in their small town.
18. Santa Cruz, California

A small coastal town with a popular boardwalk attraction, Santa Cruz, California is one of those rare places that still completely embraces artistic vibes of the hippie culture. Santa Cruz boasts a ton of public art works, all of which are both fascinating and accessible to the public. On the first Friday of every month, an event aptly named First Friday showcases musicians both local and big enough to headline one of the area's famous venues like The Catalyst or Moe's Alley. Music lovers will also appreciate the Grateful Dead archive housed here. Whether you're walking the Santa Cruz Beach Boardwalk, hanging around the shoreline, or wandering through the nearby redwood forest, you're likely to run into someone painting, photographing, or creating.
19. Stockbridge, Massachusetts

Located in the Berkshires, Stockbridge, Massachusetts is a picture-perfect little village that comes alive with the arts during the warm summer months. The Berkshire Theatre Group, the Tanglewood Music Festival, and the Stockbridge Summer Crafts & Art Show are all popular events hosted by Stockbridge and attended by both locals and art-loving tourists. But Stockbridge is most famous as the hometown of the great Norman Rockwell, whose artwork captures the same American spirit that Stockbridge seems to so naturally embody. The Norman Rockwell Museum, which also exhibits a number of his most famous works, is a must-visit on any trip to Stockbridge.
20. Taos, New Mexico

Incredible natural light, awe-inspiring landscapes, and a unique spiritual scene began to draw artists to Taos, New Mexico over 100 years ago. Since then, Taos has grown into a vibrant artistic community known for the Southwestern Art its local artists most commonly create. Ouray Meyers, the son of acclaimed Western artist Ralph Meyers (he's known for his depictions of the Native American pueblo), owns two galleries here, and loves to reminisce about the days during which artists like Georgia O'Keeffe, Ansel Adams, Nicolai Fechin, and Buck Dunton all frequented Taos. Contemporary art may be becoming more popular here, but for now, one of the best artsy spots in town remains the 1,000-year old Taos Pueblo, where jewelry, beadwork, carvings, pottery, and weavings are all being created using traditional Native American methods.