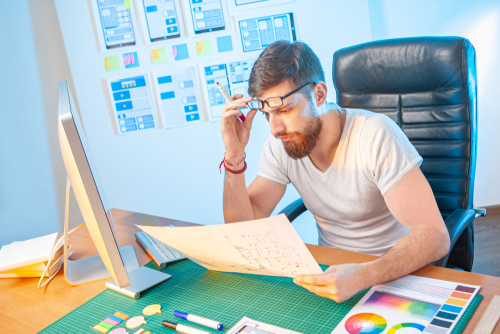 Travel
Pick Up A New Hobby
Read A Non-Fiction Book
Start A Personal Project
Take Time Off
Graphic designers are known as creative magnets; that's why beating a creative slump is so important for them. Because they are constantly solving problems with their imagination, it's imperative that they give their imagination a break and find ways to exercise their creativity in other ways. The following five tips are great ways for graphic designers to overcome creative blocks all while building their imagination.
Travel
Travel is a great way to move past a creative slump; people get to have a change of surroundings, they're no longer following their usual routine, and they encounter new things on a daily basis. Usually, when people think of travel, they think of taking a plane to Hawaii or the Bahamas, basking in the sun or spending time on the beach. While this is a good way to relax and unwind, graphic designers don't have to go that far in order to get out of their creative slump. Travel can be as simple as taking a short road trip in-state or heading out on a day trip once a week. This is a simple and cheap way to change a professional's surroundings, giving them new inspiration and, with a little luck, new perspective on a current or upcoming project.
Pick Up A New Hobby
Everyone benefits from learning a new hobby now and then, but it's a great way for graphic designers to learn how to look at problems differently. New hobbies tend to have a set of skills that a designer may not be used to, making it necessary for them to problem solve in a way that may take a while for them to get used to. Working problems out with a new set of problem-solving skills can result in a new perspective on work projects, enabling them to use creative skills from a hobby to inform how they move forward in their professional lives.
Read A Non-Fiction Book
This may come as a shock but reading non-fiction books can be as helpful for creative slumps as fiction. In fact, it can be more helpful because non-fiction books tend to focus on events or people rather than building an imaginary world from scratch. Graphic designers would benefit from reading a non-fiction book on any subject of their choice; chances are that they will find some inspiration from the pages that they are reading whether it's for a proposal on an upcoming project or a new way to complete a design task for a current project. Non-fiction books can also help professionals identify new fields that they may want to lend their design skills to in the future, such as the nonprofit sector or a technological industry.
Start A Personal Project
Personal projects are one way for a graphic designer to get out of a creative slump that results in a personal achievement. By building up a personal project, one that does not have guidelines or deadlines such as work commitments, graphic designers can put in as much, or as little, effort in their chosen project as they like. This helps them switch from professional tasks to more creative ones, freeing up their imagination and enabling them to explore new ideas and skills. In the end, not only will they have a project they can put on their resume, but they will also probably have a better perspective on any other creative problems that they may be facing.
Take Time Off
While this is not feasible for all graphic designers, sometimes a timeout on designing is required. Most designers in the field are overworked and underpaid, adding to their stress level. They don't know how to shut off from work because it's always looming over them. That's why taking a vacation or at least unplugging from work for a weekend is crucial to the creativity of a designer. They must have time away from their projects in order to reset their minds and give their imagination a rest. Coming back to work with a relaxed mind is one of the most effective ways to get out of a creative slump.
American society sees creativity as a commodity; even Forbes has written an article about how important it is for professionals. But if graphic designers can't overcome a creative slump, how do they move forward with their careers? The five ways written about above are certainly not the only tips available, but they will help graphic designers get out of a creative slump.
Related Resources: