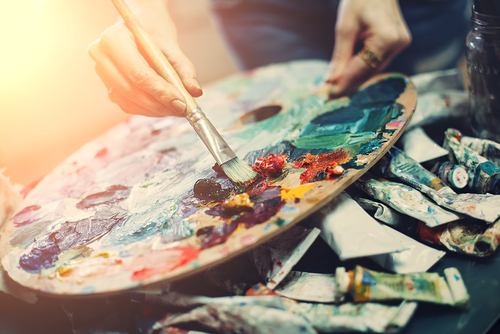 What makes someone an amazing artist? For the purpose of this list — which includes women from artistic fields such as photography, painting, fashion design, illustration, and more — artistic greatness is defined as possessing a variety of attributes and experiments that add up to artistic eminence. These include unique processes, prestigious awards won, books written, classes taught, films, museum collections, and high-profile clients, to name but a few. It is difficult to rank artists based on the perceived quality of their work, so instead this list is ranked by the overall length of their resume. Those artists with more impressive credits, and whose work is part of more prestigious collections, are ranked highest.
1. Annie Leibovitz
Photographer
It is hard to believe that any woman has changed the face of art more than Annie Leibovitz, whose iconic portrait photography has spanned more than forty years. Inspired by photographers such as Robert Frank and Henri Cartier-Bresson, Leibovitz began her career as chief photographer at Rolling Stone magazine in 1973, a position she held for ten years before branching out on a solo career. Her work quickly became known for the intimate moments she seemed to capture with subjects she says "open their hearts and souls and lives to you." Over the years, Leibovitz has photographed the Rolling Stones, John Lennon, Queen Elizabeth II, Miley Cyrus, Demi Moore, Dolly Parton, and so many more. Much of her most recent work appears in Vanity Fair magazine.
2. Kathryn Bigelow
Film Director
In the male-dominated world of Hollywood, there is no one quite like Kathryn Bigelow. A film writer, producer, and director, Bigelow is responsible for directing movies such as Near Dark, Point Break, Strange Days, The Weight of Water, and K-19: The Widowmaker. Over the years, Bigelow has become known for the flawless and feminine imagery brought to gritty films such as The Hurt Locker and Zero Dark Thirty. In fact, Bigelow became the first woman to ever win the Academy Award for Best Director with 2009's The Hurt Locker (she also won the Directors Guild of America Award for Direction, the Critics Choice Award for Best Director, and the BAFTA Award for Best Direction).
3. Vivienne Westwood
Fashion Designer
Dame Vivienne Westwood is a fashion designer who is largely considered to be responsible for bringing modern punk and new wave fashions into the mainstream. Westwood came into public notice in the 1970s, when she teamed up with Sex Pistols member Malcolm McLaren to make clothes for his King's Road shop. Since then, she has opened a number of her own stores and become the go-to designer for companies and private clients. Marion Cotillard, Duchess Camilla of Cornwall, Gwen Stefani, and Pharrell Williams are just a handful of the many notable figures to frequent Westwood. Not surprisingly, Westwood has served as the major influence for a number of up-and-coming designers throughout her long career.
4. Yayoi Kusama
Artist and Writer
It is impossible to pin Japanese artist Yayoi Kusama into one single artistic category. Throughout her long career, Kusama has worked in painting, collage, scat sculpture, performance art, and environmental installations. In fact, Kusama dealt with pop art, minimalism, and feminist art movements before they were popular, making her an influence on contemporaries such as Andy Warhol and Claes Oldenburg. Even more impressively, Kusama is also a published novelist and poet, and has even created notable work in film and fashion design. In 2008, Christie's New York sold a Kusama piece for a record $5.1 million, and in 2015 Artsy named her as one of the Top 10 Living Artists.
5. Eunice Golden
Expressionist Painter
A one-time psychology student, Eunice Golden is now a well-known figurative expressionist who explores sexuality and the women's liberation movement. Golden produced much of her most iconic work in the 1960s and 1970s, during which time she was one of many artists actively fighting censorship in the art world. Her revolutionary series "Male Landscapes" was highly controversial, but created a buzz among art historians that still exists today. In the 1990s, Golden's work evolved into a study of the relationship between mother and child — a theme brought on by the untimely death of her son. Golden's work is still included in various exhibitions depicting the political side of women's art.
6. Nan Goldin
Photographer
Nancy "Nan" Goldin is a photographer best-known for her work featuring LGBT-related themes. From the time she was first handed a camera at age 15, Goldin has been heavily influenced by such artists as Andy Warhol, Federico Fellini, and Helmut Newton. After graduation, Goldin moved to Boston and immersed herself into the city's gay and transsexual communities. These communities were the subject of her first solo art show. Interestingly, most of Goldin's exhibitions appear in the form of a slideshow, her most famous being a 45-minute show in which 800 photo slides are shown. Goldin continues to photograph love, gender, domesticity, and sexuality, but a 2002 hand injury has unfortunately left the great artist with less mobility in her hands.
7. Marina Abramovic
Performance Artist
Marina Abramovic is a Serbian performance artist whose work explores the relationship between performer and audience member, the limits of the body, and the possibilities of the mind. Abramovic has been performing for more than thirty years, and is considered by many to be the "grandmother of performance art." In 2010, the Museum of Modern Art presented a retrospective of Abramovic's work, during which the artist performed her best-known piece yet. "The Artist is Present" was a 736-hour and 30-minute long silent piece, during which she sat immobile in the museum's atrium while spectators were invited to take turns sitting opposite her. The popularity of the piece spread rapidly, and was featured on Facebook, a new blog titled "Marina Abramovic Made Me Cry," an on Flickr.
8. Cindy Sherman
Photographer and Film Director
Cynthia "Cindy" Sherman is a film director and photographer best known for her conceptual portraits. Uniquely, Sherman creates photographic series by capturing herself in a number of costumes. Such series have included "Bus Riders," "Murder Mystery People," and "Centerfolds," among others. Her most famous series is arguably "Complete Untitled Film Stills," a 69-photo series in which Sherman appears as B-movie, foreign film, and film noir-style actresses. In 1995, Sherman was the recipient of a MacArthur Fellowship in recognition of her work.
9. Carolina Herrera
Fashion Designer
Carolina Herrera is a fashion designer known for her elevated designs and "exceptional personal style." Herrera hit the fashion scene in the 1960s, when she was frequently spotted with good friends Mick and Bianca Jagger, and Andy Warhol. In 1981, Herrera's friend Diana Vreeland, then Editor-In-Chief of Vogue, suggested she create a clothing line. The rest, as they say, is history. Since then, Herrera has influenced hundreds of would-be fashion designers, and dressed everyone who is anyone, including First Ladies from Jacqueline Onassis to Michelle Obama.
10. Donna Karan
Fashion Designer
No fashion designer has inspired the average woman more than Donna Karan. Karan began her fashion career as an assistant to Anne Klein, before branching out in 1984 to begin her own line. She is best known for her "Donna Karan Essentials" line, an initial series of seven easy pieces which could then be mixed and matched into a fully integrated wardrobe. Known as the "Queen of Seventh Avenue," Karan is the designer behind DKNY for younger women, DKNY Jeans, and DKNY for men — all of which feature pieces and outfits that Karan insists she would wear herself.
11. Rei Kawakubo
Fashion Designer
Despite being completely untrained, Rei Kawakubo has established herself as one of the most influential fashion designers alive today. After graduating from Keio University with a degree in Literature, Kawakubo began working in a textile company in order to pay the bills. Less than five years later, she established her own company, Comme des Garcons Co. Ltd. Kawakubo's design style generally consists of dark colors, fabric draped around the body, and materials often featuring frayed edges or holes. Her designs have inspired a number of famous designers, including Helmut Lang, Ann Demeulemeester, and Martin Margiela.
12. Sarah Burton
Fashion Designer
Sarah Burton is a fashion designer who currently serves as creative director for the fashion brand Alexander McQueen. Burton's brand was launched into hyper-fame in 2011, when Kate Middleton stepped out of her wedding carriage wearing a custom wedding dress designed by Burton herself. Burton has also created dresses for Michelle Obama, Gwyneth Paltrow, Cate Blanchett, and Lady Gaga, among many others. She has been honored with a number of awards, including the 2011 Designer of the Year (British Fashion Awards), and honorary degree from Manchester Metropolitan University, and was appointed Officer of the Order of the British Empire in 2012.
13. Sally Mann
Photographer
Sally Mann is a photographer who creates large-scale, black-and-white photographs. Mann's pieces have evolved greatly over the course of her career, sparking much debate amongst art critics and historians. Many of her earlier photographs deal with childhood and young children, while later subjects include more landscapes that suggest decay and death. Mann's photographs appear regularly in various arenas, and have won a number of prestigious awards over the course of her career.
14. Jenny Saville
Painter
Jenny Saville hadn't even finished her postgraduate education when the leading British art collector, Charles Saatchi, purchased her entire senior show along with an 18-month contract to support her while she created additional pieces for his London gallery. Thanks to Saatchi's patronage, Saville has quickly risen through the ranks of the art world. Although Saville's methods and subject matter are both traditional, the Young British Artist has somehow found a way to reinvent the art of figure painting. Much of her work features distorted flesh, high-caliber brush strokes, and patches of oil color. Her work has been compared to that of Lucian Freud and Rubens.
15. Jane LaFarge Hamill
Painter
Jane LaFarge Hamill is a young, highly accomplished painter whose work "investigates contemporary portraiture." Since graduating with a Masters of Fine Arts from the New York Academy of Art in 2005, Hamill has participated in a number of group exhibitions in New York City (plus a select few others in Germany and Croatia). In 2010, she enjoyed her first solo exhibition in Italy, a success that was soon followed by two other solo exhibitions in New York and New Jersey. Hamill is currently a visiting lecturer and guest critic at Franklin College Switzerland, and is the founding director of The Project Room, an alternative artspace in New Jersey.
16. Alyssa Monks
Painter
After graduating from such prestigious programs as the Lorenzo de' Medici art school and the New York Academy of Art's Graduate School of Figurative Art, Alyssa Monks has become one of the leading forces in subject painting. Says Monks, "My intention is to transfer the intimacy and vulnerability of my human experience into a painted surface." Monks' paintings have been the subject of numerous exhibitions everywhere from Germany, to Georgia, to New York City. She has been awarded the Elizabeth Greenshields Foundation Grant for Painting an incredible three times, and has become a member of the New York Academy of Art's Board of Trustees.
17. Vija Celmins
Visual Artist
Born in Latvia before escaping to the United States as a small child, visual artist Vija Celmins is best known for her photo-realistic paintings and drawings. Though her early career work consisted mainly of pop sculptures and monochromatic representational paintings, Celmin's work has evolved to her better known pieces of natural environments such as oceans, spider webs, star fields, and rocks. Celmins has enjoyed more than forty solo exhibitions at such major venues as the Museum of Modern Art, the Whitney Museum of American Art, the Los Angeles County Museum of Art, the Institute of Contemporary Arts in London, and the Centre Pompidou in Paris.
18. Rachel Whiteread
Sculptor
Rachel Whiteread is a London-based sculptor, whose work usually takes the form of casts of everyday objects such as a table and chairs, architectural details, and even entire rooms and buildings. In fact, some of her best-known pieces include "House," a large concrete cast of the inside of an entire Victorian house; the holocaust memorial sculpture in Judenplatz Vienna; and a resin sculpture for the empty plinth in London's Trafalgar Square. Whiteread is one of the Young British Artists, and was the first woman to win the annual Turner Prize, which she was awarded in 1993.
19. Marina DeBris
Sculptor
Marina DeBris is the pseudonym of a California-based artist and social activist who builds sculptures out of trash in order to raise awareness of ocean and beach pollution. Her work has included "trashion," "fish tanks," decorative art, and other unique pieces, including a sculptural piece that provides a perspective of what earth might look like from space. In addition to raising money and awareness through her art, DeBris works with various non-profits to raise funds for art education, and sits on a panel to discuss how artists can contribute to environmental public policy.
20. Anne Hardy
Photographer
Anne Hardy's unique photographs feature unpopulated rooms that then suggest surreal fictions. Hardy constructs each of her rooms in her London-based studio, a labor-intensive process that consists of constructing the room and then decorating it down to its most minute detail. The rooms vary both spatially and in design, an interesting tactic that forces the viewer to relate to the piece using their own imagination. Hardy's work has been featured in exhibitions throughout Europe and the United Kingdom.
21. Sara VanDerBeek
Photographer
Sara VanDerBeek is a New York City-based photographer. She is known for her photographs of sculptures and three-dimensional still-lifes which, interestingly, are often destroyed afterwards so that VanDerBeek's photos are all that remain of their existence. VanDerBeek's photographs have been featured in a number of galleries and exhibitions, including the Museum of Modern Art and the Whitney Museum. She is considered one of only a few modern photographers who are extending the innovations of the earlier Pictures Generation into new territory.
22. Beatriz Milhazes
Painter
Brazilian-born Beatriz Milhazes is a painter who has become well-known for her work juxtaposing traditional South American culture with that of western modernism. Since graduating from the School of Visual Arts in Rio de Janeiro, Milhazes has enjoyed solo and group exhibitions in museums all over the world, including the Museum of Modern Art (MoMA), the Musee d'Art Moderne de la Ville de Paris, and the Fondation Cartier pour l'art contemporain in Paris. Her work is also part of the permanent collections of such institutions as the the Guggenheim, MoMA, the Banco Itau, and the Museo Nacional Centre de Arte Reina Sofia.
23. Chantal Joffe
Painter
Born in Vermont but raised in Britain, Chantal Joffe has art in her blood — her mother is a watercolor painter and her brother is a contemporary artist and novelist. Joffe herself attended the Camberwell College of Arts, Glasgow School of Art, and the Royal College of Art. Immediately following graduation, Joffe was honored with the Delfina Studio Trust Award and the Abbey Scholarship to the British School at Rome. Her paintings primarily consist of women and children painted in large scale, sometimes up to ten feet tall. Critics have pointed out Joffe's skill at creating pieces with charm and childishness, but also "an unsettling quality which gives the exhibition an odd, rather menacing mood." Joffe continues to create for exhibitions from her home and studio in London.
24. Jeannette Hayes
Painter
Chicago-based artist Jeannette Hayes has taken the art world by storm with her unique pieces that combine modern pop culture, fashion, and classic paintings. Her first major piece, titled "Botticelli Photobooth," spliced replicas of Botticelli's angels with various photo-editing iconography. She followed that up with "Seventh Inning Stretch," a baseball inspired exhibition with pieces such as "in it 2 win it" — a painting of former star Sammy Sosa with a purple-and-black-haired anime girl. She has created a number of promotional materials for fashion designer Alexander Wang, and cites Chanel as one of her inspirations.
25. Ann Hirsch
Video and Performance Artist
Ann Hirsch is a contemporary artist who uses video and performance art to communicate ideas about women's sexual self expression and female identity. She completed her first pieces as a student at State University of New York: clips of her dancing to music ranging from MGMT, to Katy Perry, to Meatloaf for a series she called "Scandalishious" and posted to a YouTube channel. In 2013, Hirsch released her play, "Playground," which was inspired by her own pre-teen and teenage experiences meeting older men in AOL chat rooms. In 2015, Hirsch participated in "Body Anxiety," a 2015 online exhibition featuring work by video and performing artists based on questions of the female body.
26. Yuu Watase
Manga Artist
With the rise in popularity of shojo manga, Japanese graphic novels, few manga artists have been as influential as Yuu Watase, a cartoonist, writer, and illustrator from Osaka, Japan. Since writing and illustrating her first story, "An Intrusion in Pajamas," Watase has created more than 80 volumes of short stories and series. As influential as she is as a storyteller, she makes this list for her unique manga-style illustrating, which has subtly changed the industry style. Some of Watase's most well-known stories include Fushigi Yuugi, Alice 19th, Absolute Boyfriend, and Ceres: The Celestial Legend.
27. Cady Noland
Sculptor
Cady Noland is a sculpture artist whose work often deals with themes of the failed American Dream, the divide between fame and anonymity, violence, death, and social climbing, to name but a few. Much of her work takes the form of either postmodern conceptualism or large installation pieces, and is often inspired by cultural and personal fear. For example, "Crashed Car" was inspired by the car accident she experienced as a child, while "Plane Crash" is meant to emphasize her fear of flying. Noland's work has been shown in exhibitions around the world.
28. Marlene Dumas
Painter
Marlene Dumas is an artist whose unique portfolio includes paintings, collages, drawings, prints, and installations — though she is best known as a painter. A one-time student of psychology, the South African-born Dumas often incorporates themes of race and racism into her paintings. For example, "The Eyes of the Night Creatures" explores racial and ethical intolerance, while "The White Disease" is a painting of an aging South African woman with pale blue eyes Dumas says projects the disease that is apartheid. Over the years, Dumas has created a series of unique portraits of figures ranging from Naomi Campbell to Osama bin Laden.
29. Wangechi Mutu
Sculptor
Wangechi Mutu is a Kenyan-born artist and sculptor based in Brooklyn, New York. Mutu is widely considered to be the most important African artist in recent years. Her work has been featured in galleries and exhibitions worldwide, including the San Francisco Museum of Modern Art, the Miami Art Museum, the Tate Modern, and the Centre Pompidou, among many others. In 2010, Mutu was honored as Deutsche Bank's inaugural "Artist of the Year."
30. Ariana Richards
Painter
Most people recognize Ariana Richards as the child actress who became famous as young Lex Murphy in Jurassic Park; fewer people recognize her as the successful artist that she has become. Richards' work, inspired by such artists as John Singer Sargent, Anders Zorn, Mary Cassatt, and Joaquin Sorolla, usually consists of landscapes and figures in the impressionist style. She has won a number of awards for her work, including the Award of Excellence by Art of the West, and the National Professional Oil Painting Competition. Though Richards paints for occasional exhibitions, her work is usually done by special commission.
Related Resources: