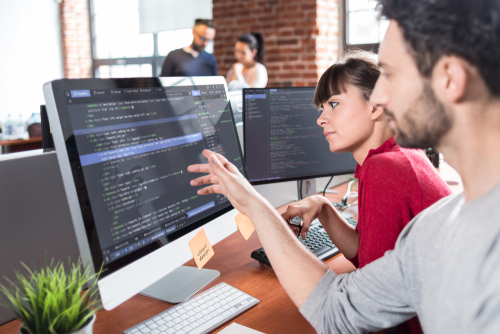 When getting a degree in graphic design, most people believe that coding in a graphic design degree program will be the most sought after skill that a personal has learned while they are in school. While coding websites is one type of job that a person with a graphic design degree can get, there are a wide variety of other types of jobs that a person with the educational background could get. 
Print Media Design
While the reliance on print media has gone down over the past decade, there is still a significant amount of demand for print media, which means that there will continue to be a demand for people to design whatever needs to be printed. People with a degree in graphic design are often hired to help design packaging for products, flyers and menus to promote a product or service, and many other items that need to look impressive in order to attract potential customers. While many people in this field start simply out completing design requests, it is not unusual for people in this role to eventually start helping out with the entire design and marketing process.
Design Enhancement
Another type of job that many people get once they finish their education and receive their degree is to get a position in design enhancement. Graphic design has been around for nearly 20 years, but the job has continued to change as technology has improved. For example, images today are far more powerful and clear, but can use up far less space due to enhancement in technology. One task that many graphic designers are tasked with is to take an older logo or image and convert it into a higher resolution and more efficient image. This service is used for a variety of purposes, including reducing bandwidth on websites and increasing overall network storage space.
Consulting and Freelance
Another advantage of going into graphic design is that it will always provide a lot of potential for consulting and freelance work. Graphic designers will continue to be able to provide a valuable service, which will always be in need for companies. In many cases, a company will not have the need to have their own graphic designers, so they may need to hire one on a freelance basis. Graphic designers can also start their own small business to design their products, such as wedding invitations and digital artwork.
Education
Graphic design is a highly sought after skill and there will always be a lot of people that will want to learn it. Because of this, there will always be the opportunity to teach people how to use graphic designing software, either through a school or informally. However, to do this job, a graphic designer will need to stay up to date with all of the software updates.
In conclusion, getting a degree in graphic design will open up many different professional opportunities. While most people believe that coding in a graphic design degree program will be the most sought after skill, there are actually many other jobs that people commonly get once they finish their degree.
Related Resources: