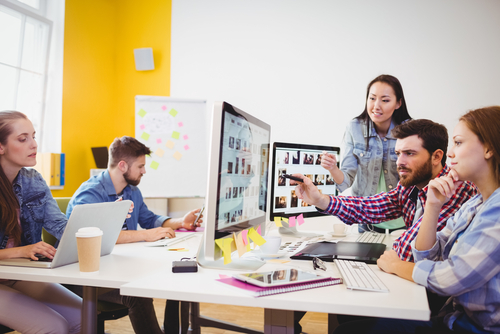 While there is much competition in the field, graphic design careers and jobs are lucrative and fulfilling options for creative individuals. Graphic designers create visuals designed to communicate ideas to consumers. Specifically, they develop logos and images for media like magazines, advertisements and websites. Their duties may include making pictures for website, selecting fonts and size for text, and arranging text and visuals on a page.
In today's world where so many people are "experts" on the computer, it's common to wonder if a graphic design degree is worth it. In order to become a graphic designer with credibility in the design world, applicants should first obtain a bachelor's degree in graphic design or a related field. Shorter certificate programs are available, but these are mainly directed towards students who already hold bachelor's degrees in an unrelated field. Some courses typically found in a graphic design degree program are studio art, computerized design, commercial graphics production, principles of design, and printing techniques. Choose a school that has been accredited by the National Association of Schools of Art and Design (NASAD).
The School of the Art Institute of Chicago offers a certificate program in graphic design that focuses on working with physical and digital processes to create unique projects for students' portfolios. Parsons School of Design, a top school of the arts, also offers a graphic design program. Its bachelor's degree focuses on publication design, web and mobile design and branding. It supports internships and sponsored projects for students, which gives them an edge in the industry after they graduate.
What You Can Do With a Graphic Design Degree
Because it involves such a diverse skill set, a career in graphic design is applicable to several different industries. Specialization is very common among graphic designers, so the industries a designer can work in is limited by their specialization. For example, a designer specializing in magazine printing would not be suited for a mobile app company.
Common industries include newspapers and periodicals, advertising and public relations, printing and computer systems design. It is also common for graphic designers to work with specialized design agencies. Specific job titles for those with graphic designer degrees include designer, chief designer and creative director. About three in ten designers are self-employed, meaning they freelance without affiliation with an outside firm. Although these designers have some control over their own hours, they also spend some of their time finding new clients and competing with other designers for jobs. Students interested in freelancing should consider taking classes in business and marketing, as this knowledge will help tremendously.
Graphic design salaries vary widely, depending on the designer's location, expertise, experience and portfolio. According to the Bureau of Labor Statistics, the median salary in 2011 was $43,500. However, the top ten percent were able to earn more than $70,000. Because more and more designers are being hired to design websites, mobile apps and online videos, the outlook is expected to be best for those with multimedia or computer experience. However, there is expected to be some competition for graphic design careers and jobs because the field attracts so many talented individuals.