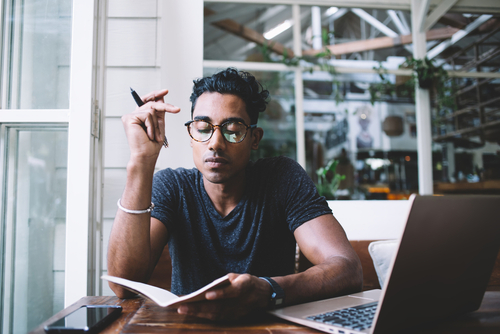 A person who is interested in studying communications or becoming a reporter, news correspondent or broadcast news analyst may want to know, "Is it hard to get a job in journalism?" This is important information because a lot of people earn degrees in media and communications, and the turn to digital media over other types of media has resulted in a shift in employment. Understanding the job outlook by industry of occupation, skill and location could help a person choose a career that is in demand.
Job Outlook By Occupation
Within journalism, there are many occupations. Those include broadcast news correspondents, news analysts, reporters, radio station announcers, investigators and more. The reporters, correspondents and broadcast news analysts will have about a 10 percent decrease in available jobs between May 2018 and May 2028. This is due to all of the mergers in the media and communications industries and the fact that people are turning to their mobile devices with news feeds instead of television or radio news broadcasts. Multimedia journalists can expect about a 4 percent rate of growth in available jobs between May 2018 and May 2028.
Job Outlook By City and State for Broadcast News Analysts
Employment as a broadcast news analyst is also highly concentrated in a few states. Of the approximately 5,900 jobs in this specialty of journalism, about 25 percent of them are located in New York, Florida, New Jersey, Texas and Illinois. This may be due to the fact that national news agencies have their headquarters in these states. These states are also responsible for a lot of the nationwide news programs. The cities with the most broadcast analyst news jobs are New York, Washington, D.C., Chicago, Phoenix and Miami.
Job Outlook By City and State for Reporters and Correspondents
Most jobs for reporters and correspondents are concentrated in five states. Those states are New York, California, Texas, Florida and the District of Columbia. Those places account for about 40 percent of all reporter and correspondent jobs in the United States. The metropolitan areas with the most jobs for reporters and correspondents are New York, Washington, D.C., Los Angeles, Chicago and San Francisco.
How Students Can Improve Their Employment Opportunities
According to the Bureau of Labor Statistics, a person who wants to be a journalist should be adept at multimedia journalism in order to maximize their job prospects. This includes the ability to create video, animation, audio and text journalism for use on the internet. Some computer science classes, graphic design or animation courses may be necessary in addition to the typical curriculum for journalism. Students who have some website design and coding experience will also have good job prospects as a journalist. Students who have had internships or worked on school or university newspapers, websites or radio stations should also have improved chances of gaining employment in journalism.
A person who enjoys the process of discovery, doing research, interviewing people and digging up facts could do well in a journalism career. Earning a degree from a respected educational institution and obtaining fellowship or internship opportunities could also be helpful for a person who wants to make journalism their career. Knowing the answer to, "Is it hard to get a job in journalism?" could facilitate a person's choice of college major or their focus within a major.