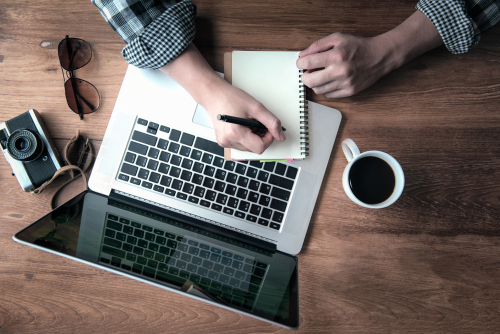 Finding an internship in journalism requires diligence. However, the effort is worth it because an internship represents a valuable opportunity to make professional connections and gain experience that may help you to secure employment later.
Internships don't fall into your lap. Here are some tips that will help you find a position that jump-starts your career.
Start Early with Lots of Initiative
The ideal time to start looking for an internship in journalism is the fall. This gives you plenty of time to consider your options. Plus, you'll have a chance to check and re-check the application requirements so that you are fully prepared well ahead of the deadline. Avoiding a scramble on the deadline will give you peace of mind.
The perfect internship won't materialize out of thin air. Take the initiative to seek opportunities, and don't overlook any position that's within your area of interest.
Start With Your Internship Coordinator
If you're enrolled in a college journalism program, then you may have access to an internship coordinator. This knowledgeable professional is a tremendous source of information, and it's possible that their insight can save you hours of research.
If your program doesn't have a coordinator, then inquire with the college's career office, which likely has similar resources. Keep your eyes peeled for seasonal internship fairs as well. These may promise opportunities for interviews, meetings with recruiters and information sessions.
Try an Online Search
Finding journalism internships may be as easy as using a search engine. Dozens of websites list internship opportunities. Search for them, and sign up for email updates so that you're always in-the-know when it comes to available internships.
Join a Club or Association
Many professional organizations for journalists keep lists of internships. In addition to the Society of Professional Journalists and the Radio Television Digital News Association, students may want to consider joining groups such as the National Association of Black Journalists, the Asian American Journalists Association or the National Lesbian and Gay Journalists Association. Membership may be required to access some of these internship resources, but these organizations frequently offer low-cost memberships to students.
Contact Your References
Most internship applications ask you to provide professional references. You may use your professors or the editors of any school publications for which you have worked. Check in with your references to let them know what your plans are. This means that they'll be prepared if they are contacted on your behalf. Additionally, your references may know about internship opportunities that you haven't discovered.
Talk to Your Teachers and Fellow Students
If you're enrolled in a college journalism program, then you are surrounded by mentors and colleagues who all may know of internship opportunities. Talk to people about their experiences, and get their recommendations for places where you might apply. Be open to considering opportunities at smaller publications and stations. These may afford you far richer, more meaningful experiences that will serve you well in your career.
Summer internships genuinely help a candidate stand out from the crowd. If you're able to line up a great position over a couple of summers, you'll not only gain valuable professional experience but also enhance your resume. Use these tips to help you find an internship in journalism.
Related Resources: