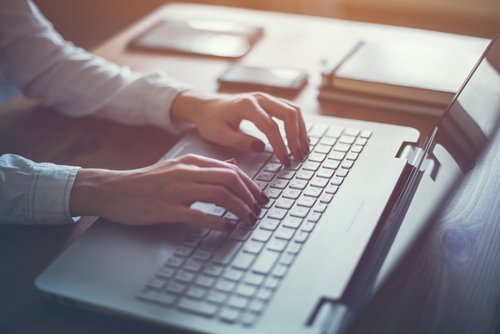 Individuals who aspire to become journalists or those who are working as journalists but wish to advance their education often ask, "Can I get a Master's in Journalism degree online?" The great news is that the Master's in Journalism degree is not only offered online but it's also offered through many colleges and universities. Traditional journalism may be changing in many ways, but the need for qualified journalist continues to grow, whether it's for people still watching their favorite cable networks or those browsing for news online. Here is an overview of online Master's in Journalism programs.
Can I Earn a Master's in Journalism Online?
It's very possible to earn a Master's in Journalism online. The online Master's in Journalism is a program that generally takes about two years or four semesters to complete. Students will complete between 33 and 37 credits depending on the program. Applicants to this program will still need to satisfy admission requirements the same as if they were enrolling in a traditional brick-and-mortar college. One of the requirements is that the student have a bachelor's degree, but the degree doesn't need to be in journalism. Some online schools also require the applicant meet certain GPA requirements.
What the Online Program Entails
The online Master's in Journalism program is much like an on-campus program but with more flexibility. Students typically take courses like communication technology; feature writing; issues in media law and ethics; methods of mass media research; investigative and computer-assisted reporting; research and writing; and writing in digital platforms.
Although some journalism programs offer areas of specialization, U.S. News & World Report indicates that this is rare because journalism is more of a stand-alone major. Some possible areas of specialization might include:
Writing and reporting
Online media management
Online health communication
Entrepreneurship
News and Storytelling
Online strategic communication
Many online journalism graduate programs require students to complete a capstone project. This project is usually done during the last part of the program. The students use the skills and knowledge they've obtained in the program to complete a comprehensive project related to their area of interest. Students can expect to spend between $11,000 and $24,000 in tuition to complete this program.
What to Look for in an Online Master's in Journalism Program
When choosing an online Master's in Journalism program, candidates should know what their career aspirations might be. They should choose a program that meets those aspirations and will prepare them for the career they wish to pursue. However, the most important thing is to consider is the school's accreditation status.
A college's accreditation status says a lot about the school and its quality of education. It can impact the graduate's ability to get a good job and also affect the student's ability to get financial aid or to transfer credits later. Look for a school that receives its accreditation from agencies acknowledged by the U.S. Department of Education.
One of the things that makes the Master's in Journalism degree so popular is that graduates can choose from a variety of jobs, including reporter, editor, technical writer, public relations and fund raising manager, film and camera operator, and journalist. Anyone of these careers can be obtained by completing an online Master's in Journalism degree.
Related Resources: