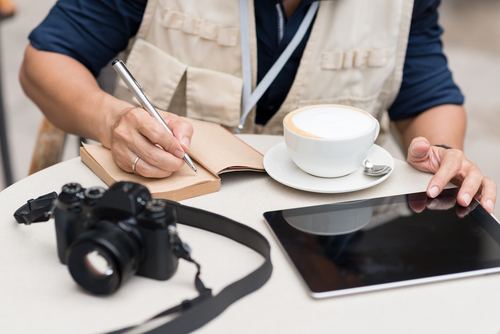 Someone might wonder how does one be more appealing to employers and become a journalist with no experience. It is more difficult to get started as a professional journalist without experience, but not impossible. There are ways aspiring journalists can get experience on their own or otherwise improve their chances of landing a job.
Get A Degree
A bachelor's degree in journalism or communications is a common requirement for working as a professional journalist, so anyone looking to enter this field should start here. While it is possible to get a job without a degree, it will be very difficult, if not impossible, to get a job without a degree and experience. A journalism program will teach students the basics of good reporting, including techniques, ethics, basic skills such as writing and more. Students can also gain some important network connections during their time in school, as well as experience in any relevant extracurricular activities such as a journalism club.
Do An Internship If Possible
Aspiring journalists who are still in school should make every attempt to acquire an internship if they can. Internships provide students with the ability to gain hands-on work experience while still in school that they can then detail on their resumes when beginning their job search. These opportunities also give students the chance to form valuable professional connections and get references from their internship supervisors, which help at landing a job. It's even possible a student will be hired outright by the company at which they interned. Many internships are even paid so students can earn extra money or use what they earn to pay for their college education.
Gather Outside Experience
Students wanting to become professional journalists have a number of options for gaining useful experience on their own time. Working for school newspapers, radio shows and television broadcasts are usually where professional journalists get started according to the Bureau of Labor Statistics. Volunteer work is another way to get experience to put on a resume, as most employers consider volunteer efforts to be valid experience. Students can get creative and start a podcast, which requires many common journalistic skills to do, including interview skills, research skills, writing skills, speaking skills and more. Another option is to pursue freelance writing work. An impressive body of freelance journalistic work can cause employers to consider candidates who want to become a journalist with no experience.
Leverage Connections
It is undeniably true that network connections can make finding a job much easier, especially for recent graduates lacking in experience. Consider anyone with a personal connection who works in the journalism industry and talk to them. Ask questions, get a feel for what they do and let them know you are looking for a job. The endorsement of personal acquaintances who work in the journalism field can cause employers to consider candidates without much experience. If eligible, consider joining or at least getting in contact with any local professional organizations for journalists. These organizations provide incredibly useful resources to their members to find jobs, partake in continuing education and more.
It can be difficult for a new graduate to get a job as a journalist with no experience, although there are ways to alleviate this problem. These suggestions should be useful for anyone who wants to become a journalist with no experience.
Related Resources: