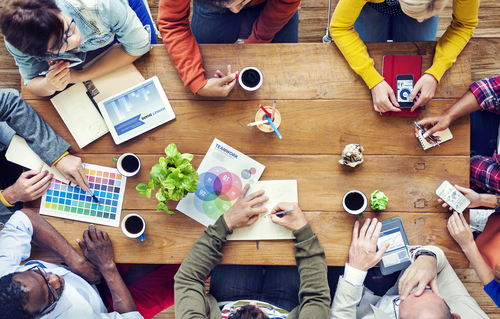 Graphic designers reach just about every facet of our lives. Any time you see a logo, take a look at a billboard, or appreciate a beautiful website, you're connecting with the work of a graphic designer. And if you want to land a job in this exciting career path, you'll need to take classes and preferably find an internship. In many cases, a good graphic design internship can get you the experience and connections necessary to launch a successful career.
Choose a Well-Respected Program
In just about any field, competition for internships is intense. Of course, if you're already in school and looking for an internship, you likely don't want to switch programs. But if you haven't yet applied for degree programs in graphic design, make sure you apply to well-respected programs. Especially when it comes to creative fields, getting a degree at an institution with a good reputation can help get you noticed when you're applying for jobs and internships.
Use the Resources at Your School
Most colleges and universities want to help their students succeed in their chosen fields. Your school's career services office (or similar department) can be a great asset to you in your internship search. These departments will generally have information on graphic design internship programs in the area. In some cases, a career services department will even review your cover letter and your resume and offer advice on how to improve them.
Departments like these are certainly valuable resources, but be sure to talk to your professors, too. Your professors will have a much more detailed idea of the graphic design field and internship outlook. And since your professors will be well acquainted with your work, they likely will be able to suggest companies or agencies that may be more likely to hire you.
Of course, your professors and academic advisers are also likely to be able to write letters of recommendation for you. Be sure to give them plenty of time before the deadline — they're inundated with recommendation requests each year, and you want to make sure they have the time to write a great letter. In some cases, your professors and advisers may even have connections at design agencies. If they think that you're a good fit and see that you're motivated to find an internship, they might be able to put in a good word for you.
Connect With Older Students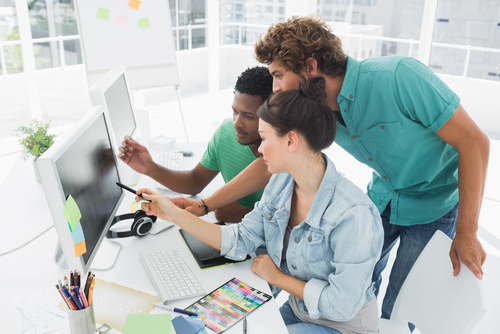 Talking to professors and advisers is often extremely helpful, but so is reaching out to students who have very recently undergone the same search you're undergoing now. If you have friends who are a year or so ahead of you in school, ask them how they went about securing their internships. Often, they can offer both advice and encouragement.
If you're in an online program or can't reach out to anyone you know personally, you can likely find social media groups for graphic design students and/or professionals. In many cases, you'll be able to find people in these groups who will be able to provide valuable insight into the internship application process. Alternatively, an instructor may be able to put you in touch with a previous student who has similar career goals to you.
Research Potential Programs
As with any internship, it's a good idea to apply to many different companies and agencies to maximize your chances of being selected. First, see what companies in your area offer graphic design services or hire graphic designers. Take some time to research each one. Even if there are no internships listed, it may be worthwhile to contact them. Some companies may be willing to work with you. If they can't, they may at least be able to recommend a nearby company that does offer internships.
If you're willing to relocate for an internship, you can expand your search. If you're casting your net wider, you'll find that there are countless companies and agencies to apply to. Make sure to take your time looking — don't just apply to the first several openings you find. Study the work each company does. Which ones seem aligned with your style? You'll maximize your chances of being accepted if you apply to places where you think your work might fit in.
Finding internships can be difficult and time-consuming, so it's also a good idea to visit internship-focused sites like Internships.com or InternMatch.com. Traditional job sites often include internships, but it can be difficult to find them. With these sites, you'll know each listing is for an internship, and you'll be able to apply for several internships from one site.
Make sure you visit the website of the American Institute of Graphic Arts, too. The AIGA website has a section where you can search for internships. And since the AIGA is a professional association of designers, you'll know that the internships listed are at reputable institutions.
And lastly, as you research potential internship placements, do your best to figure out how likely a given company or agency is to hire its interns as full-time employees once the internship ends. Obviously, no agency will hire every single one of its interns. But if you're hoping to use your internship graphic design as the start of a career, it helps to have the odds on your side. Companies don't generally publicize how many interns they hire, but you may be able to get an idea by talking to professors or more experienced graphic designers.
Consider Finances
Before sending out applications, take the time to get a realistic view of your finances. While many internships take up as much time as a part-time (or sometimes even full-time) job, most don't pay very well, and some don't pay anything at all. Make sure that you could realistically accept any internship that you apply to. For instance, unless you have a good bit of money saved up, relocating to an expensive city for an unpaid internship isn't likely to be feasible.
Play the Numbers Game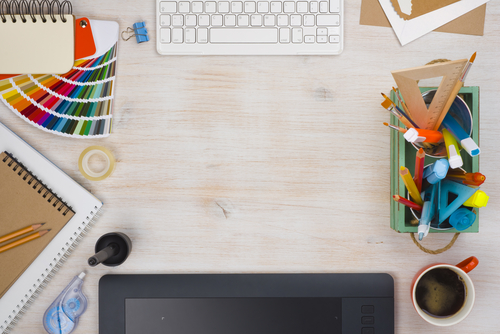 Each year, thousands of highly qualified students like you apply for graphic design internships. And because so many apply, even skilled student designers get turned down. It can feel like a lottery, so it makes sense to increase your chances of winning by applying for plenty of internships. The recommended amount to apply to varies based on who you ask, but many experts recommend applying to at least 20 internships.
However, don't just choose 20 random companies and go from there. It can be helpful to make a list or a spreadsheet of potential companies or agencies that may be a good fit. Make sure to include a few notes about each one. From there, you can narrow down your list to the 20 or so employers with whom you think you have the best shot of getting an internship.
If you have the time and capability to apply for more than 20 internships, it may be a good idea to do so. Make sure that you still have time to custom-tailor each application to the individual company. It's better to send out 20 high-quality applications than to send 40 sloppy or low-effort ones.
Personalize Your Applications
As you get to work completing your applications, make sure to pay very close attention to what the job listing for the internship asks for. You probably have an existing CV or resume and a cover letter template. These are good starting points, but to increase your chances of being selected (or at least of getting an interview), edit both to highlight accolades or experiences that the company seems to be looking for. For example, if an internship listing stresses that applicants must have experience with InDesign and Photoshop, make sure that these skills are clearly stated on your resume. When attaching samples of your work, it's also a good idea to make sure you include projects made with InDesign or Photoshop if possible.
In your cover letter, do your best to include a few specifics regarding why you think you'd be a good fit for the company. Businesses invest considerable time in teaching interns, and they want applicants who are clearly motivated and interested in the company itself. A generic cover letter doesn't communicate that you want a graphic design internship at a specific company — it just indicates that you want an internship somewhere.
In order to maximize your chances of being considered, make sure that you carefully follow application instructions. This might sound obvious, but you'd be surprised at the number of applicants who don't include all relevant materials or otherwise neglect to complete the application process as directed. And be sure to double-check company names and the names of individuals — if you send an application to a company but mistakenly address the cover letter to a competitor, it's not a good look.
Following up after applying can also be a way to communicate the fact that you're very interested in interning with a specific company. Generally speaking, it's a good idea to follow up about a week after applying. If you're one of the few applicants to contact a company and reiterate your interest in an internship, the company might look more closely at your application.
Lastly, do your best to apply for internships earlier rather than later. Applying early shows a company that you're well-organized and not a procrastinator. If you send in an application at the last minute, the company might think that they aren't your first choice for an internship. Though it's still possible to land an internship when applying at the last minute, doing so doesn't generally help your chances.
Carefully Create Your Portfolio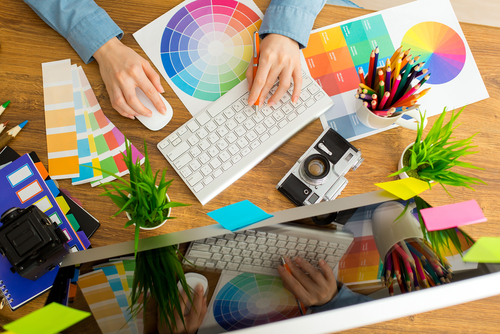 You probably already know that when you're putting together an application in any creative field, your portfolio is the most important part. Luckily, putting together a graphic design portfolio isn't quite as complex as it used to be. You don't need to hand-deliver physical copies of your work to agencies or companies — you simply need to create a digital portfolio and include the link in your application.
Generally speaking, a graphic design portfolio should include 15 or so examples of your best work. It's a good idea to consult with an academic adviser or professor when selecting these. Advisers and professors will likely have an idea of what companies are looking for when hiring interns.
As a graphic design student, you're probably discovering your own style. Try to select projects that make sense together. Through your portfolio, you're giving companies an idea of your creative voice. It can be jarring to have a portfolio of several projects in completely different styles. When evaluating your portfolio, companies are trying to get a general sense of your style, so it's a good idea to make your portfolio at least somewhat cohesive.
Most internship applications ask for a link to a portfolio website. While the website layout isn't as important as the work itself, you still want it to be appealing. Since you likely don't yet have professional experience in graphic design, your portfolio website won't need to be as extensive as a professional portfolio.
Still, there are some important considerations to make. Do you want a landing page where you can simply scroll through all of your projects? Do you want to group them by project type? Do you want to include a brief bio and a photo?
Getting your portfolio together can be one of the most stressful parts of the application process. But it might help to remember that agencies and companies aren't looking for absolute perfection. After all, the whole point of an internship is to learn and gain experience.
Expand Your Search
If you're like most graphic design students, you're looking for an internship with a company that focuses almost entirely on graphic design. But what do you do if you live in an area where there are very few design firms? In your search, don't discount advertising agencies, screen printing businesses, and other companies that work with graphic designers. These companies might not offer the internship of your dreams, but if you're accepted, you'll still gain valuable work experience and further develop your craft.
Finding the right internship graphic design can take considerable dedication. But when you personalize applications, put together a great portfolio, and remember to ask your professors and peers for help, you dramatically increase your chances. Remember that the right internship can set you up for success in the field — all of your hard work will be worth it.
Related Resources: