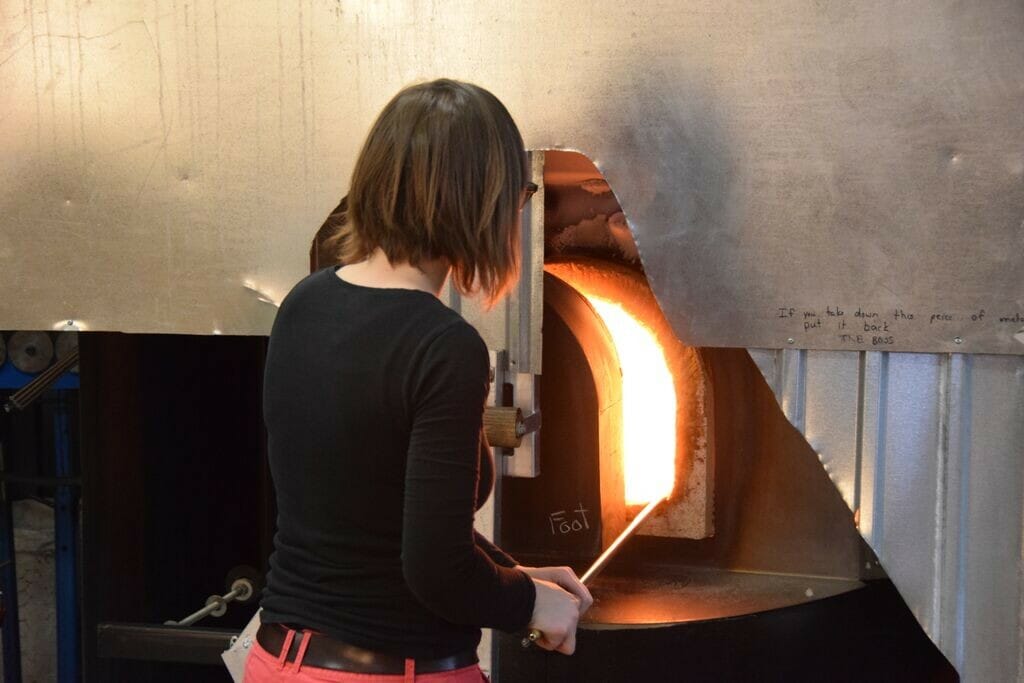 If you are the type of person that prefers to communicate your thoughts through visuals and/or artistic representations rather than sentences, earning one of the numerous graphic design degrees in Florida can be the perfect way to start a career in the fascinating field of graphic arts. Situated as a peninsula between the Atlantic Ocean and Gulf of Mexico as the fourth most populous state with the longest continental coastline in the United States, Florida can be a great place to earn a college education. 
Not only do students enjoy endless hours in a year-round playground of warm sunny weather to explore the state's world-famous amusement parks and sandy beaches, but they also benefit from attending some of the nation's best universities and most diverse colleges. Within this ideal arena for inspiring creativity, expanding cultural perspectives, and taking in a larger than life scenery with exhilarating outdoor recreational activities, the following are the graphic design degrees (G-R) that are offered in the "Sunshine State" at the associate's and bachelor's level.
International Academy of Design and Technology
Department of Design
Fully accredited by the Accrediting Council for Independent Colleges and Schools (ACICS), the International Academy of Design and Technology is a nationwide private for-profit institution specializing in the media arts. Along with online degree options, the college has locations scattered across the United States, including in Tampa and Orlando. At the associate's and bachelor's degree levels, the Department of Design offers innovative degree programs focused on game design, graphic design, advertising and design, fashion design, interior design, digital production, computer animation, and more.
Associate of Science (A.S.) in Graphic Design
Ideal for students with a budding talent for expressing themselves visually, the Associate of Science (A.S.) in Graphic Design program is designed to help students explore new career opportunities for a bright future in the field of graphic design. In a dynamic supportive learning environment surrounded by classmates who share the same professional interests and objectives, the program focuses on delivering a clear understanding on the different elements of visual design to apply effective visual materials to the development, planning, production, and presentation of attention-grabbing print or web publications. By the conclusion of the 62-credit program, students will have a solid foundational knowledge on the role of form, function, creativity, and critical viewpoint to create visual communications in multiple mediums.
Bachelor of Fine Arts (BFA) in Graphic Design
With the goal of helping undergraduate students learn the design fundamentals they need to foster effective visual communication skills, the Bachelor of Fine Arts (BFA) in Graphic Design program covers a broad range of topics from basic drawing and color theory to digital imaging and print production. The program has a strong emphasis on hands-on training in the areas of interactive media, digital illustration, typography, and creative aspects of web design. By collaborating on multiple team projects, students are able to learn how to use current industry technologies to be well-prepared for meeting client demands in any entry-level positions in graphic design. While students have the option to pursue the degree program on-campus at the Tampa and Orlando locations, it is also offered fully online from the Tampa campus to students on a flexible schedule from anywhere in the world with an Internet connection.
Contact 
7702 Woodland Center Blvd. Suite 100
Tampa, FL 33614
(888) 247-4238
design@iadt.edu
Website
Jacksonville University
Division of Visual Arts
First founded in 1934 on a beautiful riverfront 198-acre suburban campus on the outskirts of one of the nation's most thriving metropolitan cities, Jacksonville University is a small private research institution that offers comprehensive undergraduate and select graduate programs with a strong liberal arts foundation. Boasting a low student-faculty ratio of 13:1 in a close-knit community of just over 3,500 students, JU is ranked as the 62nd best college and 15th best university for veterans in the South by the U.S. News and World Report. Within the College of Fine Arts, the Division of Visual Arts offers degree concentrations in animation, ceramics, glass, graphic design, photography sculpture, film, art history, and illustration.
Bachelor of Fine Arts (BFA) in Art – Graphic Design
Designed to instill in students a deep understanding of the rich role of art in the human experience and to develop artistic abilities for aesthetic sensitivity, the Bachelor of Fine Arts (BFA) in Art – Graphic Design program is designed as a comprehensive degree option for undergraduate students seeking entry into careers as professional artists, art educators, and graphic design as well as graduate studies. Since majors are considered professionals in training, students are given valuable access to studios and personal reflective spaces for finding their own individual artistic voice. In order to ensure students also develop conceptual problem solving skills, aesthetic principles, and digital production knowledge, the degree track also provides opportunities to work in the state-of-the-art computer lab with 15 Mac OS workstations loaded with the most recent Adobe Creative Cloud software.
Contact 
2800 University Blvd. North
Jacksonville, FL 32211
(904) 256-7652
dsmith79@ju.edu
Keiser University
College of Advanced Technology
Conveniently headquartered in an urban academic complex just off Commercial Boulevard within downtown Tampa and all of its hands-on practical learning opportunities, Keiser University is a comprehensive private non-profit higher learning institution that serves the academic needs of over 16,000 students on its 14 campuses across Florida. According to the U.S. News and World Report, Keiser is ranked as the 57th best college and 14th best university for military veterans in the South. The College of Advanced Technology is committed to producing competent professionals with the expected competence in web communications, video production, and newer technologies for success in the growing design fields.
Associate of Science (A.S.) in Graphic Arts and Design
Structured to train undergraduate students on visual communication and computer design skills with a strong emphasis on online multimedia delivery, the Associate of Science (AS) in Graphic Arts and Design program is focused on preparing graphic designers and multimedia practitioners who can effectively deliver communication solutions for clients in a variety of different mediums for increased marketability. After completing the 80-credit program, graduates will have experience in graphic arts, marketing, self-promotion, image editing, illustration, composition, 3D modeling, animation, multimedia production, and electronic delivery systems. At this time, the degree can obtained at the Jacksonville, Lakeland, Pembroke Pines, Port St. Lucie, Tallahassee, Tampa, and West Palm Beach locations.
Contact 
1500 Northwest 49th Street
Fort Lauderdale, FL 33309
(954) 776-4456
kuungradreg@keiseruniversity.edu
Website
Lynn University
College of International Communication
As a small comprehensive private residential institution that serves as a second home to more than 2,000 students from 90 countries, Lynn University is located on a 123-acre lushly landscaped campus with six freshwater lakes on the southeastern coast of Florida in Boca Raton within just 45 miles north of Miami. Consistently noted for having the highest percentage of international students among master's degree-granting institutions in the South, Lynn is recognized for having the 120th best online bachelor's programs in the nation by the U.S. News and World Report. The College of International Communication (CIC) offers bachelor's, master's, and certificate programs in state-of-the-art facilities to prepare tomorrow's leading media practitioners.
Bachelor of Science (B.S.) in Multimedia Design
Seamlessly combining technology with the arts and sciences, the Bachelor of Science (B.S.) in Multimedia Design program is designed to provide students with the hands-on experience needed with new and emerging design tools to develop a professional-quality portfolio. As a solid foundation in traditional 2-D design principles, still and motion photography, digital animation, 3-D design, and print production, the program spans a wide range of media and design coursework to explore creation in all areas of digital artistry. Before graduation, all students will receive the valuable opportunity to host their own on-campus portfolio exhibit, where they can showcase their eye-catching talents to the community and network with local area prospective employers.
Contact  
3601 North Military Trail
Boca Raton, FL 33431
(561) 237-7334
dbelafonte@lynn.edu
Website
New World School of the Arts
Department of Visual Arts
As Florida's premier center of excellence in the visual and performing arts that serves as a public magnet high school and college, the New World School of the Arts is renowned for being a pioneer in dual-enrollment education for the United States after arising from the partnering of the Miami Northwestern High School and Dade Community College. Currently ranked as the 155th best high school in the entire nation by the U.S. News and World Report, NWSA is housed on the Wolfson campus of the Miami Dade College in the heart of downtown Miami. The Department of Visual Arts is dedicated to developing both the academic and artistic skills of talented students to prepare them as practicing artists in the changing contemporary society.
Bachelor of Fine Arts (BFA) in Visual Arts with a Concentration in Electronic Intermedia or Graphic Design
Fully accredited through the National Association of Schools of Art and Design (NASAD), the Bachelor of Fine Arts (BFA) program in Visual Arts offers a concentration area in Electronic Intermedia or Graphic Design. As a highly selective limited access program that emphasizes concept development and collaborative studio work, the program is home to a state-of-the-art student design studio, which is fully equipped with high-speed Internet access, secure workstations, design software, and color printer output. Since the curriculum is also focused on professional development, communication, and collaboration skills for the establishment of a working portfolio, graduates of the program are extremely competitive in a number of design-related fields, such as print advertising, interactive design, multimedia, and web design. Also, students have the opportunity to participate in the international student exchange program to countries like Mexico or Italy to expand their horizons and enhance their cultural perspectives.
Contact 
25 Northeast 2nd Street
Miami, FL 33132
(305) 237-3135
nwsainfo@mdc.edu
Website
Northwest Florida State College
Department of Graphic Design and Digital Media
Based on a main 264-acre urban campus in Niceville with multiple satellite locations in Fort Walton Beach, Chautauqua, South Walton, Hurlburt Field, and Eglin Air Force Base, the Northwest Florida State College is a public state-supported institution that offers transferable diploma, certificate, and two-year college degrees to over 14,500 students. NWF State College is renowned in Florida for its state-of-the-art Mattie Kelly Arts Center with a large main-stage theater that hosts Broadway's best touring shows and a beautiful visual arts building. With a long tradition for excellence tracing back to its inception in 1976, the Department of Graphic Design and Digital Media has evolved to incorporate digital tools at every stage of graphic design development, from media acquisition to editing and final delivery.
Associate of Science (A.S.) in Graphic Arts Technology
Ideal for students with strong artistic talents and a drive to becoming an architect of printed visual communications, the Associate of Science (A.S.) in Graphics Arts Technology is a terminal degree program that is focused on the commercial form of art where visual communication is achieved through the development of a creative synergy between type and form. Designed for students interested in learning design for print production, the coursework has a strong emphasis on the graphic design that will be used in printed media, including magazines, books, catalogs, newspapers, brochures, and more. Within the 64-credit program, students are required to take courses in digital imaging, illustration, graphic design, digital photography, commercial photography, and web design before participating in a second-year culminating advanced graphics project.
Associate of Science (A.S.) in Digital Media and Multimedia Technology
With the goal of preparing graduates to work in various industries producing all elements in the design of websites and other electronic media delivery systems, the Associate of Science (A.S.) in Digital Media and Multimedia Technology is designed to produce qualified students who can effectively function as part of the audio-visual creative team that creates the look of interactive online multimedia productions. For those who decide to enroll in the program, the coursework will feature all of the foundational creative and software competencies involved in graphic design, along with the special applications needed for digital video production and web development. By completion of the 64-credit program, graduates will become experts in using the software applications of Adobe Photoshop, Illustrator, InDesign, and Dreamweaver as well as Apple Final Cut Studio Pro.
Contact 
100 East College Blvd.
Niceville, FL 32578
(850) 729-5397
gillhamb@nwfsc.edu
Website 
Pensacola State College
Visual Arts Department
Founded in 1948 as the Pensacola Junior College and the first higher learning institution to be located in the heart of downtown Pensacola on the shorelines of the Gulf of Mexico, Pensacola State College is a public state-supported college in the Florida College System. Serving the academic needs for more than 36,000 students with the motto "Your First Choice for Higher Education," Pensacola State also has satellite locations in Warrington, Milton, Century, and Gulf Breeze. Based in the Anna Lamar Switzer Center for Visual Arts, the Visual Arts Department offers a variety of two-year professional art training degrees in the areas of sculpture, ceramics, jewelry, painting, drawing, design, photography, computer graphics, and illustration.
Associate of Science in Graphic Design Technology (GRAPH-AS)
As a two-year program that requires the completion of at least 64 credits, the Associate of Science in Graphic Design Technology (GRAPH-AS) program is designed to prepare students for entry-level positions in graphic design upon completion or transferring to a professional art school to earn an advanced four-year degree. With a seamless integration of both practical and theoretical concepts in the area of visual communication, the program covers the entire development of graphic designs from the inception of an idea through its final presentation to the client. Along with the classroom coursework materials, the program does also offer professional internships for advanced qualified students to have even more valuable experience in computer assistance, drawing skills, and technical developments.
Contact 
1000 College Blvd.
Pensacola, FL 32504
(850) 484-2554
klien@pensacolastate.edu
Website
Ringling College of Art and Design
Graphic Design Department
Strategically positioned along Florida's Gulf Coast on a picturesque 35-acre campus that attracts more than 1,300 students from around the world, the Ringling College of Art and Design is a private non-profit accredited institution that offers 14 bachelor's degree programs. As a member of the Association of Independent Colleges of Art and Design (AICAD), Ringling College is recognized as being among the nation's most innovative visual arts colleges and leaders in the use of technology in the arts. With a better than 2:1 student-to-computer ratio that rivals that of the prestigious Massachusetts Institute of Technology, Ringling is named as the "Most Wired Campus" in the country by the U.S. News and World Report. Furthermore, the Graphic Design Department is committed to delivering all of the very latest computer hardware and software for allowing students to discover ways to best express their messages.
Bachelor of Fine Arts (BFA) in Graphic Design
The Bachelor of Fine Arts (BFA) in Graphic Design program has been designed to prepare qualified graphic designers with a broad range of skills to produce visual images for print, electronic, and three-dimensional media in today's communication-oriented society. Focused on the role of graphic designer as a problem-solver to organize, interpret, and magnify media, the program will provide students with all of the equipment and software that are currently used in the profession. Within the state-of-the-art Ringling College Design Center, majors can work as interns in a professional design environment surrounded by flat-screen Apple computers, inkjet and laser printers, digital cameras, computer software, and video editing stations. In the four-year program, students will receive a comprehensive knowledge in two and three-dimensional design, contemporary design culture, interactive design, design problem solving, new media design, and visual persuasion before completing a graphic design internship in the final year.
Contact 
2700 North Tamiami Trail
Sarasota, FL 34234
(941) 351-5100
admissions@ringling.edu
Overall, today's digital-friendly world has opened vast career opportunities for graphic designers and animators to utilize their artistic talents far beyond basic web design. For those who are interested in taking advantage of the fact that graphic design has the most promising job outlook of any design-related professions, it is essential that you find an accredited graphic design degree program to ensure you have the skills and knowledge needed to effectively utilize the new emerging technologies available. Whether you are aspiring to produce award-winning advertising campaigns, create virtual animations for home or fashion design, develop product logos that wow potential clients, or teach graphic design at the college level, be sure to check out these top-notch graphic design degrees in Florida to get on the right track to achieving all of your individualized career goals.
For more Florida Graphic Design Degrees, please see: