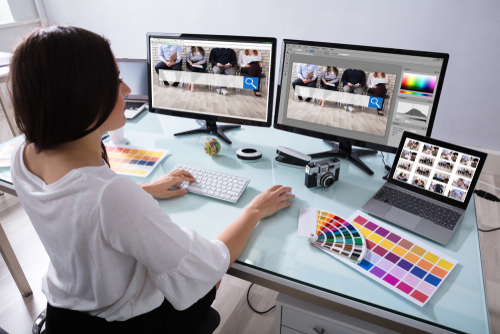 Working as graphic design contractor can be tremendously rewarding. You get to meet and work for all sorts of clients on a variety of engaging projects. However, if you are like many who are new to the field, you may not be sure how to get started. Fortunately, there are numerous opportunities available, but competing with already established graphic design contractors can be a challenge for recent graduates. If you create a business plan and follow a few strategies, you will have the best results. Here are a few tips for freelancing with a graphic design degree.
Build a Portfolio
Those who hire you will be placing a tremendous amount of trust in you, so you'll need to convince them that you're a smart hire. Doing so requires having a strong portfolio. You'll want a fairly large portfolio, but favor quality over quantity. Even a single poor design can be enough to cause a potential client to look elsewhere. Make sure the website that holds your portfolio looks attractive as well.
Create a Business Plan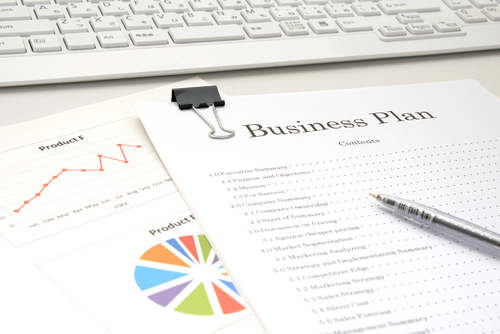 No matter what kind of business you are starting, a business plan forms a firm foundation you can build upon. In a creative field like graphic design, the intangible nature of what you are offering makes having a solid business plan even more important than, say, if you are opening a retail store. Like inventory in a warehouse, your business plan provides structure to your creative process. Also, if you require financing to launch your venture, you will need a detailed business plan to show lenders/investors.
A business plan for your graphic design contractor business should include these elements:
Executive summary
A statement of your overall objective
Short and long-term financial goals
Operating budget
Initial startup budget
Current financial statement
Projected financial statement
A description of your target market
A realistic analysis of the competition in your field
A marketing strategy
A plan for the organizational structure of your business, if applicable
Your executive summary should sum up your professional background, what you want to do, where it will take place and how you plan to do it. You can give details later in the plan, so be brief in the summary.
Your objective statement will take some thought because it needs to be as concise and realistic as possible. It should be strong enough to act as a compass that keeps you going in the right direction, even when you feel a bit lost.
When writing your financial goals, temper your optimism with common sense. Sure, everyone would like to make a million in their first year as a graphic design contractor, but set your goals with your time frame, target market and competition firmly in mind.
Your operating budget should reflect what you need to make your business work. This includes such service providers such as CPAs and IT assistance. It includes ongoing office expenses if you plan to lease commercial space. It also covers any employees you plan to hire.
Your startup budget consists of those expenses involved in opening for business, like computer equipment and software, a drafting table or a desk. You should include marketing expenses to announce your opening too. Putting all this on paper makes it easy to pare down or build up your initial budget as needed.
Analyzing your competition helps you make some key business decisions. For example, what do other graphic design contractors charge for their services? Do they charge by the hour or pay-per-service? Find out what the competition offers so that you can meet or beat the status quo in your professional field. Also, take a good look at how others are reaching out to potential clients.
Your marketing strategy does not have to be just like your competitors', but it should reflect what others are doing that works. For instance, if the busiest graphic design contractors are leveraging social media to show off their work and their client list, you need to compete with that. Otherwise, you could be bypassing a large segment of your target market.
Finally, for many freelance graphic artists, business structure consists of one person: themselves. However, if you choose to work with developers or partner with other professionals, you should plan how you will divide up duties, and how you will work together. Putting it down in your business plan is a good way to avoid misunderstandings later.
Learn about Marketing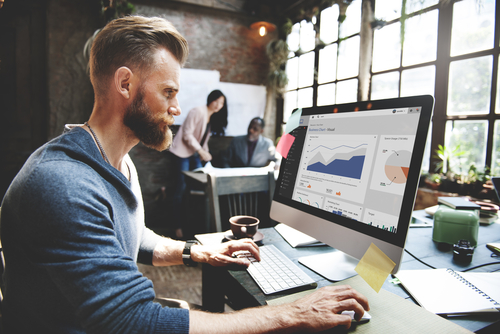 Working as a graphic independent designer requires that potential clients know about you, so you'll need to ensure that your marketing efforts are sufficient. Start with a website, and make it as attractive as possible. A simple blog theme won't be enough to impress visitors.
Offline marketing can help as well, so go to industry events and other events designed to bring business owners together. Networking is an essential skill for freelancers, so spend a few evenings per month meeting people who might be able to connect you with clients in the future.
Plenty of network opportunities for freelancers and gig workers are out there. The number of such workers has grown about 15 percent over the past decade. This translates to about six million Americans who have ventured out on their own. This surge in independent contractors has created a greater need for professional networking organizations that help freelancers stay connected with others in their industries. You can find networking opportunities through:
Business groups like Rotary Club and Kiwanis
Business Networking International
Your local Chamber of Commerce
Your town's Convention and Visitors' Bureau
Your city's Economic Development office
Social networks such as LinkedIn offer a variety of ways to connect with potential clients as well as potential partners like programmers. Even such sites a Twitter and Instagram offer contact opportunities for freelancers as well as updates and ideas in your career field.
Accentuate the Positive
As a graphic design contractor, you bring your talent and training to the table. You also represent savings to your employers, so make sure they are aware of that. Hiring you as an independent contractor means:
They don't have to pay your payroll taxes.
They are not bound by state laws requiring overtime, minimum wage, sick pay or holiday pay like traditional employers would be.
Your clients will not have to pitch in on your health insurance.
They don't have to provide fringe benefits, 401k or retirement benefits.
Hiring a graphic design contractor is a good deal for clients, but how does it benefit you? You'll enjoy plenty of perks, such as:
Making your own business decisions
Setting your own rate of pay
Setting your own schedule
Earning more than you could as someone's employee
Potential tax advantages
Granted, you are undertaking a big responsibility when you become an independent graphic design contractor. Your choices could make or break your career. That is why it's so important to research, plan and execute your job with impeccable professionalism.
Consider Working with a Developer
These days, most clients want some sort of interactivity on their websites, and they typically contact developers first. Programmers and web developers:
Communicate with clients
Structure websites
Write and/or adapt code that determines the form and function of the site
Test and troubleshoot coding
Design page layouts
Convert written content, graphics, audio and video to compatible formats
Place web page content
As a graphic designer, you might spend little to no time doing any coding. However, you can work with developers to determine the best way to incorporate your designs.
You may be working with a programmer from the start of the project, helping select structural elements related to design. You may not come in until it is time to populate the pages of the site with visuals. Either way, when you form a working relationship with a web developer/programmer, you can create a dependable, ongoing demand for your services. Also, working as a web development partner helps you establish a trustworthy reputation in your industry.
Most developers are poor graphic designers, and as a graphic design contractor just starting out, you may find that teamwork is the best way to generate more interest. The more you work with programmers, the more you learn about web development. This means that you can tell clients about new ways to redesign their websites, and you may be able to land bigger contracts for ambitious website redesigns.
Stay Current
One mistake many independent graphic designers make is failing to stay current with recent trends in graphic design. In a typical job, staying current is a bit easier since you'll be working with other employees. When working independently, however, staying current will require a bit more time. Fortunately, there are a number of great sites that cover recent design trends, and they can help ensure that the services you offer are never out of date.
Some of these resources include:
From subscribing to publications for the graphic design contractor community to reading the latest blog posts in the field, you can keep up with pertinent events and trends in your profession. You will also get regular exposure to related arts such as architecture and interior design that may inspire you with new ideas.
The Outlook for Graphic Design Contractors
Although the Bureau of Labor Statistics predicts little growth in the graphic design profession from 2019 to 2029, that does not mean the opportunities are few. Nevertheless, compete in a profession that will be holding steady through the 2020s, you need to be agile, adaptable and ambitious.
Setting yourself up as a graphic independent designer provides you with the freedom to cultivate all of these characteristics and more. As the decision maker in your career, you can choose the gigs that reflect your professional strengths and design savvy. You have the power to take on as much or as little work as you can handle, ensuring high quality, exceptional results. As you continue to meet or exceed client expectations, your reputation in the graphic design field will help you nurture a sustaining base of loyal customers.
Design Contractor versus Graphics Software
Given, you will be competing with a wealth of automated, artificial intelligence-driven programs that promise convenience and savings for the corporate world. These types of graphic design software promise websites that virtually design themselves. In actuality, though, busy business owners must devote precious time to learning how to use the programs, and then more time to using them with mixed results.
However, as a graphic design contractor, you offer:
Knowledge of the pros and cons of the latest graphic software
Skill in using software as a technical tool
Unique, customized branding
Consistent quality
Professional flair
Creative ideas
Problem solving
Flawless follow-through
Naturally, you should plan to use the virtual tools that help make your job easier. You bring your expertise to the table in selecting the level and type of AI that complements your work.
The value that you add in terms of customization depends upon your human ability to form relationships with your clients and understand the brand they want to create. Then, you ensure the consistency, professionalism and creativity so essential to successful branding. Your clients will not waste precious time troubleshooting glitches with do-it-yourself programs because you take care of them as they arise.
Conclusion
Working as a graphic independent designer can be challenging, and you'll need to ensure that you're doing all you can to keep business steady. Start with a detailed business plan and follow through with it as your enterprise grows. Cultivate your various networks to keep your finger on the pulse of the industry. Fortunately, many website operators seek to find graphic designers they like instead of relying on developers, so if you invest enough time building your portfolio and marketing your services, you can create a profitable niche in a very competitive, yet very rewarding, profession.
Related Resources: