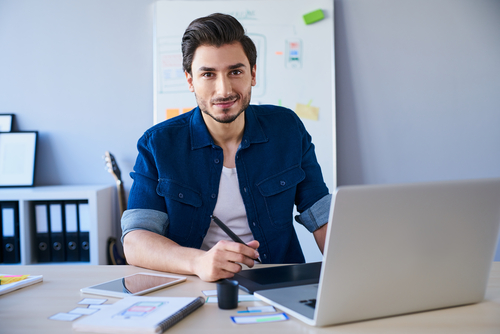 For graphic design professionals who have the right training, education, and experience, the position of creative director offers numerous possibilities for advancing in the graphic design profession. There is high value in the workplace for professionals who have the artistic ability to create everything from print material to online content, and this is especially true in the position of creative director.
Graphic Design Education
Completing an education in graphic design is often one of the first requirements for securing a position as a creative director. From prestigious art schools to community colleges, the importance of creative graphic design can be seen in the growing number of curriculums that offer this degree or certification. In a graphic design program, students learn a number of skills that prepare them to create everything from magazines and brochures to film and video content.
Prospective students can consider earning a certificate, associate's degree, bachelor's degree, or master of fine arts degree offered across the United States at post-secondary institutions. The are even a number of high quality online graphic design degree programs to choose from. Common courses include typography, package design, principles of branding, 3D design, digital tools, print and digital media, visual communication, information design, and graphic design history. In addition to coursework, an important element of an education in graphic design is the completion of a portfolio that allows each student to showcase his or her ability.
Specializations and Skills
Many graphic design programs offer students opportunities for choosing a specialization or concentration within the graphic design field. Some options include multimedia, print design, or web publishing. These specializations correspond to the expertise often required of a creative arts director. For additional information, visit the AIGA website.
Whether choosing to pursue a general degree program or focusing on one area in a specialized degree, creative directors are responsible for a number of tasks and duties in their positions. Some of the skills that will be required to be successful in the workplace in this position include the ability to conceptualize and develop design solutions, critical and creative thinking, presentation of ideas, create visual communications based on a number of design principles, understanding of mediums of delivery and presentation, and customer service and management applications.
Interpersonal and Management Skills
Creative directors are often the managers in departments of graphic design firms. In addition to a role as a graphic designer, creative directors in these positions are also responsible for managerial tasks such as employee evaluations, scheduling, budgeting, and client management.
Customer service and client management is an integral part of the graphic design business. It is important for designers and directors in design firms to be able to meet client expectations and demands. In order to do this, the first step, and one of the most important skills for a creative director to possess, is to have exceptional interpersonal skills and solid understanding of customer service. Creative directors must work with both clients and other designers to see a customer's vision come to fruition satisfactorily.
Whether working in the film industry producing animation or handling the printing specifications of a local community hospital, and everywhere in between, creative directors must have a diverse skill set to lead a graphic design team and project.
Related Resources: