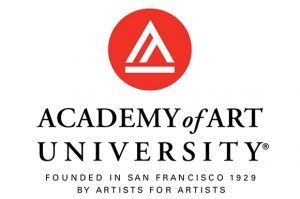 Graphic Design Degrees Offered at Academy of Art University
Academy of Art University appears in our ranking of the Top 13 Best Affordable Graphic Design Degree Programs.
At Academy of Art University, prospective students can choose from several graphic design and web design degree programs at the undergraduate and graduate levels. The School of Graphic Design, for example, provides students with a strong foundation in art and design principles across a variety of media, including emerging, product, interactive, digital, traditional, and print media. Throughout these programs, students develop the problem-solving skills necessary to design thoughtful and critical public spaces, interfaces, and messages. Students can choose from an Associate of Arts, Bachelor of Fine Arts, Master of Arts, Master of Fine Arts, or a certificate in graphic design. Students are guided through the nuanced skill-development process with the goal of achieving excellence in motion graphics, user experience, branding, packaging, print, and typography. All graphic design degrees are also offered online, and online students work with the same expert faculty to gain the same real-world design industry expertise and hands-on training as on-campus students. Students become part of a creative, vibrant community, interacting with online coursework that includes interviews with field experts, digital documentation, audio-enhanced slideshows, original instructional videos, and more.
Academy of Art University's School of Web Design & New Media provides students with a comprehensive skill set in contemporary digital design and art that prepares them for careers in the tech industry. The school teaches an integrated approach founded on four key concepts: user experience, technology, visual communication, and design thinking. Areas of study include product design, motion graphics, visual design, user experience, and technology. All web design and new media degrees, including the Associate of Arts, Bachelor of Fine Arts, Master of Arts, and Master of Fine Arts degrees, are available online. Academy of Art University keeps up with current advancements in industry practices and technology to offer the latest in equipment and software to prepare students to enter the new media workforce and the web design studio. Instructors work in creative businesses, providing students with both invaluable knowledge stemming from their personal experience as well as networking opportunities that can lead to once-in-a-lifetime internships and, ultimately, rewarding careers. Graduates are prepared to enter the industry as web designers, front-end developers, and art directors.
Other design-related programs available at Academy of Art University include undergraduate and graduate degrees in industrial design, interior architecture and design, and visual development. Students can choose from dozens of organizations and clubs in which to get involved, and many find new creative outlets and build lifelong friendships with their peers. Regardless of major, students are encouraged to participate to connect with those with similar interests to share information, form collaborations, promote their work, and discuss ideas. Popular organizations for graphic design-focused students include the Comics and Concept Art Club, Drawaholics Anonymous Crew, and the Interior Architecture & Design Club.
About the Academy of Art University
For nearly nine decades, designers and artists have called the Academy of Art University their home. Family-owned since 1929 and founded in San Francisco, it is the largest private design and art institution of higher education in the country. Established as the Academy of Advertising Art, Academy of Art University is, at its core, a professional school and a specialized institution that helps students master their craft as they prepare for professional roles as designers and artists. The school's no-nonsense, hands-on curriculum is taught by some of the finest minds working in today's innovative and creative industries. Experienced faculty members help students develop their talent and acquire the skills sought by the creative marketplace. Academy of Art University welcomes all students and boasts an inclusive admissions policy not typically found at most art schools.
Academy of Art University Accreditation Details
Academy of Art University's online and on-campus degree programs are regionally accredited by the WASC Senior College and University Commission (WSCUC), one of seven regional bodies responsible for the accreditation of private and public schools and colleges in the nation. In addition, several of its degree programs have earned specialized, programmatic accreditation, including the school's BFA Interior Architecture & Design and the MFA Interior Architecture & Design programs, which are accredited by the Council for Interior Design Accreditation (CIDA); the Single Subject Art Teaching Credential Program, which is accredited by the California Commission on Teacher Credentialing Accreditation; and a number of architectural programs, which are accredited by the National Architectural Accrediting Board. Also, Academy of Art University's art and design disciplines are accredited by the National Association of Schools of Art and Design (NASAD), including several Associate of Arts, Bachelor of Fine Arts, Bachelor of Arts, Master of Arts, and Master of Fine Arts degrees as well as certificates.
Academy of Art University Application Requirements
Prospective undergraduate students must complete an application, submit proof of high school completion such as an official, sealed copy of their high school transcript or GED, and pay a $50 nonrefundable application fee. Official transcripts from any other learning institutions or universities attended are also required, and while submitting an art portfolio is not mandatory, the school indicates that it will help the admissions process. Graduate students must also complete an application, pay the $50 application fee, and submit official transcripts from their undergraduate university or college showing completion of a bachelor's degree. Other supplemental materials include a statement of intent, a resume, and a portfolio/demo reel that includes detailed descriptions in the students' chosen disciplines.
Tuition and Financial Aid
Undergraduate students pursuing a bachelor's degree from the Academy of Art University can expect to pay $963 per unit, and each class consists of three units. Graduate students and those pursuing the art teaching credential can expect to pay $1,083 per unit, with each class also consisting of three units. Other anticipated costs include a $50 application fee, a $50 registration fee each semester, average course fees of $400 per semester, and average materials/supplies expenses of $990 per semester. The total cost for a full-time undergraduate is $26,147 per year. Academy of Art University offers several financial aid options to help students offset the cost of tuition, including federal and state aid, federal loan interest rates, the Federal Work-Study (FWS) program, and alternative loans, also known as private education loans.
To learn more about the graphic design degrees available at Academy of Art University, please visit the school's website here.