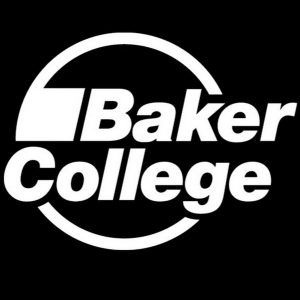 Graphic Design Programs at Baker College
Baker College appears in our ranking of the Top 20 Affordable Web Development Online Degree Programs.
With multiple campuses in Michigan, Baker College makes it easy for students today to get their degrees. Though the college does not offer a standard graphic design program, it does offer two similar programs. The first of which is its Associate of Applied Science (AAS) in Computer Aided Design. Available through its College of Engineering, it teaches students how to create models with a computer that they can use in engineering and architectural applications. This program gives them experience using CAD and similar software.
Students must take 60 credits of classes, which will include 45 credits of CAD courses. Principles of Industrial Safety, Health and Environment is one required course that looks at occupational health standards. Engineering Graphics is another required course that focuses on the graphic design basics that engineers use. The college expects students to do work experience that is worth three credits and a final capstone project. They will also take classes that include Introduction to Engineering and Design, Integrated Physics and Statics and Strengths of Materials.
The College of Information Technology at Baker College offers an online BS in Information Systems – Concentration in Web Development and a Bachelor of Science in Game Software Development (also online). This program looks at the basics of game design and teaches students how to create their own software. It includes 120 credits of classes, with 90 credits coming from the game software development major. Students must do two work experiences. They can work for software development companies in Michigan and other states. The program also includes many courses that provide students with knowledge of apps, including Introduction to Computer Applications, Principles of Computer Science and Application Security Practices. Other courses in this program include Systems Development Methods, Game Design and Analysis, and Game Development.
About Baker College
Baker College is a private college system in Michigan that operates eight campuses. Established in 1911 as Baker Business College, it took its name from the founder of the college. It had just one campus in Flint for many years but slowly added other campuses. Muskegon College acquired the Flint campus in the 1960s and renamed it Baker Junior College. The new owners helped the college become a nonprofit and expand. The system now includes the Baker College Center for Transportation Technology, which operates out of an old auto shop and the Baker College's Culinary Institute of Michigan, which provides students with opportunities to create dishes and learn about different cuisines.
In addition to these campuses, there are also Baker College campuses in cities such as Allen Park, Jackson, and Owosso. Students can also enroll in Baker College online and take their classes over the web. As other junior colleges did, this college once followed a quarter schedule and required that students take classes during four different sessions. It now uses a traditional semester schedule that only requires they take classes in the fall and spring. Students can also take courses over the summer session. Baker College has an enrollment of a few thousand students on its main Flint campus and even more on its other campuses.
Baker College Accreditation Details
Though Baker College is very small, it has accreditation from the Higher Learning Commission (HLC). The HLC once consisted of multiple departments spread out across the country, but it now handles all types of regional accreditation itself. This is what gives the college permission to develop its own degree programs and to provide students with the degrees and certificates that they earn. Baker can also offer strong financial aid packages because of this accreditation. Its engineering, business, technology, nursing, education, and occupational therapy programs all have accreditation also.
Baker College Application Requirements
Prospective college students can sometimes feel overwhelmed at the application process, but Baker College wants those students to feel confident applying. It lists all its admissions requirements online to help students see what they need to have and do to enroll. Incoming students must have a GED or a high school diploma. Those with a diploma will submit a high school transcript that shows the college the classes they took and grades they earned up through their senior year. Students who have a GED must provide records that show their scores on that test.
All future Baker College must start with the college's online application. It takes around 30 minutes or less to complete the application and pay its $30 fee. Baker also asks that students supply a GED score, high school transcript or an ACT/SAT score. It accepts a standardized test score from older students who finished high school more than five years ago. Students can submit electronic documents to the college or send their documents through the mail. Any applicant who earned college credits can submit a transcript from that school. Baker will evaluate the transcript and decide whether to accept any of those transfer credits. This will also determine whether students can skip some of the required general education courses or classes within their majors.
Tuition and Financial Aid
All undergrads attending Baker College will pay the same rate for AAS and bachelor's programs. The college charges a flat rate of $400 per credit hour. Students in more advanced classes may face a premium tuition charge of $10 per course. Five of the Baker campuses offer housing options for students. Those students pay $2,050 per semester for housing. Baker offers discounts for military students, including those in the Go Army program, members of the National Guard and Army Reserve and those on active duty status. Students who qualify for this discount pay $247 per credit hour.
Though Baker College is quite affordable, many students will still need to apply for financial aid. They can do so with the FAFSA, which helps them get grants and loans. The college will apply that financial aid to a student's account at the beginning of the semester and allow the student to withdraw any cash left over after paying for their classes and other expenses. There are also 19 scholarships available from the college. Two programs provide transfer students with funds, but some of the other scholarships go to students who have a grade point average of at least 3.8 and a score of 1390 or higher on the SAT. Students applying to Baker College who have an interest in computer design can get traditional financial aid and scholarships.