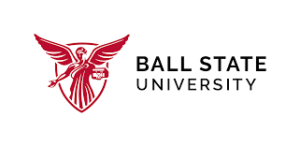 Graphic Design Degrees Offered at Ball State University
Ball State University appears in our ranking of the Top 8 Affordable Online Graphic Design Master's Degrees.
The School of Art within the College of Fine Arts at Ball State University offers bachelor's degrees in visual communication and graphic arts management. Graduates of the programs are prepared for rewarding careers in various areas or advanced graduate programs in the field.
The Bachelor of Fine Arts in Visual Arts with a concentration in visual communication prepares students to become designers of information that pay close attention to detail and engage in collaborative teams to create innovative solutions to a wide range of formats. The curriculum develops students' abilities, perceptions, and problem-solving skills in traditional and digital media. Students work with instructors to edit and revise work for presentation and creating a unique portfolio. The program requires the completion of a total of 120 credit hours, including university core courses, art core courses, and art specialization courses. The visual communication courses include Introduction to Visual Communication, Type and Image, Visual Communication 1, Special Topics in Visual Communication, History of Visual Communication, Introduction to Printmaking, and Photography 1. Students must also select one of the following: Art Internship, Visual Communication Practicum, and Senior Design Thesis.
The Bachelor of Arts or Bachelor of Science in Graphic Arts Management provides students with a broad technical knowledge of graphic arts and hands-on experience with contemporary printing processes and equipment. The program covers all aspects of printing and enables students to use some of the same printing equipment used in the field. The courses cover commercial printing and publishing, printing materials and equipment, quality control and production control systems, computer applications for creative and managerial functions, prepress, estimating, and printing management, and quality control and production control systems. Students are required to also pursue a minor in business administration to gain management and supervision abilities to advance to upper-level positions. The degree requires the completion of at least 81 credit hours. The technical courses include Graphics: Intro to Printing Processes, Graphics: Digital Imaging, Graphics: Screen and Specialty Graphics, Graphics: Digital Prepress, and Graphics: Cross-Media Communications. The management courses include Graphics: Advanced Management Systems, Graphics: Quality Control and Automation, Graphics: Cost Analysis, Practicum in Graphic Communications, and Graphics: Capstone for Graphic Communications. Students must also complete an internship to gain experience in the graphic communications industry.
BSU also offers an online Master's Degree in Emerging Media Design & Development.  The program is mostly online, but a 5-day residency is required at the start of each semester.
About Ball State University
Ball State University is a public institution of higher learning located in Muncie, Indiana. The Carnegie Foundation for the Advancement of Teaching ranks Ball State University as a research institution with high research activity. Ball State University was established in 1918 as Indiana State Normal School Eastern Division. It changed its name to Ball Teachers College in 1922, and Ball State Teachers College in 1929. In 1965, the Indiana General Assembly changed the college's name to Ball State University to better reflect its programs, services, and mission. Today, more than 22,000 students call Ball State University home. The university functions on the semester-based academic calendar.
Ball State University prides itself on its firm belief in an education embedded in creativity, values, and intellectual ingenuity. It is dedicated to engaging students in top-notch academic, creative, and research experiences that allow them to pursue meaningful careers and rewarding lives. It also promotes the enrichment of the lives of students through lifelong learning and service.
It offers more than 180 undergraduate majors and 100 graduate programs through seven colleges of education: R. Wayne Estopinal College of Architecture and Planning, Miller College of Business, College of Communication, Information, and Media, College of Health, College of Fine Arts, Teachers College, College of Sciences and Humanities, Honors College, and University College. The most popular programs include education, management, business, marketing, humanities, and liberal arts and sciences. The student to faculty ratio is 17 to one.
Ball State University Accreditation Details
The Higher Learning Commission regionally accredits Ball State University to grant associate, bachelor's, master's, and doctoral degrees.
Ball State University Application Requirements
Undergraduate
Online Application
Official high school transcript
Official transcripts from previously attended postsecondary schools
Official SAT or ACT scores
One-page applicant statement, resume, or recommendation
$55 non-refundable application fee
Graduate
Graduate application
Official transcripts from previously attended postsecondary schools
Official GRE, GMAT, or MAT scores
Current resume
Letter of recommendation
$60 nonrefundable application fee
Tuition and Financial Aid
Tuition
Undergraduate
Full-time resident students: $8,014 per year
Full-time out-of-state students: $24,794 per year
Graduate
Resident students: $417 per credit hour
Non-residents: $1,145 per credit hour
Online
Undergraduate residents: $334 per credit hour
Undergraduate out-of-state residents: $543 per credit hour
Graduate residents: $442 per credit
Graduate out-of-state residents: $651 per credit
Financial Aid
Scholarships
Presidential Scholarship
Distinction Scholarship
Ball State Scholars Award
Outstanding Freshman Scholarships
Ball State Fast Track Scholarship
Ball State Transfer Scholarship
Alumni Scholarships
Opportunity Grant
Grants
Federal Pell Grant
Federal Supplemental Educational Opportunity Grant (FSEOG)
Federal TEACH Grant
Loans
Federal Subsidized Direct Loan
Federal Unsubsidized Direct Loan
Federal PLUS Loan
Federal Graduate PLUS Loan
Federal Perkins Loan
Federal Work-Study
The Federal Work-Study, FWS, is a program funded by the federal government that allows students who show a significant financial need to work on a part-time basis to earn money to help pay for college costs. Students who qualify are able to work up to 20 hours weekly while taking classes. The program encourages students to pursue jobs that are related to their degree field or those that help the surrounding community. The pay depends on each situation, but students earn at least the current minimum wage.
Graphic design degrees provide students with technical knowledge and abilities for professional careers in the dynamic and diverse field of graphic arts and related areas. Graduates are well-prepared to work in many areas including printing companies, publishing companies, specialty printers, graphic design firms, advertising firms, and ink companies. The graphic design degrees from Ball State University open the door to an array of job titles, such as graphic designers, graphic artists, production managers, printing estimators, print buyers, web designers, and customer service managers.