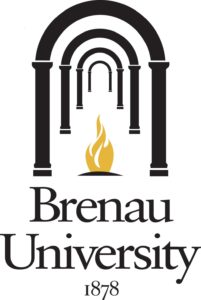 Graphic Design Programs Offered by Brenau University
Brenau University appears in our ranking of 21 Affordable Master's Degrees in Marketing and Advertising.
Brenau University offers a variety of programs that appeal to graphic design majors through the Art & Design Department and other departments. The studio art major is the most popular option for those students because it includes a concentration in graphic and digital art. This program encourages students to create portfolios as they take courses such as Graphic Design, Digital Photography, Intermediate Printmaking, and Advanced Digital Photography. Students can opt for concentrations in drawing, sculpture, art history and museum studies too. All majors in this program will present their work at one of the on-campus galleries.
This department also offers a degree in fashion design that asks students to use computers and software to create clothing designs. The university expects students to create 3D pieces of clothing in the workshops available on-campus too. Their courses include The Fashion Industry, Art History I and II, Digital Graphic Design and Fashion History I and II. The Bachelor of Fine Arts (BFA) in Interior Design will appeal to some students too. This program looks at architecture and teaches students how to design interior spaces that will work with architectural elements. Students also take courses on design planning, construction materials, and design assessments.
A Bachelor of Arts (BA) in Communication and Media Studies will prepare students for using graphic design and other forms of media as a communication tool. It is available as an evening program in Gainesville and a daytime program on several other campuses. Majors must take 20 credits of core communication courses, including New Media Development, Introduction to Mass Communication, Media and Entertainment Management and Public Relations Campaigns and Writing. A BA in Mass Communication is also available from Brenau University. It features a digital technology concentration that includes Advanced Digital Design Graphics, Video Production I and II, Digital Graphic Design and Social Media and Mobile Marketing.
The university's Master of Arts in Communication and Media Studies includes courses on graphic design and writing for the web. Students will take 10 courses and can take eight in any order, but they must take Communication Theory and Applied Communication Research in their first semesters. Other courses include Communication in Society, Film Theory, Media Globalization, Media Industries and Business Practices and Communication Consulting and Training. Brenau University now offers a Master of Fine Arts (MFA) in Interior Design too. This is an online program that allows students to complete their degrees without living in Georgia.
About Brenau University
Brenau University is a private university in Georgia known for the programs it offers for traditional and nontraditional students. Established in 1878, the university opened as the Georgia Baptist Female Seminary and only admitted women. The Brenau Women's College grew out of that institution. This is a division of the university that offers programs designed for women. The graduate school at the university and all of its other degree programs are coeducational. It became Brenau College in 1900 and established a board of trustees to oversee the college in 1911. After becoming Brenau University in 1992, it added online programs. Also known as Brenau and BU, the university has a main campus in Gainesville and smaller campuses in Fairburn, Norcross, and Augusta. BU also opened another campus in Jacksonville, Florida. All those campuses combined have a total enrollment of more than 3,500 students.
Brenau University Accreditation Details
Students applying to Brenau and those who attend the university can use the Free Application for Federal Student Aid (FAFSA) if they want a financial aid package from the university. Brenau has regional accreditation from the Southern Association of Colleges and Schools (SACS), which is why it can grant packages that include aid from government programs. It also has accreditation from the Council for Interior Design Accreditation (CIDA) and other organizations for some of its degree programs.
Brenau University Application Requirements
BU asks students to read through the admissions requirements of each department and college because the steps they need to take can vary. Undergrads need a high school grade point average of at least 2.7 and a diploma, but Brenau also accepts those with a GED who can show that they have a GED certificate. Students can apply online through the university's website or with the Common Application. Though BU requires official transcripts, it does not ask for a standardized test score. Brenau asks students to both submit the FAFSA and put down an enrollment deposit once they are accepted.
Incoming undergrads who have college credits can apply as a transfer student. They need to complete a transfer application that shows the university what college they currently attend. Graduate students applying to BU will also apply online. They are responsible for making sure that Brenau receives their official college transcripts. Many programs only accept students with a college GPA of 2.5 to 2.75 and a bachelor's degree. Those programs may ask for a copy of the student's most recent resume, a writing sample, portfolio or letters of recommendation too.
Tuition and Financial Aid
BU charges undergrads $979 per credit hour if they take 11 or fewer credit hours. When they take 12 or more credit hours, they'll pay no more than $14,685 per semester unless they take more than 18 credits. Most of the graduate programs charge between $630 and $713 per credit hour. Students enrolled in the programs available through the university's Women's College pay different rates for their classes. The university also charges separate rates for those who need a room and board package to live on-campus.
Though BU asks students to put down an enrollment deposit, it uses those funds to secure their spots in the next semester. The university will apply that deposit to the total amount that students owe at the beginning of the semester. Undergrads can borrow a maximum of $31,000 from the federal government while in a degree program. Graduate students can borrow up to $138,500 during their undergraduate and graduate years. Students can get other types of financial aid if they complete the FAFSA and demonstrate need on the form. This can include federal work-study positions available on the BU campus and scholarships from Brenau. All graphic design majors and students in similar art and design degree programs can get financial aid from Brenau University and the state and federal governments.