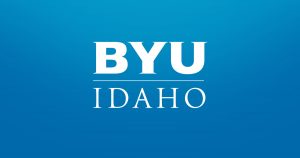 Graphic Design Programs at Brigham Young University – Idaho
Brigham Young University – Idaho appears in our ranking of the Top 20 Affordable Web Development Online Degree Programs.
Brigham Young University – Idaho is a branch of BYU that provides opportunities for students in Idaho. Its Department of Art offers a number of programs that appeal to graphic design students. One such program is its Bachelor of Fine Arts in Graphic Design. As a BFA program, it asks students to use the skills they develop and learn to create some of their own design projects. Some of that work will appear in the university's Jacob Spori Art Gallery. All art majors can do internships through the university. They will also take an Art Seminar course focuses on one specific topic each semester.
The Bachelor of Arts in Standard Studio Art with a concentration in Graphic Design is another program offered by the university. Students can take one to two years of art and design classes before deciding whether they want to stay in the BA program or transition to the BFA track. Graphic design majors look at the user experience and how users will both view and use their work. Many majors do internships with leading companies across the west and work on the web. The program also allows them to learn more about online advertising.
There are two web design and development programs suitable for students with an interest in graphic design too. The Associate of Applied Science (AAS) features 60 credits of courses and allows students to choose an emphasis in web design or web development. Those in the web design program will take courses such as Introduction to Graphic Design, Advanced Typography, and Social Media Design. The web development program features different courses, including Database Design and Development, Mobile Application Development and Technical Communication. Students will take some of these same courses and advanced classes that cover advanced subjects in the university's online Bachelor of Science in Web Design and Development program.
About Brigham Young University – Idaho
Brigham Young University – Idaho is a separate branch of Brigham Young University – Idaho in Rexburg, Idaho. To separate the campuses, this one uses the names BYU-Idaho and BYU-I. The Church of Jesus Christ of Latter-Day Saints established a small school in Rexburg in 1888 called the Bannock Stake Academy. It functioned as a secondary school that offered high school classes for incoming settlers. This school would then serve as the Fremont Stake Academy before becoming Ricks College near the turn of the century. As a primarily junior college, most of its programs culminated in two-year degrees. After becoming Brigham Young University – Idaho in 2000, the university added four-year bachelor's programs to its curriculum.
Forbes ranked BYU-I as the 413th best American college, and U.S. News and World Report ranked the university as the 13th best school in the west. Though the university still offers some associate degree programs, it focuses more on bachelor's programs today. Students can complete their degrees in eight semesters of work, though many take at least one semester off to do missionary work. Students must attend church services every Sunday and can take part in the devotionals held on Tuesdays. BYU-Idaho has an enrollment of well over 19,000 students.
Brigham Young University – Idaho Accreditation Details
BYU-Idaho established its own review committee that meets to discuss its accreditation needs every year. This committee helps ensure that the university meets the requirements to renew its regional accreditation, which comes from the NWCCU. This accreditation not only allows the university to offer financial aid packages for those who apply, but it also lets this branch of BYU accept transfer students and their credits.
Brigham Young University – Idaho Application Requirements
BYU-Idaho offers a concurrent program for high school students who want to earn college credits, but it also accepts transfer students and other types of freshmen, including homeschool students and those who graduated from high school. It also encourages those with a GED to apply. The university bases its decision on factors such as church endorsements, essays, and grade point averages. Most students have a GPA of 3.5 or higher and a score of 24 on the ACT or 1090 on the SAT. Students who are members of the LDS Church must be in good standing when they apply.
To apply, students will use the BYU-I application and complete every section. It includes a section that asks about the student's faith and for the address of his or her church. They will also write essays that typically ask them about their faith and how they will use their faith in college. Students will also submit both a test score and a transcript as well as a letter of recommendation from a church leader. This recommendation letter serves as the student's church endorsement.
Tuition and Financial Aid
Full-time BYU-I students pay $2,059 per semester. This rate only applies to students who belong to the LDS Church though. Students of other faiths will pay a fee on top of their tuition. They also pay around $2,000 a year for room and board. Any student who lives off the BYU-I campus will face higher living expenses. The university estimates the cost of books and other supplies at $200 a semester.
The deadline for students who want to apply for financial aid is March 1 every year. Academic scholarships provide students with funds based on their ACT/SAT test scores and their grade point averages. Students who meet academic requirements can renew their scholarships every year. The university offers general scholarships for continuing students too. They can get a full-tuition scholarship for simply taking a full course load. BYU-I offers information on its scholarships online and allows students to both look at the requirements of each scholarship and find out how to apply.
BYU-Idaho students may also qualify for federal and state aid too. Both single and married students can use the FAFSA. Married students will use their combined incomes on this form, while single students who are under the age of 25 will use their parents' combined income. They can get government loans as well as some grants this way. Students may join the work-study program too, which provides them with a paycheck for the jobs they do for the university. The Department of Art at Brigham Young University – Idaho offers help for those majoring in graphic design too.