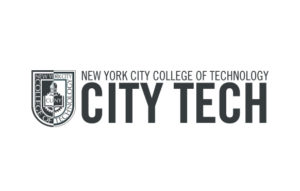 Degree Programs Offered at the City University of New York College of Technology
City University of New York College of Technology appears in our ranking of the Top 20 Best Visual Communications Degree Programs.
At the City University of New York College of Technology, students can choose from 26 bachelor's degree programs and 27 associate's degree programs. Though some look at the name and assume that the college only offers programs in technology and computer science, it also allows students to major in accounting, math, chemistry, nursing, professional writing, and other subjects.
The college offers a few degrees in design for aspiring graphic artists.  The BTech in Emerging Media Technologies is a four-year undergraduate degree that prepares graduates for careers in the ever-changing media industry.  Three concentrations are available:  design, computation, or physical computing.  BTECH students can also choose a major in entertainment technology if they want to work in conference centers, amusement parks, and similar locations. Majors must do an internship in the entertainment field and have the option of working in New York or theme parks such as Disney World. They'll take classes that include Video Technology, Entertainment Drafting, Introduction to Entertainment Technology, Lighting Technology and Career Seminar, which helps them with their resumes and as they look for work.
The Communication Design – BFA degree is perfect for future visual communications professionals.  Alumni of this program currently hold jobs at The New York Times, Ogilvy, JP Morgan Chase, and more. Three specializations are available:  advertising, graphic design, illustration, or web design.
The college offers several programs in different areas of management too, including hospitality management and marketing management and sales.
About the City University of New York College of Technology
The City University of New York College of Technology is a branch of the City University of New York and the only school in that system to focus on technology programs. It was established in 1946 as the New York State Institute of Applied Arts and Sciences. Thousands of soldiers returned from fighting overseas in World War and had GI Bill benefits that they could use to pay for college. New York opened this school to train those soldiers and get them ready to work in the state. Enrollment grew from less than 300 students in its first year to thousands by the time it became a community college in the 1960s. Since becoming the City University of New York College of Technology or City Tech, the college grew to an enrollment of more than 30,000, which includes both degree students and those who audit classes or sign up for its certificate programs.
City University of New York College of Technology Accreditation Details
City Tech affirmed the regional accreditation that it has with the Middle States Commission on Higher Education (MSCHE) in 2018 after launching a review committee two years earlier. That committee ensured that the college met the standards needed for accreditation, which is one of the reasons why students can use the Free Application for Federal Student Aid (FAFSA) if they need financial aid. It also holds accreditation from the American Dental Association (ADA), Accreditation Commission for Education in Nursing (ACEN) and other organizations.
City University of New York College of Technology Application Requirements
Students applying to City Tech need a high school diploma or an equivalency certificate such as the GED. The associate's programs accept those with a C-average in high school or a score of 2700 on the GED test. Those applying to a bachelor's degree program need a minimum GED score of 2750 or a 75% average in their high school classes. Some programs will only accept students with an 80% high school average, which helps them weed out students who may not succeed in those fields of study. City Tech also looks for students who scored 21 or higher on the ACT or 1010 on the SAT.
Though it has different requirements for veterans, military students, and transfer students, City Tech asks all students to apply online and then submit their test scores along with their transcripts or GED scores. The CUNY assessment test is a short test that students must take if they do not provide a standardized test score. This exam determines what math, English and other general education courses they will need to take before choosing a major. Those who applied to another school in the CUNY system must take this assessment on the City Tech campus. City Tech also requires vaccination records from any student taking on-campus classes.
Tuition and Financial Aid
At City Tech, students in an associate's degree program pay $4,800 each year as a New York resident and $6,600 as a nonresident for full-time enrollment. These costs rise to $6,930 for residents and $18,600 for non-residents in the bachelor's degree programs. Part-time students pay $210 to $305 per credit hour as a resident and $320 to $620 as a nonresident. Undergrads also pay a $15 consolidated fee along with a $62.50 to $125 technology fee and a student activity fee of up to $180 a semester. The activity fee will increase as the student takes more classes.
The financial aid that the college offers can include both institutional aid and government aid. Government aid comes directly from the federal government and can include the federal work-study program or loans. Students can get subsidized loans in an undergrad program, which means that they do not need to worry about the interest on those loans until they graduate. The state government has grants that go to students who show more need and allow them to renew their grants every year. Students can also look for some of the scholarships that the college offers, which they can combine with any other financial aid that they get. There is also the Excelsior Scholarship, which is only available to New York residents. Some of the financial aid packages available from the City University of New York College of Technology can cover the total cost of enrollment.