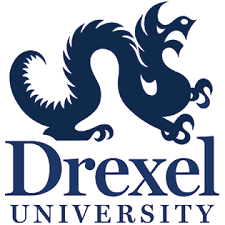 Graphic Design Degrees Offered at Drexel University
Drexel University appears in our ranking of 21 Affordable Master's Degrees in Marketing and Advertising.
Graphic design is offered as a bachelor of science (BS) or minor degrees. Students are provided with a curriculum that is well-rounded in coursework in the humanities, physical sciences, and social sciences. The BS in graphic design is foundational through project-based exploration and experimentation in typography, image-making, aesthetics, and critical thinking. Students work with all communicative media from books and other publications, web and exhibition design, to advertising and data visualization. Students utilize emerging technologies and are offered advanced elective coursework. Total credit hours required for a BS in graphic design are 183 whereas the minor requires only 24 hours.
Game design & production is offered as a BS degree and requires 190 credit hours. This degree is foundational in design and technology resulting in students that are competent in digital media and is strengthened by a six or eighteen-month co-op experience. Game development begins in the student's freshman year and combines animation and interactivity with design, programming, and production. Game design & production marries graphical presentation and interaction while evolving with new technologies such as data-trackers, touch displays, and mediated-reality.
Interactive digital media is offered as a BS or minor degree. This degree allows students to see media through the eyes of the user. Students graduating with an interactive digital media BS will have real-world experience, a portfolio, and adaptable skills through coursework involving user experience design, user interface, and interaction design, development, information architecture, and content strategy, and project management. The interactive digital media BS requires students to spend six months working full-time within a company and has a full-scale industry-level product launch as the capstone. The minor in interactive digital media requires eight courses, providing 24 credit hours focusing on the design and development of websites and mobile applications whereas the BS in interactive digital media is 187 credit hours.
Digital media is offered as a minor, accelerated bachelor of science/master of science (BS/MS), MS, or doctorate of philosophy (Ph.D.). The minor in digital media requires 24 credit hours, the accelerated BS/MS requires a total of 225 credit hours (180 credit hours for the BS portion and 45 credit hours for the MS portion), the Ph.D. requires a total of 90 credit hours if pursuing directly from a BS or 45 credit hours if pursuing from a MS. The minor provides basic foundations in digital media emphasizing 3D animation, game art, and interactivity. The accelerated BS/MS focuses on project-related activities to advance the student's understanding of digital design providing an understanding of digital media history, theory, and methods. Students enrolled in the Ph.D. program will apply digital media to solve research problems focusing on iterative and design-based research.
About Drexel University
According to the National Center for Education Statistics, Drexel University is a private not-for-profit 4 year or above college with a total enrollment of approximately 25,000 students. Drexel University offers a cooperative education program which enables students to spend up to 18 months working within industry leaders and gain first-hand experience with a potential employer.
Drexel University was first founded in 1891 by philanthropist Anthony J. Drexel as a non-degree-granting institution in Philadelphia, PA. To meet the needs of a rapidly growing industrial society, the Drexel Institute of Art, Science and Industry was first formed. In 1914, BS degrees were being conferred after the school's original 18 departments were organized into 4 schools. Drexel University began conferring MS degrees in 1927 and Ph.D.'s in 1965. Throughout its history, the Drexel Institute of Art, Science and Industry changed its name in 1936 to Drexel Institute of Technology and then to the current Drexel University in 1970.
Currently, Drexel University offers over 200 degree programs from 15 colleges and schools. Drexel University was recently ranked as a top-tier R1 doctoral university by the Carnegie Classification meaning that Drexel University awarded at least 20 doctoral degrees and had at least $5 million in total research expenditures. This places Drexel University in the likes of the University of Pennsylvania (UPenn), Massachusetts Institute of Technology (MIT), Stanford University, Harvard University, and California Institute of Technology (Cal-Tech), among others.
Drexel University Accreditation Details
All educational programs at Drexel University are accredited regionally by the Middle States Commission on Higher Education. Specifically, The National Association of Schools of Arts & Design has accredited Drexel University's BS in graphic design and interactive media, MS in digital media, and PhD. in digital media.
Drexel University Application Details
Drexel University has different requirements for first-year freshmen and transfer students. First-year freshmen require an application, application fee, transcripts from the students high school, two letters of recommendation, SAT or ACT test scores, financial aid information (in the form of a submitted free application of federal student aid, FASFA), a portfolio, and a 500-word writing supplemental describing the student's interest in pursuing their indicated major at Drexel University's Westphal College. A transfer student requires largely the same information, excluding the letters of recommendation, and including transcripts from all from each college attended. If the transfer student has less than 24 semester college credits, the transfer student will also need to submit high school transcripts and SAT or ACT scores.
Application and admissions into the MS or Ph.D. program of digital media requires a grade point average (GPA) from undergraduate studies of at least a 3.0, as required by the graduate school. In addition to the GPA, the program has specific requirements. Transcripts from all colleges and universities attended must be submitted showing course work and degrees conferred along with GRE test scores. A 500-word essay describing short-term and long-term career plans including how your experience and interest will enable successful completion of the degree. A résumé and two letters of recommendation are also required. Finally, a portfolio consisting of one to five pieces with a total running time of any videos not exceeding 10 minutes.
Tuition and Financial Aid
Attending Drexel University at the undergraduate level costs approximately $52,000 for the first year, with approximately $2,400 in fees. However, Drexel University offered financial support to 99.9% of incoming first-year students in the form of scholarships and grants reducing the total tuition by approximately $31,000. When enrolled in a co-op, the student is only billed fees and not tuition. Financial aid is available in the form of merit-based scholarships, need-based grants, federal work-study, federal student loans, and private student loans or any combination of these.
The tuition associated with the graduate-level courses in digital media is $1,056 per credit hour with an additional fee of $280 per credit hour. Like undergraduate programs, the graduate program provides grants and graduate scholarships. These include teaching, research, or graduate assistance awards. Private scholarships are also available from outside of Drexel University.