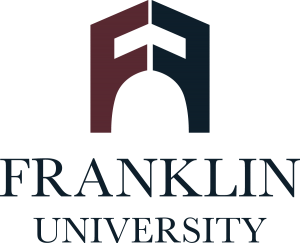 Graphic Design Programs at Franklin University
Franklin University appears in our ranking of the Top 20 Affordable Web Development Online Degree Programs.
To help students learn the basics of graphic design, Franklin University offers a Bachelor of Science (BS) in Interactive Media Design (IMD). This online program is open to students living in Ohio and those from other states. It teaches students how to design and develop new games and apps and how to create new websites. All undergrads must complete the same core curriculum, which includes English and math classes and courses in other subjects. The technical core consists of 24 credits of classes, including Web Design Fundamentals, Graphic Design Fundamentals, Flash Animation, and Media Design.
IMD majors will also take 36 credits of required courses such as Communication in Groups and Teams, Human and Computer Interaction, Digital Media Design and Advanced Graphic Design. In Interactive Media for Entertainment, students learn how to put together designs that will entertain and interest others. Interactive Media for Training and Instruction teaches them how to design software and sites that will train others. The university requires that students earn a C or higher in some of these classes.
All IMD majors will also do both a capstone and a practicum. The practicum serves as a chance for students to gain experience working for web development and graphic design companies. As they work on their capstone projects, they can pick the subjects and topics that interest them and do research into those subjects.
A Bachelor of Science (BS) in Web Development is also available through Franklin University. The university recommends this program for students who want to focus more on websites and online work than in the development of apps. It includes a professional core that is worth 25 credits of courses such as Problem Solving with Computers, Principles of Computer Networks, Fundamentals of Graphic Design and Introduction to Web Page Construction. The web development core is worth 36 credits and includes Advanced Client-Side Development, Advanced Web Development, and Linux Administration. While the university allows web development majors to do internships, it does not require that they do a practicum. Majors will need to do a capstone project though.
About Franklin University
The name Franklin University refers to a chain of university campuses located in Ohio and around the Midwest. Established in 1902 with a single campus in Columbus, Ohio, it initially served as the YMCA School of Commerce. This campus offered classes in a large YMCA building downtown and had classes that met at convenient times, including on weekdays and weekday nights. The school would become Franklin University in the early 1930s and split off from the YMCA in the 1960s. Franklin slowly changed its curriculum to include graduate programs such as a Master of Business Administration (MBA) and to include programs outside of business.
Though Franklin still has its headquarters in Columbus, it now owns campuses in other parts of the Midwest, including in Indiana and Illinois. Many of these campuses are small in size but offer resources for students. Students can check out books from the library, attend classes, meet with other students in meeting spaces and talk with their professors. The university has an open enrollment policy to help students more easily enter college. This policy also allows students to transfer credits and earn credits based on their level of experience. The university offers assessments for those who want to earn credits because of their military or professional experiences. Franklin University offers both online and traditional classes today and has a large enrollment of more than 10,000 students. More students take classes online than on all of its campuses combined.
Franklin University Accreditation Details
Any student planning to attend Franklin University who needs financial aid can submit the FAFSA because the university has regional accreditation, which comes from the Higher Learning Commission (HLC). HLC accreditation is also what lets Franklin evaluate and accept credits earned at other colleges.
Franklin University Application Requirements
More than 90% of undergrads applying to Franklin University already attended college and want to transfer their credits into a new program. The university will accept those credits, but it requires that students submit official transcripts that faculty members will evaluate. Undergrads can transfer up to 94 credits into a new program. Franklin will typically review an application and make a decision within 24 hours, which makes it easy for students to find out whether they can start classes. The entire process takes place online too.
In addition to the online application, Franklin also asks for official transcripts. Students can use their high school transcripts if they have their diplomas or submit a GED certificate if they do not. Those bringing credits with them will need to provide transcripts from each college or university where they earned those credits. It can take up to 10 days for the university to receive and process those transcripts. Any student who needs extra help can talk to an admissions counselor online or in person. They also have the option of making an appointment to speak with a counselor on a Franklin campus. Counselors provide help with both the university's application and with the FAFSA.
Tuition and Financial Aid
Franklin University charges roughly half the national average that other colleges do. Undergrads pay only $526 per credit hour, which comes out to $16,306 each year. Part-time students can estimate their costs based on this rate too. The university charges a $50 assessment fee for students seeking prior learning credits. This program lets students get credit for any professional classes or experiences that they have, but they will need to pay $50 per credit hour for this program. Students will pay for the e-books they use in their classes too.
The financial aid available to Franklin students can include both institutional and federal aid. It's important that students file the FAFSA to see what federal and state aid they will get. This can help them decide whether to apply for private loans. The university has its own loan program that supplies funds to students who are under the age of 25 and a resident of West Virginia, Ohio or Kentucky. Students can also apply for a merit scholarship, which asks that they complete an application and write an essay. Franklin University has other financial aid options for students majoring in graphic design too.