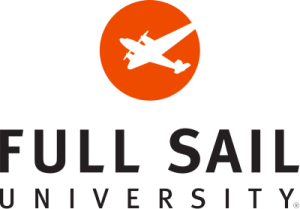 Graphic Design Degree Programs at Full Sail University
Full Sail University appears in our ranking of the Top 20 Affordable Web Development Online Degree Programs.
Students who want to study graphic design will find that Full Sail University offers a number of programs suitable for them. The best program might be its Bachelor of Science in Graphic Design. It provides a comprehensive overview of all forms of graphic design, including the techniques used on the web and those used by traditional publishers such as newspapers and books. Students learn how to use their designs for branding and advertising and how to integrate their designs into other applications. The program is available online, which takes 29 months to complete. Those in the traditional program can earn their degrees in only 20 months. All graphic design majors will take courses such as Digital Publishing, Design and Art Theory and Typography and Page Layout.
The university's Bachelor of Science in Digital Arts and Design is a similar program that focuses more on the graphic design principles used by those working on the internet. Students learn the theories and principles behind both 2D and 3D graphics and how to use design software. Color Theory is a required course in this program that looks at how professionals use colors and the ways in which colors can change across applications. Other courses that majors take include 3D Arts and Motion Graphics Production. Full Sail only offers this as an on-campus program, which takes 20 months to finish.
Students who want to work in advertising may want to enroll in the university's Bachelor of Science in Media Communications program. It is available as a 29-month online program or a 20-month traditional program. It teaches students the fundamentals behind producing content for others, including the ad campaigns used in the real world and the graphics used on the web. They also develop the communications and design skills needed to work in different fields. The required classes in this program include Integrated Marketing, New Media Tools and New Media Formats. Full Sail University also offers bachelor's degree programs in game art for those who want to create apps and games and in computer animation for those who want to produce computer animated work.
About Full Sail University
Full Sail University is a large university in Florida. Originally established in 1979 in Dayton, Ohio, the university offered recording arts and sound engineering programs under the name Full Sail Center for the Recording Arts. This school also operated a studio called Full Sail Productions. Jon Phelps, the founder of the university, decided to move to Florida because of the ample job opportunities for students in that state. The campus moved from Orlando to Winter Park in the early 1980s and earned the right to develop and offer associate's degree programs. This would later lead to the school offering both bachelor's and master's programs. The school would also adopt the Full Sail University name, though some also call it FSU or Full Sail.
FSU is now one of the largest independent and private universities in Florida. It owns multiple recording studios and works with several production companies to film both television shows and films in those studios. Students can also gain experience in labs on the campus and through internships with leading companies. FSU now has an enrollment of more than 19,000 students. More than 10,000 of those students enroll in the undergrad and graduate degree programs that the university offers online.
Full Sail University Accreditation Details
FSU has a license from the Commission for Independent Education (CIE), which allows the university to operate in Florida and to offer classes in that state. It also registered in California as an independent university. The only accreditation that FSU has comes from the Accrediting Commission of Career Schools and Colleges (ACCSC).
Full Sail University Application Requirements
To apply to FSU, students must pay a $75 application fee. The university accepts both debit card and credit card payments and only requires that students pay this fee when they submit their applications. Students must have either a GED or a high school diploma before they can start classes. They can submit transcripts from their high schools or the official scores given to them by the GED testing center. A home school transcript will qualify a student to start classes too.
Undergrads who want to enroll in a bachelor's program only need to pay the application fee and submit an application and then provide their transcripts. Once the university receives an application, it will contact the student and arrange a time for a meeting with an admissions rep. That rep will interview the student to find out why he or she wants to study at FSU and how they plan to pay for college. Online students must also complete an assessment to determine whether they have the technical skills needed to take classes online. They will also need to go through an orientation with other online students.
Tuition and Financial Aid
Undergrads in both the university's graphic design and digital arts and design programs pay $671 per credit hour. They need to take 120 credits to finish their degrees. The total cost of earning one of these degrees through the university is $80,500, which is more than $40,000 a year. Both online and traditional students pay the same tuition rates at Full Sail University. Though this amount may seem high, the university offers financial aid and ways for students to save money. The textbooks and other supplies they need are usually available online, which reduces their out of pocket costs. Students can also use the FAFSA and see if they qualify for government financial aid too.
Full Sail University also offers scholarships for incoming students and those who continue with their studies. Its Momentum Scholarship awards qualifying students with up to $20,000. This program is open to any first-year student who never enrolled in an FSU program before and those who want to take online classes. An Anniversary Scholarship awards students up to $10,000 to put towards a university program. Other scholarships to students who already earned a degree from FSU and those who demonstrate strong merit. Students also have the option of applying for loans, including both federal and alternative loans. Full Sail University offers several graphic design programs that financial aid will cover.