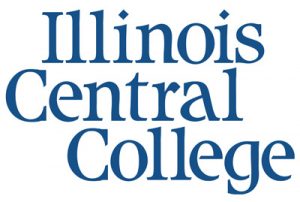 Six ICC Programs for Graphic Design Careers
Illinois Central College appears in our ranking of the 20 Most Affordable Associates in Web Design and Development Online.
Since 1972, the School of Agricultural & Industrial Technologies has developed a 61-credit Graphic Communications AAS for Illinois Central College undergrads to learn how to creatively visualize expressions with cutting-edge tools, including Adobe Photoshop and Autodesk Maya. Chaired by Prof. David Smit, a Staff Who Make a Difference Award recipient, the Graphic Design AA follows a 60-credit, HLC-accredited academic track of 200-level courses like Typography and Figure Drawing. The Multimedia AA builds a 60-credit, portfolio-based 2+2 sequence centered on design creation for transfer to Western Illinois, Iowa State, DePaul, Bradley, and others.
At the East Peoria campus, the Art AA molds a 60-credit design degree with opportunities to exhibit in Gallery 131D, contribute to the Student Film Festival, engage in Arts Week events, and find internships like Central Illinois Printing. The Communication AA reports median $49,296 PayScale salaries after a 60-credit, two-year path blending campus courses, including Graphic Design, with Forensic Union debates and practice illustrating The Harbinger. Directed by Prof. John Baggett, the Digital Publishing Certificate also offers 34-credit, short-term training with Adobe InDesign experience for a media field predicting 4 percent growth through 2026.
For aspiring web developers, ICC offers three online options: Web Developer Apprentice Certificate program, Web Developer Certificate program, and Associate in Applied Science in Web Systems.
About Illinois Central College
Illinois Central College originated in 1966 when Peoria County's citizens voted to fund a two-year vocational school for the new statewide system approved by the General Assembly. In Fall 1967, Dr. Kenneth L. Edwards welcomed its inaugural class of 2,486 students. In 1971, its current 437-acre East Peoria campus started taking shape in Forbes' 168th best city for careers. In 1976, President Leon Perley formally established the School of Agricultural & Industrial Technologies. Two years after, the $2.5 million, 478-seat Performing Arts Center was built with a Guest Artist Series. By 1980, enrollment had spiked above 15,000 and a Perkin location was opened downtown.
In 2001, Caterpillar Inc. partnered with Illinois Central College for a Service Training Program. In April 2014, Governor Pat Quinn announced a $2.6 million investment at ICC for a state-of-the-art Sustainability Center. Four years later, Illinois Central again earned a $1 million Commonwealth Edison grant for solar panel energy. In 2018, the unique five-week Success After the GED College Bridge program also began. Illinois Central College now employs 610 faculty teaching 13,132 Cougars in 2,300 classes averaging 15 each with 40+ active clubs like Vagabond Art Club. WalletHub noticed ICC for America's 167th best education outcomes and 387th top overall value. Community College Week also ranked ICC 40th for most associate degrees awarded nationally.
Illinois Central College Accreditation Details
On August 15, 2013, Illinois Central College was notified by the Higher Learning Commission of the North Central Association (HLC-NCA) that the Level I accreditation was reaffirmed via the AQIP Pathway through 2020-21 under its fifth president, Dr. Sheila Quirk-Bailey, who received Achieving the Dream's Leah Meyer Austin Award for Excellence. Located 155 miles up Interstate 55 in Chicago, this huge 19-state Heartland Region accreditor is authorized by the U.S. Education Department to continually review ICC's 57 associate and 67 certificate offerings from East Peoria to Perkin and online. The Illinois Board of Higher Education (IBHE) also approves Central as the state's seventh largest community college district.
Illinois Central College Application Requirements
Getting into Illinois Central College is classified "non-competitive" by Peterson's because 100 percent of the 1,844 Fall 2017 applicants were selected for open enrollment. First-year Cougars seeking associate degrees like the Graphic Design AA should finish an approved high school or homeschool curriculum. Passing the GED with scores above 580 is diploma equivalent. Priority is given for residents of ICC District 514. Specific grades aren't listed, but at least 67 percent of classes should be graded "C" or higher. The School of Agricultural & Industrial Technologies will require maintaining 2.0 GPAs afterward. College-ready Accuplacer scores are currently 90 Reading and 81 Math. Skipping the placement test is available for minimum 18 ACT marks. Similar benchmarks are 480 on the SAT and 4.0 on the PARCC. Undergrad transfers typically have 12+ credits, including English Composition I, with a 2.0 GPA or better. The Director of International Education also publishes a 5.0 IELTS, 425 CET4, and 500 TOEFL minimum.
Illinois Central College starts rolling undergrad admission on October 1st. The priority date is presently March 1st. Non-U.S. residents absolutely must file by July 15th for Fall or November 1st for Spring starts. Getting ICC Educational Foundation consideration requires applying by April 1st. Accordingly, click the website's "Apply Now" button to complete the free Admission Form. Have official transcripts mailed to Administration Building L211 at 1 College Drive in East Peoria, IL 61635. For testing reports, select ACT code 1035 or SAT/TOEFL code 1312. Other requested items include the placement exams, medical immunization record, teacher/counselor evaluation, art samples, visa status verification, and financial sponsorship. Ask further questions at (309) 694-5600 or enroll@icc.edu.
Tuition and Financial Aid
In 2019-20, Illinois Central College is billing District 514 residents $150 per credit. District senior citizens age 65 and older will get free for-credit classes. Non-district Illinois undergrads will pay $320 per credit on-site. Out-of-state and international tuition will be $378 per credit. Online ICC courses charge everyone $168 per credit. Living at the East Peoria campus' housing on Nature Trail Lane adds $4,500 for yearly housing. Meal plans for Café Breve are $2,700 extra. Illinois Central budgets $1,200 for books, $2,200 for transport, and $2,000 for miscellaneous each year. Annual associate attendance equals about $17,100 in-district, $22,200 in-state, and $23,940 out-of-state. Dependent students commuting from home spend less at $9,900 to $16,740.
According to the NCES College Navigator, the Financial Aid Office in Arbor Hall Room A002 connects 61 percent of new ICC Cougars to median assistance of $5,211 for $2.73 million combined. Institutional funds include the Betty Calkins Fine Art Scholarship, Don H. Brennan Scholarship, Gary Uphoff Scholarship, Grant Saint Julian Scholarship, Jeannette Fae Browning Memorial Art Scholarship, Robert & Connie Sutherland Scholarship, Ruth S. Holmes Fine Arts Scholarship, Andrew A. Filson Memorial Scholarship, Melvin L. Woolard Memorial Scholarship, and Wubbena Memorial Scholarship. The Heart of Illinois United Way Power of the Purse Scholarship gifts $1,000 to five women with GPAs above 2.75. Graphic Design AA majors qualify for the $1,500 Thompson Scholarship for Minority Students each year. Federal financial programs, such as the Pell Grant, Opportunity Grant, and Stafford Loan, necessitate FAFSA forms coded 006753. The Illinois Student Assistance Commission also provides the Monetary Award Program, National Guard Grant, Veteran Grant, and Aim High Grant.
Learn more about Illinois Central College at the Graphic Communication & Digital Publishing website.