https://www.kutztown.edu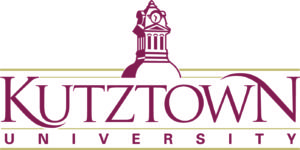 Graphic Design Programs Offered by Kutztown University
Kutztown University appears in our ranking of the Top 8 Affordable Online Graphic Design Master's Degrees.
Kutztown University in Pennsylvania offers communication design majors for students with a passion for graphic design. The university's Bachelor of Fine Arts (BFA) in Communication Design teaches students how to solve problems in creative ways and how to use different design methods. Those with a grade point average of 3.0 or higher can do an internship through the university and work for a design, ad or media firm. Most students choose to do internships in their senior year. The classes in this program teach students how to use Illustrator and other types of software too. Their classes include Historical Survey of Graphic Design, Interactive Design and Advertising Design. The program follows the standards established by the American Institute of Graphic Arts (AIGA).
The university also offers a Master of Fine Arts (MFA) in Communication Design. This is a hybrid program that asks students to do a residency session two times a year. They'll spend three weeks on the Kutztown campus as they show their work to their professors and get feedback. This also gives students the chance to use new forms of software on the university's computers and to engage with their peers. The final requirement of the program is a capstone that asks students to demonstrate the skills they developed through graphic design projects that they present.
One reason students choose Kutztown University for graphic design is that it includes opportunities for them to show their work. Both on-campus and online students can submit their work to the university and have it displayed during one of the shows held each year. In the graduate program, students take courses on research and creative studies as well as presentation and exhibition work.
About Kutztown University
Kutztown University is one of the nicknames given to the Kutztown University of Pennsylvania. Founded as the Keystone Normal School in 1866, it started as a teacher education school with just one building on its campus. That building now uses the name Old Main. It became the Kutztown State Teachers College in 1928 and added bachelor's programs to its offerings. To meet the growing needs of students in the surrounding areas, Kutztown became a state college in the 1960s. The university often uses the nickname KU today and has a large campus that features a student union, libraries and other resources for students. There are also 14 residence halls that offer rooms for undergrads and graduate students. More than 8,000 students now attend KU, which is more than double the number of people living in the closest town to the campus.
Kutztown University Accreditation Details
KU graphic design majors who earned credits at other schools can transfer those credits to the university because it has regional accreditation. That accreditation comes from the Middle States Commission on Higher Education (MSCHE). This is also what lets students who need financial aid use the Free Application for Federal Student Aid (FAFSA). KU did a self-study on its accreditation in 2018 and received a report on its accreditation that showed it in good standing in early 2019. The university's communication design programs have accreditation from the National Association of Schools of Art an Design (NASAD) too.
Kutztown University Application Requirements
At KU, students can easily become Golden Bears and join the university's tribe. Future undergrads pay a $35 application fee and submit an application that is available all year. They can select when they want to start and pick the communication design major on the form. KU also asks for an official ACT or SAT score and transcript. Any student who has more than 12 credits can apply via the transfer student application. They will pay the same fee and submit their college transcripts, though the university does not ask them for a standardized test score.
Graduate students applying to the communication design program need to submit a portfolio that shows some of their best work. KU will use that work to determine whether the student has strong enough skills for the program. It asks for three references and their contact information. The university encourages students to submit references who have experience with their work as artists. They also need to pay a $35 application fee and submit both the university's application and their transcripts. KU requires an artist's statement too to get an idea of how the applicant thinks and feels about art in general.
Tuition and Financial Aid
Undergrads who live in Pennsylvania pay $5,788 for their first semesters and $5,475 for their second semesters due to a small fee that the university charges for first-time students. If they want to live on the KU campus, they'll also pay $5,217 each semester for room and board. Students who are not from Pennsylvania pay $11,387 for their first years. A special program offers a 40 percent discount for students who are new to the university and take a minimum of 24 credits of classes each year. This brings their total down to $7,529 per year. Students continue to qualify for this discount as long as they meet the bare eligibility requirements. Graduate students at KU pay $610 per credit hour as a Pennsylvania resident and $906 per credit hour as a nonresident. If a student is a nonresident and takes online classes from the university, he or she will pay $619 per credit hour as a distance education student.
Payment plans allow all students who need more time to pay off their loans to make several payments on their accounts. The university offers payment plans for students who do not qualify for financial aid and those who do. As soon as it gets the FAFSA filed by an applicant, KU will create a financial aid package. The priority deadline for filing for students who qualify for need-based aid is February 15. Scholarships are also available based on the student's merit and talents. Those with a high school GPA of 3.5 or higher can qualify for a scholarship that covers half of their tuition costs, while those who have a GPA of at least 3.25 can qualify for one that awards them $7,000 a year. Scholarships, work-study, and loans are just some of the financial aid options available for students in the graphic design programs available from Kutztown University.