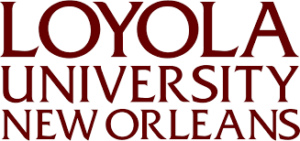 Three LUNO Degrees for Graphic Design Careers
Loyola University New Orleans appears in our ranking of the Top 20 Best Visual Communications Degree Programs.
At Monroe Hall, the College of Music & Media provides a 120-credit Bachelor of Design (B.D.) in Graphic Design for Loyola University New Orleans Wolf Pack to practice creating visual content with courses like Typography and Printmaking before senior capstone shows. Chaired by Prof. John Edward Seefeldt, the Bachelor of Design (B.D.) in Interactive Design builds a 120-credit, four-year Jesuit curriculum for four specializations: App/Web Design, Video Game Design, 3D Printing, and Environmental Design. Online on Blackboard, the Bachelor of Arts (B.A.) in Mass Communications delivers a 120-credit, ACEJMC-accredited path to media careers with eight-week Web courses like Visual Communications and Photography. Undergrads could also minor in digital filmmaking, exhibit at Collins C. Diboll Art Gallery, study abroad from Mishima to Milan, and join the American Institute of Graphic Arts Chapter.
About Loyola University New Orleans
Loyola University New Orleans originated in 1904 when the Society of Jesus opened Loyola College at the Foucher Plantation that Father O'Shanahan purchased for $75,500. On July 10, 1912, Governor Luther E. Hall signed the charter for Loyola University. In 1914, Loyola began graduate education at its new School of Law and School of Dentistry. Five years later, New Orleans' oldest Jesuit college opened the Conservatory of Music and Dramatic Art. In 1949, Loyola University launched the Evening Division for non-traditional adults. In 1952, Loyola admitted Norman Francis as the first African-American student. In 1967, Loyola's tallest 12-storey Henrietta Buddig Hall was erected. By 1986, Loyola had founded the 115,000-square-foot Communications Complex. In 1996, the Loyola University New Orleans name was adopted. One decade later, LUNO was closed for six months after Hurricane Katrina. In 2012, Loyola started a student-run digital newspaper called Pack News.
Endowed for $228.2 million, Loyola University New Orleans now employs 411 faculty teaching 2,982 undergrad and 1,279 post-grad Wolf Pack from 40 countries at its 26-acre Uptown 14th Ward headquarters, on the Broadway Campus, or online with 130+ clubs like Omicron Delta Kappa. In 2018, Loyola received a CASE District III Circle of Excellence Award. In 2019, LUNO won the Louisiana Press Association's Best Overall Website Award. Loyola University New Orleans accepted a 2019 American Advertising Federation Silver ADDY Award too. The U.S. News & World Report ranked Loyola the 143rd best online bachelor's school and 76th top undergrad teacher. On Niche, LUNO boasts America's 35th best Catholic education and 137th top communications majors. Business Insider named LUNO the 13th best campus. The Princeton Review placed Loyola University New Orleans eighth for town-gown relations. Forbes deemed LUNO the 313th top private institution. Times Higher Education picked LUNO 364th overall.
Loyola University New Orleans Accreditation Details
On December 10, 2019, the Southern Association of Colleges and Schools Commission on Colleges (SACSCOC) Board of Trustees removed the probation on Loyola University New Orleans to continue Level V accreditation through the next 2026 review under President Tania Tetlow, J.D., who earned the National Urban League Young Leader Award. Located 478 miles east via Interstate 10 in Decatur, Georgia, this esteemed 11-state Southeast Region accreditor is recognized by the Council on Higher Education Accreditation (CHEA) to evaluate Loyola's 45 baccalaureate, 10 master's, one doctoral, and 19 certificate offerings. Further, the College of Music & Media was reaffirmed by the Accrediting Council on Education in Journalism and Mass Communications (ACEJMC) in 2014.
Loyola University New Orleans Application Requirements
Admission to Loyola University New Orleans is classified "moderately difficult" by Peterson's though 4,257 of the 4,514 Fall 2018 applicants were chosen for 94 percent acceptance. First-year Wolf Pack entering the College of Music & Media must have a high school diploma or the GED equivalent. Rigorous curricula with 16+ college-prep credits are recommended. Earning a International Baccalaureate Diploma qualifies for sophomore status with 30 transfer credits. The Class of 2022 presented an average GPA of 3.51. The middle 50th percentile had ACT scores of 24-29. Mid-range admitted SAT composite scores were 1100-1320. The Honors Program mandates a minimum 3.5 GPA, 1360 SAT, and 29 ACT mark. Bachelor of Design majors must show artistic talent with portfolios of 10-20 quality original images. Transfers are test-optional after 15 accredited credits graded C or higher. Students from non-English countries must achieve at least 61 TOEFL iBT, 5.5 IELTS, or 90 Duolingo scores.
Loyola University New Orleans has freshman deadlines of November 15th for Early Action and April 15th for Regular Decision. Candidates filing before February 15th receive priority. Transfers have rolling admission until December 1st for Spring and August 1st for Fall starts. Final international deadlines are November 1st and July 1st. Accordingly, complete the Loyola or Common Application online for free. Forward official sealed transcripts to 6363 St. Charles Avenue in New Orleans, LA 70118. Send test reports using SAT/TOEFL code 6374 or ACT code 1592. Attach supplemental documents, such as the 500-word personal statement, one recommendation letter, design portfolio, transfer evaluation, and passport/visa. Contact (504) 865-3240 or admit@loyno.edu with questions.
Tuition and Financial Aid
For 2019-20, Loyola University New Orleans is billing full-time Bachelor of Design majors $19,463 per semester or $38,926 annually. Traditional part-time study costs $1,094 per credit. Summer sessions are discounted to $692 per credit. Undergrads cover the $833 general fee each semester. The College of Music & Media has a $250 semester fee. Residing at on-campus dorms like Biever Hall adds $3,685 to $4,417 for semester housing. Standard Wolf Bucks plans for the Orleans Dining Room are $3,211 extra. LUNO budgets $1,276 for books and $1,966 for miscellaneous. Annual bachelor's attendance averages $56,564 on-site or $43,184 if commuting. Online B.A. in Mass Communications students pay $450 per credit plus $275 semester fees.
According to the NCES College Navigator, the Office of Scholarships & Financial Aid in Thomas Hall Room 410 gets 99 percent of new full-time LUNO Wolf Pack enrolled with mean $30,158 assistance apiece for $24.05 million combined. University funds include the Talent Scholarship, Social Justice Scholarship, International Student Scholarship, Athletic Scholarship, Tom & Gayle Benson Endowed Scholarship, Patrick F. Taylor Foundation Scholarship, Dean's Scholarship, Phi Theta Kappa Scholarship, Zona B. Davis Memorial Scholarship, Thomas Farr Memorial Scholarship, Warren E. Mouledoux Memorial Scholarship, Stephen & Schezy Barbas Scholarship, and William John Gilbert Endowed Scholarship. The Ignatian Scholarship covers full tuition for outstanding freshmen with minimum 29 ACT or 1300 SAT scores. The Transfer Student Scholarship provides $9,000 to $16,000 for current undergrads with 12+ credits and GPAs above 3.0. Federal resources, such as the Pell Grant and Unsubsidized Direct Loan, require FAFSA applications coded 002016. Louisianans can also pursue the Taylor Opportunity Program, GO Grant, Horatio Alger Scholarship, Volunteer Firemen's Tuition Reimbursement, Agnes Morris Education Scholarship, and others.
Learn more about Loyola University New Orleans at the College of Music & Media website.