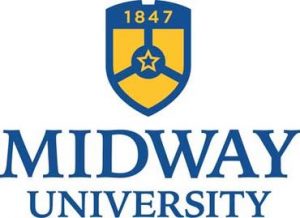 Graphic Design Programs Available at Midway University
Midway University appears in our ranking of the Top 13 Best Affordable Graphic Design Degree Programs.
Midway University offers a marketing communications program for undergrads. It looks at the creative side of the business industry and focuses on how firms can help market and advertise products and services for their clients. The full program includes 120 credits of classes that include courses in English and math that will help students as they further their studies. They will also take the 39 credits of classes that make up the marketing communications core. Those classes include Internal Brand Communication, Introduction to Public Relations, Writing for Marketing Communications, Media Sales and Analysis and Digital and Social Media. In their final semesters, students will also take a capstone course and do a final marketing project.
There are two concentrations available for students in this program that each include another six classes. Those who choose the writing concentration will learn the basics of writing for the web. They also learn how to write for other applications and how to use the written word as a communications tool. Applied MCO Writing, Professional Writing, Introduction to Journalism and Business and Organizational Communication are some of the classes in this concentration.
Students who choose the graphic design concentration will take six different classes that include Photoshop II. This class builds on the principles and techniques that students learned in the Photoshop I class required in the general program. In Digital Animation, students learn how to create animated shorts from original characters they create. Students will also take both Drawing and Applied Graphic Design. The graphic design concentration also allows students to do an internship with an advertising or media firm and use their experiences as they work on the capstone requirement.
Also available is an online bachelor's degree in marketing communication program. It features the same courses and includes both concentrations. Graphic design majors will learn how to use design principles as they create advertising and communications work. The university provides students with online tools that they can use in those classes too.
About Midway University
Midway University is a private university that has an affiliation with the Disciples of Christ of the Christian Church. Founded in 1849, the school originally had five acres and a single building that students used for their classes. Just 16 students enrolled in the school, which used the name of the Kentucky Female Orphan School. The Church worked closely with the state of Kentucky to build a school that provided classes and housing for poor and orphan young women. Students initially spent four years to complete at least 16 credits and took classes in Latin, history, music, and science. It also offered elementary and later high school classes before becoming Midway Junior College and then Midway College and Midway University.
The Midway University campus now sits in the town of Midway, which is in the central region of Kentucky. This campus is home to the Equine Education Center, which oversees one of the state's top equine science programs. There are also two residence halls on-site. Though Midway University only accepted women for many years, it opened its doors to male students in 2016, which helped enrollment climb to more than 1,600 students.
Midway University Accreditation Details
The Southern Association of Colleges and Schools (SACS) is the organization that granted Midway University regional accreditation. This accreditation is why transfer students can submit their transcripts and get credit for their past classes and why students can apply for different types of financial aid. To get that aid, a student needs to file the Free Application for Federal Student Aid (FAFSA). Both the nursing and the medical assisting programs at Midway University have accreditation also.
Midway University Application Requirements
Prospective Midway University students can tour the campus and sign up for an open house event to get an idea of what the campus looks like and where they'll live and take classes before they apply. Students can apply with a GED, but those who finished high school will submit a transcript instead. The transcript should show that the student successfully completed a high school program and include the student's cumulative grade point average and the grades earned in all classes taken. They need to take two years of life/health science and social science classes, three years of Algebra and other math classes and four years of English courses. Students who do not meet these minimum requirements will need to take some prerequisite courses.
Students applying to the online graphic design program either need a high school diploma or a GED. Those under the age of 24 will also need to submit an ACT/SAT score. The university gives priority to those with a high school GPA of at least 2.5 or a GED score of 660 or higher and those who scored a minimum of 18 on the ACT. Those who submit a high school transcript should take the same college-prep curriculum courses as traditional college students do. Midway University allows students to send their test scores and transcripts through the mail after finishing their online applications.
Tuition and Financial Aid
During the summer term, Midway University charges a tuition rate of $395 per credit hour. Part-time students taking classes in the fall or spring semesters will pay $910 per credit hour. All other undergrads pay the full-time rate of $12,250 per semester. The graphic design online program costs students $395 per credit hour also. Students who choose to live on the Midway campus must purchase a room package, which starts at $1,600 per semester. The meal plans that they must also buy start at $1,500 per semester and give them 14 meals each week.
The financial aid packages that the university awards can help students pay their room and board fees as well as their tuition. More than 90% of its total study body receives financial aid every year. Students with a minimum ACT score of 28 and a minimum GPA of 3.8 can qualify for an award that covers their total tuition and fees. Other scholarships provide incoming freshmen with $6,000 to $11,000 for the first years. There are other scholarships as well as grants, awards, work-study and loans that students can get when they apply for financial aid. Graphic design majors at Midway University may receive more than one type of award too.