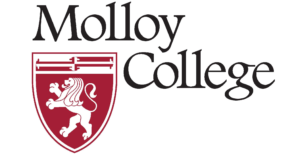 Graphic Design Programs Available at Molloy College
Molloy College appears in our ranking of 21 Affordable Master's Degrees in Marketing and Advertising.
The Molloy College Art Department offers both majors and minors in art and related fields. Students who want to focus on graphic design must enroll in the Bachelor of Fine Arts (BFA) in Studio Art and then pick a concentration. Both graphic design and digital art concentrations are available. The Molloy Art Club allows majors to work together and get feedback on their pieces as well as get help on class projects. There is also an art gallery located on the campus that sometimes shows the pieces that students create in their classes. Students can do internships in local art galleries and museums for credit too.
Those who choose the digital art concentration in the BFA program will take nine courses on digital art and computer graphics. Some of those courses train them on how to use computer software, including Adobe Photoshop and Adobe Illustrator. Advanced versions of those classes offer more training for students. They'll also take Introduction to Digital Art, Paint Systems I and II, Interactive Multimedia Design and Digital Photography. Some of the electives that help students build their portfolios include Typography Design, Photography II, Photo Journalism and Documentary Photography. Students also have the option of earning a minor in new media, which asks that they take 18 credits of communications and media courses.
The BFA program allows students to pick a minor in graphic design to go along with their degrees. All minors include six classes that are worth 18 credits. The college recommends that students take Two Dimensional Drawing, Introduction to Graphic Design, Drawing, Typography Design, Adobe InDesign and Introduction to Digital Arts. Those who submit portfolios or show that they have more experience or advanced skills can skip the two introductory courses and take advanced electives. These electives can include Selected Studies in Photography Art, Selected Studies in Graphic Design and Selected Studies in Digital Design.
In the digital arts concentration, students learn how to create digital art with the skills they have and those they develop. This concentration includes courses on Adobe software such as Illustrator and Photoshop and photography and other electives. The college encourages students to take a class called Strategies for a Successful Art Career, which helps them explore their career opportunities and learn how to apply for those jobs. The BFA major also includes a concentration in visual arts education for future teachers and allows students to minor in digital art.
About Molloy College
Molloy College is a private college affiliated with the Roman Catholic Church through the Dominican Order. The Sisters of St. Dominican arrived in Long Island in 1941 and purchased a large plot of land for their order. They would use that land in 1955 to establish the Molloy Catholic College. Both the employees working for the college and the students admitted to its programs were female. It wasn't until 1972 that the college accepted men and only then into its nursing program. The college became Molloy in 1971 and became coeducational 11 years later. Molloy helps students express their interests and meet others through more than 60 clubs, some of which are open to those who major or minor in select fields. A shuttle bus runs from the campus to locations across Long Island daily to help the more than 3,500 enrolled students reach the nearby train and other sites.
Molloy College Accreditation Details
Molloy College can easily get the financial aid that they need because it has regional accreditation. That accreditation gives students the option of using the Free Application for Federal Student Aid (FAFSA) and comes from the Middle States Association of Colleges and Schools (MSACS). While the college's art and graphic design programs lack accreditation, it has accreditation for programs in education, counseling, social work, nursing, health information management, and others.
Molloy College Application Requirements
Incoming freshmen to Molloy College need to complete a high school curriculum that includes four years of social studies and English classes and three years of math, science and foreign language courses. The college may waive some of these courses for students planning to study art and other subjects outside of math and science. It asks for an official score from an entrance exam such as the ACT or SAT and a high school transcript. Those who finished a home school program need to submit a certificate or proof that the programs they followed were equivalent to those offered by local high schools.
To make sure that students have strong English skills, the college requires a score of 20 on the reading portion of the ACT or a 26 on the similar section of the SAT. Those with a lower score will need to take an introductory English class and receive a score of C or higher before they can take the English classes needed to graduate. A $40 application fee is due with the online application. Though the college has an early application deadline of December first, it also offers a rolling admissions policy that lets students apply at a later date. Art and graphic design majors have the option of sending in their portfolios too.
Tuition and Financial Aid
Part-time students at Molloy pay $1,040 per credit hour, which is also what the college charges for full-time students who take more than 16 credits. Full-time students can take up to 16 credit hours of classes and pay a rate of $15,665 each semester. They also pay general fees of $200 a semester, which drops to $65 credits for students who take just one class. Molloy charges undergrads an activity fee of $35 to $100 every semester based on the number of credits they take.
Both full and partial scholarships are available from Molloy for undergrads. Though some only go to students who attended the college in the past and those who meet the requirements for honors students, some are available for all students and majors. Those enrolled in the arts and fine arts programs can renew their scholarships for up to eight terms as long as they maintain a grade point average of 3.0 or higher. When students submit the FAFSA and list Molloy as their future schools, they can qualify for federal work-study and government loans and grants. Molloy College offers financial aid packages for all art and graphic design students.