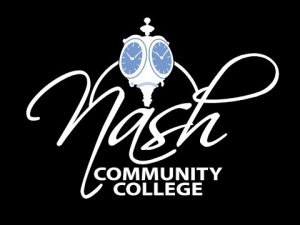 Graphic Design Programs at Nash Community College
Nash Community College appears in our ranking of the 20 Most Affordable Associates in Web Design and Development Online.
Nash Community College offers two-year degree programs that prepare future graphic design professionals for working with clients. The main program in this curriculum is the college's advertising and graphic design program. It asks students to take an advanced math class and a total of 69 credits of classes, which they can transfer to another school. They will take classes such as Web Development Tools, Introduction to Web Graphics, Design of Advertising, Graphic Design I, II and III and Digital Print Production. The college also requires that students create portfolios of their work and that they submit their portfolios for evaluation later.
Some of those same classes are available on the college's website design program. This allows students to earn certificates that show they have good web design skills. The courses they take will teach them how to use HTML and other methods to create sites that include written content as well as graphics and videos. Students also learn how to use web development tools and the basics of working with others. Both the certificate and the degree program include online options for students.
Also available is a web design and administration program that focuses on the administration of teams and groups who design for the web. Windows Single User, Web Design, Web Development Tools, and Network and Security Foundations are some of the courses in the program. Students who want to design and program games for the web and mobile devices can enroll in the college's game design program. It includes courses such as Introduction to Simulation Game Design, Simulation Game Design, and Graphic Design Tools. Nash Community College also offers classes that other majors can take in graphic design, including Client and Media Relations, Advanced Hardware and Software Support and 3D Modeling.
About Nash Community College
Nash Community College is a community college in North Carolina named for Nash County. The college's campus is in Rocky Mount, which is a large city that sits on the border of Nash and another county. Established in 1967, the college opened as a school that offered opportunities for students beyond the high school level. Since its foundation, the college used an open admissions policy that accepted students of all types. It still admits those with a high school diploma or a GED and allows students to choose from a variety of majors and minors.
Also called NCC, the college offers continuing education programs too. Adults who stopped their formal education after high school or some time in college can enroll in NCC and finish their degrees. Many of the programs offered include some practical training for students too. Cosmetology majors work on real clients and do their hair and makeup, while phlebotomy majors work in medical facilities and draw blood from patients. NCC also offers enrollment options for high school students that let them take classes online or on the campus for both college and high school credit. The college serves as one of the main community colleges in North Carolina.
Nash Community College Accreditation Details
Though NCC is a community college, it has authorization from the North Carolina State Board of Community Colleges. This authorization gives the college the right to operate in the state. It also holds institutional accreditation from the Southern Association of Colleges and Schools (SACS), which gives transfer students the option of using their credits at another college. The cosmetology and phlebotomy programs are some of those offered by the college that also have accreditation. NCC allows prospective students to view its accreditation standards and see when that accreditation comes up for renewal on its website.
Nash Community College Application Requirements
The process of applying to NCC and starting classes includes eight different steps. Students start with the college's application, which requires proof of the student's identity. The college will accept a state driver's license or government ID, federal tax forms, residency cards, and other documents. Students will need to use those documents to show that they are North Carolina residents too, which helps them qualify for the in-state tuition rate. Once the applicant completes the application, he or she will need to watch an orientation video and agree to attend an orientation session.
NCC then asks that students apply for financial aid through the FAFSA and submit their transcripts. It will accept both high school and college transcripts as well as GED transcripts. The next step is a placement test. NCC will waive this requirement for students who finished high school within the last five years and took a standardized test. Students will need to provide transcripts that show they took four advanced math courses to skip the placement test. Placement tests are available on the NCC campus and online. The college requires that students go through academic advising, register for classes and either pay their balances or make financial aid arrangements.
Tuition and Financial Aid
As NCC strives to educate North Carolina students, it offers a low tuition rate for residents. Any full-time resident of North Carolina who lived in the state for at least six months will qualify for a rate of $70 per credit hour. All other students pay $268 per credit hour. Students are also responsible for paying fees that include a $5 activity fee and a $6 technology fee, both of which are per credit hour. The college also charges a $14 student security fee that is due each semester. Students will never pay more than $35 in activity fees or $48 in technology fees in a semester, no matter how many credits they take.
Students who use the NCC code on the FAFSA and complete that form prior to the start of the semester can get financial aid. The college may offer financial aid to those who submit the FAFSA later, though it recommends that students file early. Both student loans and federal grants go to students in need. The college has a scholars program designed for North Carolina residents with a high school diploma and a GPA of 2.6 or higher. This and other programs provide students with scholarship funds for college. Students can also work out a payment plan with the college. Payment plans and financial aid packages give graphic design majors at Nash Community College money for college and time to pay off their balances.