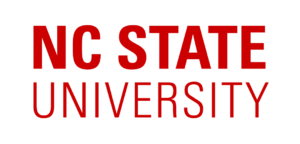 Graphic Design Degrees Offered at North Carolina State University
North Carolina State University appears in our ranking of the Top 20 Best Visual Communications Degree Programs.
North Carolina State University offers a Bachelor of Graphic Design degree. This degree equips students with a powerful design foundation that focuses on data visualization and branding. Students are also introduced to several different types of media, such as print, virtual, reality, web, mobile, embedded technology, and more. Learning the fundamentals of prototyping and visualization methods as well as completing paid internships to gain real-world experience are big parts of the graphic design curriculum at N.C. State University. Each graduate of the bachelor's program will have successfully built a portfolio of their work to show future employers. The following courses are commonly chosen by graphic design students: Image and Technology, Typography and Technology, Online and Mobile Interaction Design Systems, Information and Publishing Design Systems, Design and Experience, and more.
The university also offers a Master of Graphic Design for individuals that have already completed a bachelor's degree. The master's degree provides students with in-depth knowledge of graphic design and focuses individually on each student's passion and design skills. The program consists of a 3-credit seminar, a 9-credit studio course, a 3-credit elective of the student's choice, a final project research course to create a proposal, and a whole semester focused strictly on the final project. Students have the option to pursue a two-year or three-year track. Both are centered around developing the skills and knowledge of building a career within the design field. Upon graduation, students should be able to understand the needs and wants of people that use and purchase the art that graphic designers create.
About North Carolina State University
North Carolina State University is a public university that was established in 1887. It is located in the city of Raleigh, North Carolina, and the graduation rate for undergraduate students is 79 percent. This university is a large school with an undergraduate population of 25,199 and a campus stretched across 2,137 acres. According to Niche, N.C. State University ranked 2nd for top public universities in North Carolina, 23rd for top public universities in the United States, and 23rd for best big colleges in America. On U.S. News & World Report, the college ranked 31st for most innovative schools, 34th for top public schools, 52nd for best colleges for veterans, 61st for best undergraduate teaching, and 69th for best value schools.
This university is the largest college in the state of North Carolina, and students are able to choose from 100 different majors and over 580 clubs and organizations to become a part of. The school's mascot is a wolf, and the sports teams are known as the "wolfpack." The athletics department at N.C. State University is very popular with the community and student body, and they can be found competing in the NCAA Division 1 Atlantic Coast Conference.
North Carolina State University Accreditation Details
The N.C. State College of Design department has received its accreditation from the Southern Association of Colleges and Schools, which is a regional accrediting agency responsible for accrediting colleges and universities in its specific region.
The Bachelor of Graphic Design and the Master of Graphic Design have been accredited by the National Association of Schools of Art and Design (N.A.S.D.). The N.A.S.D. is the only accrediting authority that covers the entire field of art and design and is acknowledged by the United States Department of Education. If a school has received accreditation from the N.A.S.D., this means it has met the standard requirements for providing the highest quality of art and design education.
North Carolina State University Application Requirements
With an acceptance rate of 51 percent, North Carolina State University is considered competitive. For the undergraduate program in graphic design, prospective students are required to complete an online application, submit ten portfolio images along with a design essay, and create a personal wolfPAW account. The application deadline for the Bachelor of Graphic Design is November 1st, and the application fee is currently $85. Once an individual's application and portfolio images have made it to the College of Dean and are moving forward, the applicant will be invited to the Admissions Review Day in January. Individuals invited to the Admissions Review Day should expect to attend an interview with the head of the department and will know a decision of admittance by the end of February.
A graduate degree applicant must write a letter of intent, submit a portfolio with graphic design images, and present a resume showing work and educational history. The letter of intent shows the faculty that the applicant understands the Master of Graphic Design's focus and research direction, knows their own interests and pursuits related to the program, and plans to use their education for their future career and artistic goals after graduating from the program. The admissions faculty will examine the individual's submissions for technical skills and visual ability to the study of graphic design. The priority application deadline for the Master of Graphic Design program is January 15th, and the application fee is $75. Around 8 to 12 students are admitted into the program each fall semester.
Tuition and Financial Aid
For the 2019-2020 school year, the average cost of tuition for an in-state, undergraduate student at N.C. State University is $9,100. By adding meals, books, housing, transportation, and personal expenses, the total cost of attendance is $24,258. The average, out-of-state tuition for an undergraduate student is $29,220. When adding all expenses, the total cost is $44,580.
The average tuition for an in-state, graduate student to attend N.C. State University is $11,672. Once books, meals, housing, and personal expenses are added, the total amount becomes $29,887. An out-of-state, graduate student can expect to pay an average tuition amount of $28,998 and a total cost of around $47,478, including expenses.
All students require some type of financial assistance in their academic careers. Some of the different types of financial assistance that students qualify for are scholarships, state and federal grants, student loans, and work-study programs. N.C. State University offers several scholarships to a few freshmen students each year, such as the Park Scholarship program, General Hugh Shelton Leadership Initiative Scholarship, Chancellor's Leadership Scholarship, and the Goodnight Scholars Program. Freshmen students also may apply to the Caldwell Fellows program, which is an original opportunity provided by the university.
Graduate students are offered fellowships and assistantships. These opportunities require the student to work for the university to receive stipends and funding for their education. Certain fellowships require submission of a student's GRE scores before they will consider them to join.
For more information about the undergraduate and graduate degree in graphic design, please visit the website of North Carolina State University.