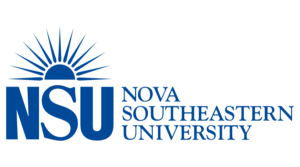 Graphic Design Degrees at Nova Southeastern University
Nova Southeastern University appears in our ranking of 21 Affordable Master's Degrees in Marketing and Advertising.
Nova Southeastern University's College of Arts, Humanities, and Social Sciences prepares its students for success by providing solid experiences that will contribute to them becoming well-spoken and culturally sensitive individuals with a passion for the arts.
Creatives can earn a B.A. in Art And Design and pair it with a minor in studio art, digital media production or strategic communication. Students can also choose a concentration of either graphic design or studio art. Completing a total of 30 credits per year in a time frame of four years will garner 120 official design credits and a multitude of opportunities to follow. With foundational courses such as Digital Photography, Art History, and Fundamentals of Color being offered, students receive a well-rounded base curriculum prior to delving into a pool of 47 open electives for general academic requirements.
About Nova Southeastern University
Nova Southeastern University offers 241 programs with 45 majors across 23 unique fields with 34% of attending students obtaining online degrees from distinctive fields. Founded in 1964 in Fort Lauderdale, Florida, Nova Southeastern University started with just a small group of eager, curious students who quickly took advantage of trailblazing a new path in history. Nova initially began with programs in business, psychology, engineering, law, and oceanography. By 1972, courses were being outsourced off-campus to cater to a wider community of education hopefuls.
By the late 90s, Nova added colleges of Dental Medicine, Pharmacy and Medical Sciences and eventually banded with the Southeastern University of Health Sciences. Currently, NSU has campus locations in 8 Floridian cities including Fort Myers, Miami, Orlando, and Palm Beach. NSU students can also be found in San Juan, Puerto Rico.
NSU was awarded Carnegie's Community Engagement Classification and is 1 of a pool of 50 other universities that have ever been recognized in this way. Ranking in the top 5% for ethnic diversity, Nova is proudly recognized as one of the largest institutions that cooperates with the U.S. Department of Education's Hispanic-serving institution criteria. Today, Nova takes pride in offering programs on various regional campuses around Florida, the United States and internationally. No matter what you choose to study, Nova's 17 to 1 faculty/student ratio allows for a personalized, hands-on experience.
Nova Southeastern University was founded on innovation. With a unique and personal approach to education, this nurturing atmosphere is both welcoming and challenging. A bold, new, and exciting journey awaits at NSU. Progressive thinking and grand aspirations are foundational to NSU.
Nova Southeastern University's Accreditation
Nova Southeastern University is accredited by SACSCOC, which is the Southern Association of Colleges and Schools Commission on College. Nova proudly boasts master's and Ph.D. programs in the College of Arts, Humanities, and Social Sciences.
Nova Southeastern Application Requirements
Applying to NSU as a new student is standard. A qualifying SAT/ACT score is required for admission. Accepted students averaged a 1,250 SAT and a 26 ACT. Any student applying with Advanced Placement credits have the opportunity to get those transferred in once accepted. Nova Southeastern does not have a strict regular decision deadline or application timeline, instead prospective students can apply on a rolling basis. Like many other universities, an application fee of $50 is mandatory. All applicants must create an online account for either undergraduate and graduate programs.
Prospective students can apply to NSU in two different ways.
NSU Shark Select Application – This application is designed to be quick and convenient. Skim through the different categories and begin filling in your information in one go. An email with a username and password reset link will be sent to you once the application is submitted. An optional essay with five prompts to select from will be available to submit along with an application. An original prompt can also be written when applying for NSU Shark Select. If this process is still too time-consuming, your progress and place can be saved.
The Common Application – Applying to college is now easier than ever with The Common App. Enter the website and all resources are immediately at your fingertips. Simply search for "Nova Southeastern University" and select the first-year application or apply as a transfer student. Academic programs, student experiences, and further application information are available to view at a glance.
If applying to NSU is something you are unsure about, consider a visit! The scenic and welcoming campus environment is worth exploring. Nova Southeastern's campus in Fort Lauderdale is located at 3301 College Avenue, Fort Lauderdale, FL 33314, USA. If virtual communication is easier, send an email to admissions@nova.edu or give the admissions office a call at (800) 338-4723. Both first-year and transfer students can visit the Nova Admissions Page for further information.
Tuition And Financial Aid
Undergraduate students spend an average of $29,880 before financial aid with fees of at least $900. Tuition and fees at Nova are the same for both in-state and out of state students. Room and board, housing, meals, extra living expenses along with books and supplies for on-campus residents are marked at $19,219 and $27,549 for off-campus students. The projected cost of spending four years in on-campus housing is $84,805. Freshman or first-year students are not required to live on campus. Graduate student tuition and fees are $20,620.
NSU's financial aid office OSFA (Office of Student Financial Assistance) will aid and educate all students in everything financial. Grants and scholarships with an average amount of $17,005 each were awarded to 86% of undergraduate students. From step-by-step instructions for applying to categories of aid available, the office can administer scholarships, grants, and loans from both state and federal levels as well as from the university. NSU's financial aid office relies on priority deadlines.
Don't forget to review the Financial Aid Homepage if it applies to you and be sure to review Nova Southeastern University's College of Arts, Humanities and Social Sciences Homepage.