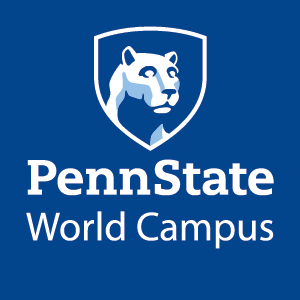 Graphic Design Degrees Offered at Pennsylvania State University World Campus
Pennsylvania State University World Campus appears in our ranking of the Top 13 Best Affordable Graphic Design Degree Programs.
The Penn State World Campus provides a variety of undergraduate and graduate degrees that can be completed entirely online. There are two bachelor's programs geared toward students who are interested in graphic design. First, the Bachelor of Arts in Digital Journalism and Media covers many different forms of communication intertwining well-established best practices and theories with the newest technology and digital strategies. The program is part of the Donald P. Bellisario College of Communications and requires 120 total credit hours, 34 of which are specific to the major. There are eight core classes that cover the fundamentals of effective communication including Principles of Multimedia Journalism, Principles of Strategic Communications, and Media Ethics. Graphic design students can choose electives like Basic Photography for Communications, Digital Media Metrics, and Photojournalism.
The other related undergraduate degree offered through the World Campus is the Bachelor of Design in Digital Multimedia Design which is the result of a collaboration between the Colleges of Communications, Information Sciences and Technology, and Arts and Architecture. The nine required classes in this major include topics like web development and design, photography, computer graphics, and multimedia design and technique as well as media writing and general communications. Then, students have the opportunity to tailor their program to fit their career goals with 30 credit hours of design-related electives. Some available options are 3D Design Fundamentals, The Art of Web Design, Portfolio Design and Professional Practices, and Advanced Multimedia Production. Students can choose all of their own electives or can follow one of five prescribed paths entitled Digital Design, Generalist, Interactive Media Developer, Media for Civic Engagement, and Video Production. By graduation, all students will have an extensive professional portfolio that they can then use at job interviews or meetings with prospective clients. Another option is the undergraduate certificate in digital arts which consists of a total of 15 hours including many of those classes listed above.
At the graduate level, Penn State's World Campus has two degrees with a design focus, the first being the Master of Professional Studies in Geodesign which is a combination of courses from the College of Arts and Architecture and the Department of Geology. This field uses graphic design techniques and strategies in the urban and environmental planning sector. The whole program is made up of 30 credit hours, six of which are the capstone project and dissemination. The other classes include Geodesign History, Theory, Principles as well as a series of three courses outlining the six stages of a geodesign project, evaluation, decision, process, impact, representation, and changes as well as two workshop experiences. For students just looking for an introduction to this discipline, the 14-hour certificate program might be ideal.
Finally, the Master of Education in Learning, Design, and Technology prepares students to design educational platforms, both for schools and for business training programs. Throughout this 30-credit-hour program, there are three core classes consisting of Systematic Instructional Development, Emerging Web Technologies and Learning, and Designing Constructivist Learning Environments. Students can choose electives for the remaining 21 credit hours with options including Learning Design Studio, Designing e-learning Within Course Management Systems, and Gaming 2 Learn. By graduation, students will have a variety of projects that demonstrate their design skills to prospective employers.
About Pennsylvania State University World Campus
The World Campus is the online branch of Pennsylvania State University which is located in University Park, Pennsylvania. Penn State has been a pioneer of distance learning for over a century, starting the first correspondence program in 1892. Then, in 1992, the university vice president assembled a task force to assess the viability of an entire online campus, and thus, the idea for the World Campus was formed. In 1998, the first version of the platform was introduced to students. The initial correspondence courses at Penn State were specifically geared toward farmers, but today, there are over 150 different degrees and certificates available in a variety of subjects. These programs have gained popularity worldwide, and current enrollment exceeds 13,000 students. The U.S. News and World Report has ranked Penn State's World Campus as having the fifth best online bachelor's programs overall, and many of the online graduate programs are listed in the top ten in their fields.
Pennsylvania State University World Campus Accreditation Details
Pennsylvania State University has been continuously accredited by the Middle States Commission on Higher Education (MSCHE) since 1921. This signifies that the school has met or exceeded all quality standards in seven different categories including Design and Delivery of the Student Learning Experience, Ethics and Integrity, and Educational Effectiveness Assessment. Every ten years, the MSCHE reaffirms this designation provided the school has passed its peer reviews and campus visits and submitted all necessary reports. Only regionally accredited colleges and universities are eligible for federal funding, and students must attend a school with this designation in order to qualify for student loans.
Pennsylvania State University World Campus Application Requirements
The only requirement for undergraduate admission to Penn State's online Digital Multimedia Design program is a high school diploma or GED. All applicants must submit an online application and complete the Self-Reported Academic Record. Upon admission, students need to provide their official transcripts. To enter the Digital Journalism and Media program, students need to complete at least 28 credit hours of college credit with a 2.0 GPA. To apply for the graduate programs, prospective students are required to submit official undergraduate transcripts demonstrating completion of a bachelor's degree along with GRE or MAT scores, three letters of recommendation, a resume, statement of purpose, and 300-word writing sample.
Tuition and Financial Aid
Undergraduate tuition at Penn State's World Campus for students enrolled in at least 12 credit hours is $6,742 per semester if a student has completed fewer than 60 hours of college coursework and $7,297 otherwise. Graduate design courses cost $903 per credit hour or a flat fee of $10,841 per semester. There are many scholarships available for new and returning students through the World Campus Student Fund, and online students are eligible for general Penn State scholarships as well. Pennsylvania State University World Campus offers students various payment plan options as well as tuition deferral for students using employer assistance programs.