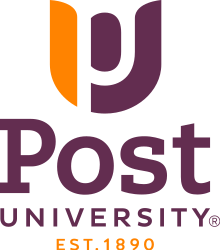 Graphic Design and Visual Communications Degrees at Post University
Post University appears in our ranking of 21 Affordable Master's Degrees in Marketing and Advertising.
Students who want to study visual communications, graphic design, or other similar topics at Post University will apply to the Bachelor of Arts in Communication and Media Studies, which is offered with the convenience of on-campus or online classes. The program focuses on building a student's knowledge of research methods, legal and ethical implications, communication skills, and the industry's current and emerging technologies.
The university estimates that students will take around 48 months to complete the program with graduates being able to obtain jobs like those of digital journalist, social media specialist, corporate communication specialist, and advertising coordinator. Students may also find work as consultants, negotiators, arbitrators, professional lobbyists, and any other job where visual, oral, and written communication are essential parts of the job.
The total number of credits required to graduate is 120, and students will divide their time between general education requirements and core classes in media, writing, and the visual arts. Students will take writing classes like Writing for the Communication Profession, as well as communications courses like Communication Theory, Mass Media and Society, and Fundamentals of Professional Presentations.
While enrolled, students can choose one of two concentrations or earn a degree without a concentration. Options include a concentration in social media or one in strategic communication. Within the degree's curriculum requirements, students will take four classes of three credits each for their concentration or directed electives. Students will take classes like Social Media Management and Social Media Tools & Techniques in the social media concentration.
Meanwhile, students who choose the strategic communication concentration will take classes that include Public Relations, Introduction to Strategic Communication, and Organizational Communications. The university also requires that students take career classes like a College Success Seminar and a leadership course called Elements of Organizations.
At the conclusion of the program, students will be able to provide professional written and oral communications, as well as be able to use professional visual methods of communication in a variety of media settings. Students will also know how to foresee future trends in organizational communications and media.
About Post University
Post University was founded in 1890 and was called Matoon Shorthand School. It was briefly affiliated with a college in Japan in the 1990s and early 2000s. The university is a private and for-profit institution with a motto of, "Post Makes It Personal." The official colors of the university are purple and orange, and the campus is located in Waterbury, Connecticut. The school offers online degrees and also has three satellite centers in Connecticut for classroom learning.
Approximately 7,300 students attend the university, and those who participate in sports are known as the Eagles when they play in NCAA Division II games in the Central Atlantic Collegiate Conference. There are 20 varsity teams that play for the university, and the official mascot is "Swoop," an eagle. There is also an official tree owned by the school that is more than a half-century old and is a Camperdown elm.
Post University Accreditation Details
The New England Association of Schools and Colleges has accredited Post University at the institutional level, and this accreditation allows the university to award fully transferrable degrees, as well as participate in the financial aid programs administered by the federal government. The university is also accredited by the Connecticut Department of Higher Education, which allows the school to operate in the state of Connecticut.
Some programs at the university are also accredited by other organizations. For example, the Malcolm Baldrige School of Business is accredited by the Accreditation Council for Business Schools and Programs (ACBSP). The nursing programs offered by the university are also accredited by the Commission on Collegiate Nursing Education, and the early childhood education and child studies programs are accredited by the National Association for the Education of Young Children.
Post University Application Requirements
Prospective students of Post University must be able to provide proof of a high school diploma or equivalent degree. Students are also encouraged to undergo an admissions interview and may also submit standardized test scores from the SAT or ACT, but test scores aren't a mandatory part of the application process and are optional. Students may apply for the honors program when they submit application materials for the overall program, but admission is considered competitive.
Students need to provide written recommendations from at least two previous teachers, as well as send a recommendation from a high school counselor with documentation of having participated in community service and leadership roles. Once admitted to the university, applicants must submit a $100 enrollment deposit. Students seeking readmission to the university must apply with another application for admission.
Tuition and Financial Aid
Tuition varies for students at Post University and is based on the location of the student's classes and his or her status as an undergraduate or graduate student. For main campus students enrolled in full-time undergraduate study, the total cost of attendance is $44,850 per year. That figure includes tuition and fees of $29,550, books and supplies of $1,200, room and board of $11,600, personal costs of $1,500, and transportation of $1,000.
For students in graduate classes who live on campus, the estimated total cost of attendance is $23,900, which includes an estimated $8,300 for tuition and fees, $1,500 for books and supplies, and $11,600 for room and board. For online students, the rate for full-time tuition is $13,880 for undergraduate study and $7,040 for graduate study. Online students are also estimated to pay $1,500 each year for books and supplies.
Students may apply for financial aid when attending Post University, and students can take advantage of counseling through the school's Financial Literacy and Repayment Advising team while enrolled, as well as after completing a degree program. Students may qualify for federal student aid like loans and grants, as well as scholarships and other aid through institutional and private sources.
There are several merit scholarships offered to students at the university like the Academic Merit Scholarship of $18,000, which is awarded to students who have a high school GPA of 3.5 or greater, as well as the Academic Merit Scholarship of $15,000, which is offered to students who have a GPA of 3.0 to 3.49. There are also other scholarships available at Post University that award $9,000 to $12,000 to first-time freshmen.