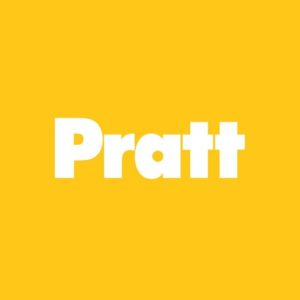 Four Fantastic Pratt Degrees for Graphic Design Jobs
Pratt Institute appears in our ranking of the Top 20 Best Visual Communications Degree Programs.
At the Manhattan Center, the School of Art delivers a 66-credit A.A.S. in Graphic Design/Illustration with a 2+2 Bachelor of Fine Arts transfer track for Pratt Institute Cannoneers to learn high-tech new media methods in basic 100-level courses from Drawing to Global History. Chaired by Prof. Susan Young, the A.O.S. in Graphic Design offers a 66-credit, career-oriented curriculum split into Advertising, Publication, and Package Design concentrations with online or NYC courses like Tyopgraphy for 94 percent job placement. Since 2014, the School of Design has utilized the state-of-the-art Juliana Terian Design Center to confer a 120-credit B.F.A. in Communications Design for Graphic Design, Illustration, and Advertising Art emphases with 240 internship hours total. Directed by Prof. Santiago Piedrafita Iglesias, the M.F.A. in Communications Design starts 62-credit, NASAD-accredited cohorts each Fall with 24 months of full-time Steuben Hall Studio practice, AIGA membership, and an optional Denmark semester.
About the Pratt Institute
The Pratt Institute originated in 1886 when Astrail Oil Works magnate Charles Pratt donated funds and land to establish an affordable, coed college for the Clinton Hill neighborhood. On October 17, 1887, the Pratt Institute welcomed an inaugural class of 12 to Main Hall for $4 tuition. In 1888, industrialist Andrew Carnegie visited Pratt and used it as inspiration to found Carnegie Mellon. In 1890, the Heffley School of Commerce was split from the Pratt Institute. The next year, the founder's son Charles Millard Pratt assumed the presidency. In 1896, the Pratt Institute hired William B. Tubby to design its 200,000-volume Ryerson Street Library. In 1910, Pratt organized the original School of Fine and Applied Arts. In 1938, the New York State Legislature authorized the Pratt Institute for four-year bachelor's degrees. Regionally accredited in 1950, Pratt debuted its School of Architecture in 1954. In 1977, Pratt was distinguished an ASME National Mechanical Engineering Landmark.
Endowed for $193.6 million, the Pratt Institute now employs 1,168 faculty inspiring 3,634 undergrad and 1,381 post-grad Cannoneers from 78 nations online, on its 25-acre Brooklyn campus, or at two extensions with 125+ clubs like the Graduate Design Network for 88 percent retention. In 2016, Pratt accepted the ALA Student Chapter of the Year Award. In 2018, Pratt received the AIA New York State Design Educator of the Year Award. The Pratt Institute won a 2016 CIDA Award for Excellence Honorable Mention too. The U.S. News & World Report ranked Pratt the 15th best fine arts school. On Niche, Pratt boasts America's 12th best design degrees, 19th top art school, and 54th most student diversity. Forbes named the Pratt Institute the 114th best liberal arts college and 218th top private university. The Wall Street Journal placed Pratt 237th overall. College Factual crowned Pratt the 92nd best design arts value.
Pratt Institute Accreditation Details
On November 19, 2015, the Middle States Commission on Higher Education (MSCHE) Board of Trustees voted favorably to reaffirm the Level III accreditation status for the Pratt Institute through the next 2023-24 evaluation under President Frances Bronet, PhD, who earned the DesignIntelligence Most Admired Educator Award twice. Located 98 miles down Interstate 95 in Philadelphia, this superb six-state Northeast Region accreditor is recognized by the U.S. Department of Education to review Pratt's six associate, 18 bachelor's, and 33 master's degrees. Further, the Pratt Institute has been accredited by the National Association of Schools of Art and Design (NASAD) since September 1, 1948. All degrees are also registered with the New York State Department of Education (NYSED).
Pratt Institute Application Requirements
Admission to the Pratt Institute is classified as "very selective" by Peterson's because only 3,060 of the 7,941 Fall 2018 applicants were triumphant for tough 39 percent acceptance. First-year Cannoneers entering the School of Art must provide proof of high school graduation or GED equivalency completion. Design majors require at least four English, one math, one science, online social studies, and three academic elective units. The Class of 2022 reported an average GPA of 3.77. Mid-range admitted SAT scores were 1090-1310. The middle 50th percentile had ACT scores of 24-30. Undergrads must also submit 5-15 examples of original work highlighting their creative talents. Eligible transfers need cumulative GPAs above 2.70 at accredited colleges. Foreign learners must present a minimum 71 TOEFL iBT, 6.5 IELTS, or 53 PTE score. The M.F.A. in Communications Design requires a four-year bachelor's degree and 3.0 or better final GPA. Majors in graphic design, fine arts, digital media, and related fields are preferred.
The Pratt Institute has freshman deadlines of November 1st for Early Action and January 15th for Regular Decision. Associate programs like the A.O.S. in Graphic Design have rolling admission. School of Art transfers abide priority dates of February 1st for Fall and October 1st for Spring starts. Non-U.S. transfers must file before January 1st or September 1st. The M.F.A. in Communications Design closes on January 15th each year. Accordingly, complete the Pratt Application online for $50 ($90 if international). Send official transcripts to 200 Willoughby Avenue in Brooklyn, NY 11205. Forward test reports using SAT/TOEFL code 2669 or ACT code 2862. Submit additional materials, such as the 1-2 recommendation letters, 500-word purpose statement, SlideRoom portfolio, resume, and fee waiver. Contact (718) 636-3514 or admissions@pratt.edu with questions.
Tuition and Financial Aid
For 2019-20, the Pratt Institute is charging full-time B.F.A. in Communications Design majors $25,862 each semester or $51,754 annually. Studying part-time incurs $1,670 per credit. Undergrads cover the $350 facilities fee, $325 technology fee, $200 health services fee, and $155 activities fee each term. Unless waived, health insurance premiums are $1,159 by semester. Residing at the Brooklyn campus dorms like Pantas Hall adds $13,294 for yearly room and board. Pratt budgets $1,750 for textbooks and $1,500 for personal expenses. Annual associate/bachelor's attendance equals about $67,742 on-site or $56,620 if commuting. The M.F.A. in Communications Design bills $1,847 per credit. Mandatory graduate fees are $1,980 each year. Graduate room and board costs $26,022.
According to the NCES College Navigator, the Office of Student Financial Services on Myrtle Hall's 6th Floor connects 78 percent of new full-time Pratt Cannoneers to tuition aid averaging $20,352 each for $11.98 million combined. Institutional funds include the Presidential Merit Scholarship, PrattMWP Relocation Scholarship, Graduate Merit Fellowship, Herbert Lewis Smith Scholarship, Vincent Stabile Scholarship, Clyde Lincoln Rounseville Scholarship, Shepley Bulfinch Design Fellowship, Kohn Pedersen Fox Traveling Fellowship, International Student Scholarship, Balenciaga Scholarship, Brian Boxall Memorial Scholarship, Arthur Williams Trust Scholarship, and C. Franklin Edminster Scholarship. The Portfolio Gold Award gifts $1,500 annually to students entering the Alliance for Young Artists & Writers competition. The Transfer Scholarship provides $11,000 to $26,000 each year for A.A.S. graduates who pursue the Bachelor of Fine Arts. Federal programs, such as the Educational Opportunity Grant and Direct Unsubsidized Loan, require FAFSA forms coded 002798 by March 1st. New Yorkers also pursue the Enhanced Tuition Award, Tuition Assistance Program, Veterans Tuition Award, NYS Aid to Native Americans, and more.
Keep reading about the Pratt Institute at the School of Art website.