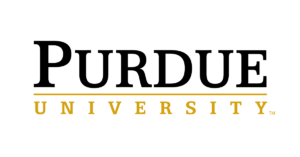 Graphic Design Degrees Offered at Purdue University
Purdue University appears in our ranking of the Top 20 Best Visual Communications Degree Programs.
Purdue University offers a Bachelor of Fine Arts (B.F.A.) in Visual Communication Design with a specific focus in graphic design. Students will learn the necessary fundamentals of typography, graphic design, new media, web design, color design, and more. The program also teaches students how to prepare to enter an ever-evolving career that is centered around computer technology, art, and design. The following courses are frequently chosen by students in the program: Studio in Visual Communication Design, Fundamentals of Interactive Multimedia Design, Web Design for Visual Communication, Professional Practice for Visual Communication Design, Student Visual Design Service, Advanced Topography, Problems in Visual Design, Information Design, Color Aesthetic and Research, and Advanced Web Design for Visual Communication Design.
The university also offers a Master of Fine Arts (M.F.A.) in Visual Communication Design for individuals that have already completed a bachelor's degree. Students in this program will learn hands-on from mentors, artists, and designers. These artistic educators teach students how to thoroughly research, define, and create the direction of their art and design work. The following courses are found in the master program's curriculum: Critical Theory, Art History, Research Methods, Visual Communication Design, Directed Project Research in Design, M.F.A. Project Research in Design, and a studio elective of the student's choice. At the end of the program, students will give a public gallery presentation regarding their research project.
About Purdue University
Purdue University is a public university that was established in 1869 and has a graduation rate of 78 percent. It is a large college with an undergraduate population of 32,672 students and a campus covering 2,468 acres. Purdue University is located in West Lafayette, Indiana, and it features more than 200 different majors, a 13:1 student-professor ratio, and over 400 study abroad opportunities. Niche ranked this university 1st in top public universities in the state of Indiana, 16th for top public universities in the United States, 17th for best big colleges in the entire country, 50th for best professors in America, and 62nd for best colleges for design in the United States. On U.S. News and World Report, Purdue University ranked 6th for most innovative schools, 23rd for best undergraduate teaching, and 30th for best colleges for veterans.
This university is made up of 13 different schools and colleges, and almost all of them educate both undergraduate and graduate students. Annually, the school focuses on over 2,000 research projects, which are well-known across the country. It also has an online campus, which has been named Purdue University Online. This online campus offers over 200 various online and hybrid programs for students to choose from. The objective of Purdue's online school is to provide flexibility, convenience, and rewarding education. Online students can choose between a variety of certificates, associate's, bachelor's, master's, and doctoral degrees.
Purdue University Accreditation Details
Purdue University has received its accreditation from the Higher Learning Commission, which used to be known as the North Central Association of Colleges and Schools. This is a regional accrediting agency providing accreditation to schools in its specific region. The following states are in the Higher Learning Commission's region: Arkansas, Arizona, Colorado, Iowa, Illinois, Indiana, Kansas, Michigan, Minnesota, Missouri, North Dakota, Nebraska, New Mexico, Ohio, Oklahoma, South Dakota, Wisconsin, West Virginia, and Wyoming.
The B.F.A. and M.F.A. in Visual Communication Design are both accredited by the National Association of Schools of Art and Design. By receiving this accreditation, it means these programs have met the standard educational requirements and promote the study of art education.
Purdue University Application Requirements
With an acceptance rate of 57 percent, Purdue University is considered slightly competitive. Undergraduate applicants are required to complete an application and pay the $60 application fee, turn in high school transcripts, and take an SAT or ACT and submit scores. The SAT scores that students usually achieve to attend this school are between 1150 and 1380, and the ACT scores are typically between 25 and 31. November 1st is the early decision deadline for undergraduate students, and January 15th is the regular decision deadline. Students that apply by January 15th will know a decision by March 31st.
Graduate applicants must apply to the graduate programs offered by the Department of Art and Design by January 15th. Purdue University only admits graduate students to the fall semester. To be considered, applicants must submit an application and pay the application fee of $60, send in their undergraduate transcripts, write a statement of intent, turn in three letters of recommendation, and provide a portfolio of 20 examples of work within the past two years. In addition, applicants must possess an undergraduate GPA of 3.0 to be admitted.
Tuition and Financial Aid
The tuition for an undergraduate, Indiana resident attending Purdue University is estimated to be $9,992 per year. By including room and board, books, and transportation, the total cost adds up to be $22,782 each year. For an out-of-state, undergraduate student to attend Purdue University, the tuition alone is $28,794. By adding all additional expenses, the total cost is $38,824 annually.
The yearly cost of attendance for an in-state, graduate student attending Purdue University is $19,760, including room and board, personal expenses, transportation, and books. For an out-of-state graduate student to attend, the total cost, including all expenses, is around $25,498 per year.
If a student is unable to pay for their college education, Purdue University has financial assistance options. The school requires students to submit a Supplemental Scholarship Application by December 15th. This application is used to review if a student is eligible to receive scholarship awards based on need and merit. Students must also fill out the Free Application for Federal Student Aid (F.A.F.S.A.) by December 15th to be considered for the scholarships offered by the university. The FAFSA is a quick and easy application administered by the federal government. It determines if the applicant will or will not receive financial assistance and the amount they may receive, if so.
Graduate students enrolled in the M.F.A. in Visual Communication Design program are able to apply to possibly earn a teaching assistantship opportunity. This opportunity includes a full-tuition waiver, a stipend, and medical benefits. Teacher Assistants are responsible for teaching at least two classes each semester and working alongside a faculty coordinator.
For more information about the B.F.A. and M.F.A. in Visual Communication Design, please visit the website of Purdue University.