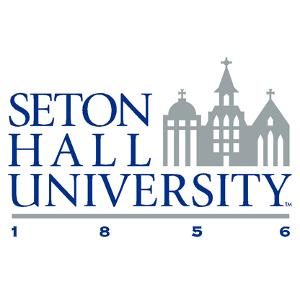 Degrees Offered at Seton Hall University
Seton Hall University appears in our ranking of the Top 20 Best Visual Communications Degree Programs.
Seton Hall University has over 90 majors in all. Its nearly 60-acre campus is home to about 10,000 undergraduate and graduate students pursuing degrees. The university offers bachelor's, master's and doctoral degrees.
Some of Seton Hall University's most popular majors include humanities, management, marketing, nursing, biological sciences, and finance.  Degrees that will appeal to aspiring graphic designers or communications professionals are the B.A. in Communication; B.A. in Visual and Sound Media (Broadcasting); B.A. in Art, Design and Interactive Multimedia; or the B.A. in Journalism. A Master of Arts in Communication is also offered with either a digital communication and communication technologies track or a communication in organizations track.
The university also offers numerous dual-degree programs, which allow students to earn both their bachelor's degree and a master's or doctorate, depending on the program.
Here's a look at a few of the dual degrees students can earn at SHU:
BA/ MA Communication
BA/ MA Museum Professions
BA or BS/ MBA
BS Biology/ Doctor of Physical Therapy
BS/ MA Diplomacy and International Relations
JD/ MBA
Joint Bachelor's/ MD
BA/ BS Biology/ MS Athletic Training
BA Political Science/ MPA
Additionally, students whose schedules don't allow them to go to class on campus can take advantage of the school's online degrees. Some of the online degrees include the MBA, Accounting, an MPA in Non-Profit Management, and MA or Ed.S. in Professional Counseling. Surprisingly, even the law school has online degree programs.
About Seton Hall University
Seton Hall University, a private Roman Catholic university located in South Orange, New Jersey, was founded in the mid-1850s. Bishop James Roosevelt Bayley is the university's founder. It's affiliated with the Catholic Church. In fact, it's one of the oldest universities in the US to be associated with the church.
Students at SHU are attracted to the school's convenient location and the quality of the university's educational offerings. Class sizes are smaller: There is a 14-to-one student to faculty ratio. Its law school is known for its health care law program. Eighty-one percent of students get internships. The employment rate for students is 93%.
The school has plenty to offer students aside from academics. Students can join one of 25 intramural or club sports teams. There are 22 Greek organizations and over 130 clubs and organizations. Students at the school are also active community members. Each year, the students at SHU perform more than 40,000 hours of community service collectively.
People from all over the world come to study at Seton Hall: They come from 70 countries. The school's diversity rate is 45% and about 80% of the school's Freshman class lives on campus. US News and World Report ranks Seton Hall 139th in its National Universities category and 112th in its Business Programs category.
Seton Hall University University Accreditation
The Middle States Commission on Higher Education provides Seton Hall University with its accreditation. Some individual departments and programs have additional accreditations.
Seton Hall University Application Requirements
Seton Hall University gets just under 16,000 applicants each year of which the school accepts about 9,000. In all, the incoming class of students is usually about one-tenth of the original number of applicants: 1,600. Students who wish to be accepted at the school can increase their chances of doing so by submitting the proper application materials.
Here is what future Seton Hall University freshmen need to do to apply:
$55 application fee
Submit an application: Either the university's or via the Common Application
Take ACTs or SATs: Have scores sent to the school
Fill out FAFSA for financial aid
Ask a mentor or teacher to fill out Teacher Evaluation form
Send in official school transcripts
Prepare an essay
The university considers each application based on a few factors. The average Freshman entering Seton Hall has a grade-point average of 3.6, an SAT score of 1235 or an ACT score of 28. The school gives Early Action students priority. The school additionally considers the student's demonstrated interest in attending Seton Hall.
SHU tries to take care of its transfer students: The school will accept up to 90 credits from other universities, provided that the student earned a "C" or better and that the credits are transferable. Students can use SHU's Transfer Course Equivalency tool to determine what their credits are worth before applying.
These students are asked to submit many of the same materials that incoming Freshmen must submit. The school additionally asks the students who have earned fewer than 24 college credits to also submit their high school grades.
ESL and international students are additionally asked to submit either TOEFL or IELTS scores if English isn't their first language. SHU also requires students to submit their visa application if they need a student visa. Transcripts must be in English and include a credit evaluation. The credit evaluation must be done by an organization that's a member of the National Association of Credential Evaluation Services.
Incoming graduate students are asked to submit the following:
$75 application fee
Submit an application
Take required tests: LSAT, GRE, MAT, GMAT
International applicants are required to submit English-language test scores English isn't first language
Fill out FAFSA for financial aid
Send in official school transcripts
Fulfill any other requirements as set for by department
Requirements for graduate students can vary widely, depending on which program they apply to. As such, Seton Hall advises them to check with their intended graduate program to find out if there are other materials to submit in addition to the ones above.
Tuition and Financial Aid
Seton Hall University is a private university, which means both residents and non-residents of New Jersey pay the same tuition.
Full-time undergraduate students pay $20,730 per semester (for 12 or more credits.) Part-time students pay by credit, which is $1,270. Full-time graduate students will pay $24,000+ per semester. These numbers do not include the cost of books, supplies or university fees.
People who want to be considered for financial aid should start by filling out the FAFSA. The school offers students loans, grants, and scholarships. Graduate students can additionally receive graduate assistantships to pay for their education.
Both undergraduate and graduate students are encouraged to also search for outside grants, scholarships, and fellowships to help offset the costs of their schooling.
Learn more about the degrees at Seton Hall University on the school's website.