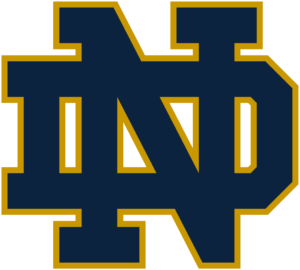 Graphic Design Programs at the University of Notre Dame
The University of Notre Dame appears in our ranking of the Top 20 Best Visual Communications Degree Programs.
The University of Notre Dame offers graphic design programs for students who want to study art and design. One option is a major in visual communication design, which is available as a Bachelor of Arts (BA) or a Bachelor of Fine Arts (BFA). The university encourages students to enroll in the BA program if they want to select a minor or double major in another subject. Those who want to study art alone can pick the BFA program, which includes a thesis component. Students need to complete the art and design core of seven classes and maintain a grade point average of at least 3.25 to enroll in the BFA program. Both programs include similar courses such as Fundamentals of Design, Industrial Design: 2D Drawing, Motion Design, and Interaction of Design.
In the university's design program, students can earn a BA or BFA and pick a concentration in industrial design. This track is different from the visual communication program because it focuses more on creating art and work that other people will use such as furniture and toys. Instead of doing a thesis, students have the option of creating a final project that includes a product and its packaging design. Some of the courses in the industrial design concentration include Introduction to Product Development, Design Research Development, Collaborative Design Development, and Digital Solid Modeling.
Graduate students can earn a Master of Fine Arts (MFA) from the University of Notre Dame in either Industrial Design or Visual Communication. The visual communication program requires that students create artwork in the on-campus studios. Faculty members will conduct regular walkthroughs and give students feedback. They will also meet for weekly sessions and critique the work of other students while getting feedback from their classmates. Students need to go through a candidacy review in the third semester, which determines whether they can continue their studies. They will also take seminars in art such as sculpture, digital art, photography, and printmaking.
The MFA in Industrial Design program includes the same seminars. Students take as many as six credits of studio courses and one or more credits of seminars each semester. The second year of the program is when they meet with advisors to go over their thesis projects, which they'll focus on in their third years. Industrial design students have access to an SGI lab that features 10 computers equipped with modern software and a metal lab with tools and equipment that they can use. At the end of either program, the university asks students to take part in an exhibition.
About the University of Notre Dame
The University of Notre Dame is a private university in Indiana that has its zip code designated as Notre Dame, Indiana. Affiliated with the Catholic Church through the Congregation of Holy Cross, the campus is just outside the city limits of South Bend. That campus is something of a tourist attraction due to on-site buildings such as Touchdown Jesus, which a large mural that overlooks the football field. Also known as Notre Dame, it was established in 1842. U.S. News and World Report included Notre Dame on lists of the most affordable colleges and the best schools in the world and the country. The university also ranks nationally by ARWU, Washington Monthly, and Forbes.
University of Notre Dame Accreditation Details
Notre Dame has a charter from the State of Indiana that allows the university to operate in the Hoosier State. It also holds accreditation from the Higher Learning Commission (HLC) that applies to the graphic design and other programs available from the university. This is the accreditation that lets students seek financial aid opportunities when they use the Free Application for Federal Student Aid (FAFSA). The engineering, theology, psychology, architecture, law, and business programs have accreditation too.
University of Notre Dame Application Requirements
With an acceptance rate of less than 20%, Notre Dame is a very selective university. Even students with a perfect GPA are not guaranteed acceptance. Nearly 40% of its freshmen class includes students who finished in the top 1% of their high school classes. Notre Dame has a writing supplement that asks students to write three essays of no more than 200 words each. The essays are required on the Common, QuestBridge and Common Applications that students can use. Notre Dame also requires an official ACT/SAT score, high school transcript, letter of recommendation from a teacher and a $75 application fee. Prospective undergrads can provide a letter of recommendation from a guidance counselor too.
The university's MFA programs look for students who have a BFA and a transcript that shows they took art and art history courses. Students who do not have an art background will need to submit a portfolio that shows the type of work they will do at Notre Dame. The Graduate School at Notre Dame has an application that prospective students can use. It asks for a resume, letter of intent, unofficial college transcripts and three letters of recommendation. Beginning in October, they can use SlideRoom to upload samples of 20 pieces that they created. The final application deadline for graduate students is February first. Notre Dame only accepts six students to the design programs every year.
Tuition and Financial Aid
Notre Dame undergrads pay $55,553 in tuition and fees every year. If they want to reside on the Indiana campus, they'll pay an average of $15,640 for their room and board costs too. The sooner that students submit the FAFSA, the more financial aid they can get from the university and the government. Undergraduate aid includes student employment, federal loans, scholarships based on the student's merit and subsidized loans from the university itself. Alumni clubs in more than 100 cities offer scholarships for new students too.
The cost of attendance for Notre Dame graduate students is $55,308 per year. More than 98% of students receive financial aid that covers all their estimated costs. Around 94% of graduate students receive either an assistantship or a fellowship that gives them $23,000 or more in help every year. The amount that students get will depend on the programs they choose. Students applying to the graphic design programs at the University of Notre Dame can get help applying for financial aid through the Office of Grants and Fellowships.