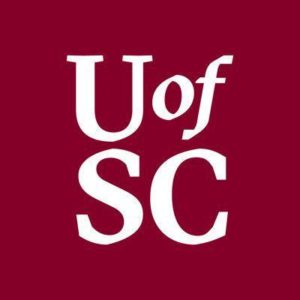 Degrees Offered at University of South Carolina
The University of South Carolina appears in our ranking of the Top 20 Best Visual Communications Degree Programs.
Students who pursue their degrees at the University of South Carolina can be sure that they're getting an excellent education at an excellent price. The US News and World Report ranked it 182nd on its Best Value Schools list. The school also ranks 104th in the National Universities category and 69th in the Best Colleges for Veterans categories.
Because it is an R1 research university, students have the opportunity to study alongside world-class researchers as they pursue their education. The school offers a number of popular majors, including degrees for professionals interested in careers related to graphic design.
The College of Information and Communications offers bachelor's degrees in advertising, broadcast journalism, information science, journalism, mass communications, public relations, and visual communication. Master's degrees in journalism and mass communications and library and information science are also offered. Two PhlD.s are also offered: a Library and Information Science Ph.D. and a Ph.D. in Mass Communication.
About the University of South Carolina
Founded in 1801, the University of South Carolina, or USC, is the flagship school in the University of South Carolina system. It's a public university dedicated to research. About 35,000 students attend school on the university's main campus.
The campus boasts an impressive number of amenities. There is the Carolina Coliseum, the Koger Center for the Arts, the Longstreet Theatre, numerous facilities for Olympic sports and the Carolina Stadium. Students can move about the campus with the help of the on-campus transit system. There are seven routes and 14 buses to accommodate students, faculty, staff, and visitors who need to get around the campus.
When they're not in classes or in the research lab, students can take advantage of the nightlife in Columbia, take part in team sports, hang out with friends in coffee shops, watch the Gamecocks play ball or spend an afternoon in Charleston or Charlotte, which is only about two hours away.
On campus, students can dive deeper into student life by living in student housing and becoming involved with campus life. The school boasts a number of different clubs, organizations, professional affiliations and honor societies. Organizations like Alpha Epsilon Delta, Tau Sigma, Kappa Kappa Psi, the Academy of Student Pharmacists, the Society of Women Engineers, Campus Crusade for Christ, Canterbury Community, the Association for African Students, the Indian Cultural Exchange, Jazz band, the Anime Club Nashi and the Thai Students Association are just some of the organizations on campus.
The school also boasts a number of research centers on campus, which include the Center for Digital Humanities, the Center for Colon Cancer Research and the Center for GIS and Remote Sensing. It is an R1 research university, a distinction which indicates that a very high level of research is conducted on campus. It's also home to the largest Hemingway collection.
University of South Carolina Accreditation
The University of South Carolina receives its accreditation from the Southern Association of Colleges and Schools Commission on Colleges.
University of South Carolina Application Requirements
The University of South Carolina makes applying a pretty straightforward process for all students from first-year freshman to doctoral students. This section is meant to give incoming students an overview of the application process.
It should be noted that some programs and departments may have exceptions to the following information. In light of that, it's best to check with the admissions office or the program in question when in doubt.
Freshmen (first-year students) must send in the following:
The application plus the school's $65 application fee
A self-reported transcript
Self-reported standardized test scores
Students may be asked at a later time to send in official scores and transcripts. However, they are not required to do so for the initial application. Additionally, the University of South Carolina does not require the writing portion of the ACT or SAT. Students who have been admitted to USC in recent years have scored between a 25 and 30 on their ACTs and between a 1200 and 1350 on their SATs on average. The GPAs were between 3.78 and 4.50.
Incoming students are not required to submit letters of recommendation to the school unless they're interested in being admitted to the Honors College.
The application process is slightly different for transfer students. They must submit the application and the application fee: International students pay $100. US students pay $65. However, the university does require them to submit their official high school and college transcripts, along with their completed SAT or ACT scores. Transfer students must have a GPA of at least 2.25 on a 4.0 scale.
The following information provides a general guideline for incoming graduate students. However, students in certain programs may be asked to submit different or additional application materials to suit the requirements of the department they're applying to.
Graduate students may be asked to submit the following:
The application and application fee
Resume or Curriculum Vitae
Official test scores: GMAT, GRE, etc.
Official college transcripts
Letters of recommendation
Portfolios/ essays or personal statements/ questionnaires
Students may be additionally asked for a teaching certificate or proof of a license, depending on the program. People who are applying as non-degree seeking should use the non-degree application.
Finally, students who are applying to a combined degree program must submit an application to each program in the degree combination. Being admitted to one program in the combination does not automatically mean being admitted to the other.
Tuition and Financial Aid
The University of South Carolina breaks down its tuition structure. Residents pay a different cost for tuition than non-residents do.
Undergraduates who are South Carolina residents pay just under $13,000 per year, while non-residents pay just under $34,000 per year. Housing costs for undergraduates are estimated at around $8,000. Meals will run about $4,000 for the year. Books and supplies will cost just over a thousand for the year.
Grad students who are residents pay just under $7,000 in tuition per year, while non-residents pay just under $15,000 per year. Students will be charged additional university-wide fees that may cost several hundred dollars.
It should also be noted that USC's specialty programs, like the RN to BSN or the MEd-Teaching, have different tuition costs than other programs on campus. The university has a list of prices for these speciality programs. It's best to check this page when figuring out a yearly college budget.
Students can apply for financial aid to pay for the cost of their education. The financial aid office helps University of South Carolina students to connect with different sources of financing, including loans, scholarships, assistantships, grants, and work-study. Scholarships are available for both residents and non-residents.
Apply to the University of South Carolina on the school's website.