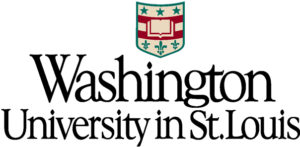 Graphic Design Degrees Offered at Washington University in St Louis
Washington University in St Louis appears in our ranking of the Top 20 Best Visual Communications Degree Programs.
Washington University in St Louis offers a Bachelor of Arts (BA) and a Bachelor of Fine Arts (BFA) in Design for graphic design majors. Students in either program can choose minors in book design, design history, fashion design, digital design, and other fields. The digital design minor includes Digital Design and Digital Studio. These courses give students access to state of the art labs and other facilities where they can use new software to create design projects.
The BFA program includes both a capstone and a final exhibition. Students need to take 65 credits of design courses that allow them to practice and improve their work. Art Practice, Design for Social Impact and Content to Cover: The Design of Books are some of the classes available for design majors. They can take other courses that teach them how to design graphic interfaces for mobile apps and sites and how they can use their skills to design for community centers. The capstone requires students to create a final portfolio of design work that they'll exhibit on-campus.
Students who choose the BA program do not need to do a final project or display their work. The university gives them the option of exhibiting in some of the galleries on or near the campus though. They can pick a concentration in design communication to focus on design projects and concepts that allow others to communicate through images. Majors also need to take nine credits of foundation courses in 2-D design, 3-D design and drawing. The university has a major course that students need to take each year too, which helps them show how their work progressed and changed from one year to the next.
Both BFA and BA students can take graphic design classes too. One class is Color Systems and looks at how colors work together. Typography I and II teach students about Times New Roman, Comic Sans and other typography methods that they can use as well as how people perceive each one. Other courses in graphic design that students can take include Communication Design I and II, Data Visualization and Word and Image I and II. Many of these courses are available online from Washington University in St Louis.
About Washington University in St Louis
Washington University in St Louis is a private university known as both WUSTL and WashU. Nearly 20 leaders came together in the 1850s to discuss the lack of choices for college students in the Midwest. They helped establish WashU in 1853. Most of the main campus is in St. Louis County, Missouri, but a portion of the campus is in Clayton, Missouri. Other centers called the North Campus and the West Campus, as well as the Medical Campus, are in different parts of St. Louis. The Commission on Presidential Debates selected the campus for several debates between candidates in 1992 and later years. ARWU, Wall Street Journal and U.S. News and World Report all rank WashU as one of the top 20 universities in the United States. WUSTL announced plans in recent years to increase the number of Pell Grants awarded to its students.
Washington University in St Louis Accreditation Details
WashU can grant financial aid packages to any student who demonstrates need on the Free Application for Federal Student Aid, which they can use as early as October first. This form is open to any student attending a college or university with regional accreditation. WUSTL has this accreditation from the Higher Learning Commission (HLC). With HLC accreditation, students can also send the university their transcripts and get credit for the courses they already took. The College of Art at WashU also has accreditation from the National Association of Schools of Art and Design (NASAD).
Washington University in St Louis Application Requirements
WUSTL accepts both the Coalition Application and the Common Application. Future undergrads should apply by August first, which is the final deadline for the fall term. Most students took a minimum of two years of foreign language classes and three years of history, social science and life or health science courses along with four years of English and math classes. The university asks for official transcripts to make sure that students took the same classes as their peers. Their transcripts should also show where they ranked among other students and both the grades they earned in their classes and their cumulative grade point averages. Though the university doesn't have a minimum GPA requirement, incoming students typically have a GPA of around 2.75 to 3.0 or higher.
Both applications include a supplemental essay that asks students to write about their reasons for choosing WUSTL and their interests in their future majors. The university will use those essays when looking at which students should get scholarships later. They also need to include a list of their hobbies and interests outside of school, including any awards they won or clubs they joined. Students need to provide a standardized test score too. WUSTL will only accept scores from exams taken by the beginning of December. All programs in the College of Art have a portfolio requirement. Students need to gather and present examples of their best work.
Tuition and Financial Aid
Every undergrad at WashU pays a $562 student activity fee each year and a $524 health and wellness fee. The second fee allows them to use the recreational facilities on-campus and to visit an on-site doctor when needed. These fees are on top of the $56,300 in tuition that they pay each year. Though room and board rates can vary, the average that students pay is $17,402 every year.
With the university's payment plans, students can have regular payments deducted from their bank accounts or charged to their credit cards. Students and their parents can qualify for a special plan where WashU will freeze the tuition rate and keep it the same for the next four years. Students can pay their annual costs with one payment or pay for multiple years of schooling. These plans are available for those who qualify for financial aid too, including the merit and need scholarships that go to incoming freshmen. Other financial aid for the students in the Washington University in St Louis graphic design programs can include work-study, loans, and grants.