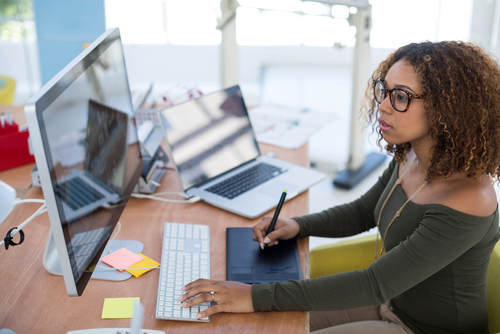 The opportunities for graphic designers are continuing to grow, someone who invests the time to build clientele and has diverse design abilities is able to build a successful career as a freelance graphic designer. In addition to having the necessary graphic design skills, freelance candidates in this profession must also have a unique skill set in order to manage time, clients, and projects. With this combination of skills, ability, and knowledge, there are a number of ways to get started in a freelance graphic design career.
Completing a Graphic Design Education
With a number of programs and institutions to choose from for earning everything from a certificate to a master's degree in graphic design, prospective freelancers can choose to pursue a specialized concentration in design or opt for a general education to prepare for handling various types of projects. Some programs offer specializations in multimedia design, print design, animation, or web publishing, for example.
In any program, students are likely to complete some common coursework. These courses often include principles of graphic design, animation, 3D modeling, illustration, imaging, and fundamentals of web video. Additionally, students will complete coursework in communication, history of design, typography, photography, and web tools. For additional information on education for graphic design, visit the International Council of Communication Design at http://www.icograda.org/.
Most programs are designed to prepare students for the diverse types of projects that are taken on by graphic designers. Completing a program in graphic design enables students to build skills in communication, conceptualization, and trend and design principles.
Additional Essential Skills for the Freelance Graphic Designer
Much of what a graphic designer needs to know can be gained through completing an educational or training program. Additional skills that are necessary for a freelance graphic designer help to gain clients, develop a reputation, and build a successful career.
One skill that a freelance designer must have is project management. With an understanding of the principles of managing a project, freelance graphic designers are able to guide clients and handle each step of the freelance process from budgeting to time management.
Skills in customer service is also a must. Working on one's own, a freelancer must be able to work effectively with and communicate with clients, delivering the end product that will ultimately satisfy a client. This helps to build a loyal clientele as well as to begin to build word of mouth referrals.
Networking is another skill that will enable a freelance graphic designer to build clientele. In today's web-based world, understanding how to use blogs, social media, and social networking websites is fundamental to this profession.
Getting Started
Once a graphic designer is ready to enter into the world of freelance, the best place to start is by publishing a portfolio and beginning to advertise. Additional options include utilizing job boards and online websites for freelancers to match up with clients. An online search for freelance graphic design jobs is an effective start for finding online resources.
Whether looking to work in a specific area of graphic design or to build a diverse portfolio, graphic designers are in high demand. Freelance graphic designers are able to find clients all over the world looking for skilled, creative, knowledgeable professionals to take on projects.
Related Resources: