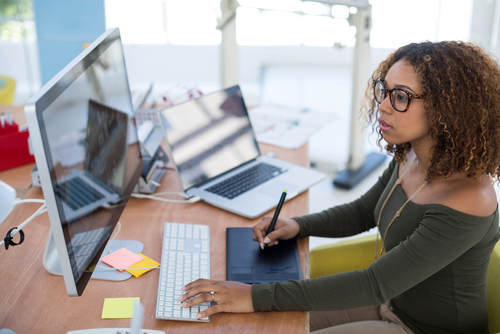 The opportunities for graphic designers are continuing to grow, someone who invests the time to build clientele and has diverse design abilities is able to build a successful career as a freelance graphic designer. In addition to having the necessary graphic design skills, freelance candidates in this profession must also have a unique skill set in order to manage time, clients, and projects. With this combination of skills, ability, and knowledge, there are a number of ways to get started in a freelance graphic design career.
Completing a Graphic Design Education
With a number of programs and institutions to choose from for earning everything from a certificate to a master's degree in graphic design, prospective freelancers can choose to pursue a specialized concentration in design or opt for a general education to prepare for handling various types of projects. Some programs offer specializations in multimedia design, print design, animation, or web publishing, for example.
In any program, students are likely to complete some common coursework. These courses often include principles of graphic design, animation, 3D modeling, illustration, imaging, and fundamentals of web video. Additionally, students will complete coursework in communication, history of design, typography, photography, and web tools. For additional information on education for graphic design, visit the International Council of Communication Design.
Most programs are designed to prepare students for the diverse types of projects that are taken on by graphic designers. Completing a program in graphic design enables students to build skills in communication, conceptualization, and trend and design principles.
Additional Essential Skills for the Freelance Graphic Designer
Much of what a graphic designer needs to know can be gained through completing an educational or training program. Additional skills that are necessary for a freelance graphic designer help to gain clients, develop a reputation, and build a successful career.
One skill that a freelance designer must have is project management. With an understanding of the principles of managing a project, freelance graphic designers are able to guide clients and handle each step of the freelance process from budgeting to time management.
Skills in customer service is also a must. Working on one's own, a freelancer must be able to work effectively with and communicate with clients, delivering the end product that will ultimately satisfy a client. This helps to build a loyal clientele as well as to begin to build word of mouth referrals.
Networking is another skill that will enable a freelance graphic designer to build clientele. In today's web-based world, understanding how to use blogs, social media, and social networking websites is fundamental to this profession.
Getting Started
Once a graphic designer is ready to enter into the world of freelance, the best place to start is by publishing a portfolio and beginning to advertise. Additional options include utilizing job boards and online websites for freelancers to match up with clients. An online search for freelance graphic design jobs is an effective start for finding online resources.
Degree Options for Graphic Designers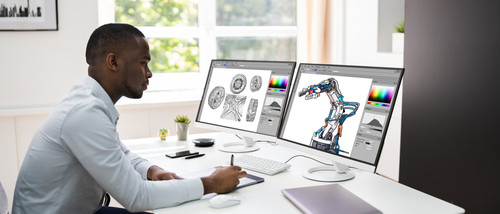 As with many computer-based professions, the degree options for working graphic designers vary somewhat in their focus and concentration. Some degrees provide a general overview of graphic design, and other programs allow students to specialize in a particular area or work with a specific program throughout their tutelage.

For future graphic designers who want to enroll in a college degree program, the degree sought will be a Bachelor of Fine Arts in Graphic Design, a Bachelor of Arts in Graphic Design, or a Bachelor of Science in Graphic Design. Degrees are available from private universities and public universities, as well as from institutions that offer online learning and on-campus instruction.

An alternative to earning a bachelor's degree in graphic design is earning an associate degree or enrolling in a certificate program. Community colleges in many states offer associate degree programs that are designed to take about two years. Certificate programs are also often designed to take about two years to complete.

Fortunately, graphic design is an extremely popular major, and it's often easy to find a local college or university that offers a graphic design program of some sort. For rural students who must travel to their institution for instruction, there are ample opportunities for online classes with local and nationwide schools.


Choosing a School Accredited by the NASAD

One of the basics of how to become a freelance graphic designer is finding a program that is respected in the industry, as well as one that has been approved by the National Association of Schools of Art & Design (NASAD). The United States has more than a half-dozen regional accrediting agencies that approve the operations at various colleges and universities around the country, but there are also program-specific organizations that approve individual departments and degrees.

NASAD is one of those organizations, and they accredit schools, colleges, universities, and conservatories. There are more than 350 accredited institutional members, and those members must meet the national standards for degrees and credentials to remain accredited. Graphic design is a specialty within the digital media section of the NASAD handbook, and the organization recommends that programs style their degrees as Bachelor of Fine Arts.

Some of the knowledge that must be part of an accredited program includes instruction on digital technology, lessons on narrative and language structures, and classes on developing and coordinating digital art. Future graphic designers are also meant to learn how to work in teams and collaborate on projects as they pursue their college degrees.


Graphic Designer Certifications for Career Advancement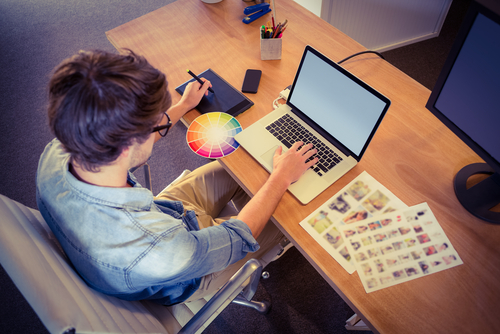 When choosing an educational path on how to become a freelance graphic designer, one of the decisions might include getting certified. There are several prominent programs used in graphic design where certification may help the job search. In selecting a candidate for a freelance graphic design job, an employer may choose the applicant who has certification in a program like Adobe Photoshop or Adobe Illustrator.

Here are some of the common Adobe certifications that freelance graphic designers earn:


Adobe Illustrator Certification
Adobe Certified Associate (ACA)
Certified in Adobe Photoshop
Adobe Certified Instructor (ACI)
Adobe Captivate Certification

A large portion of the work completed by graphic designers is handled with Adobe programs, which is why so many certifications exist for that company's programs. Additional certifications include those of Certified Graphic Designer, Graphic Design Certification, Advertising Design Certification, and Autodesk 3ds Max Certification.

Very few jobs actually require certification, but having certification may help a fledgling freelance graphic designer who doesn't yet have a solid client base land jobs with new employers. Graphic designers who don't yet have substantial experience may want to consider certification as a way to enhance their resumes.


Getting an Advanced Degree as a Graphic Designer

For some graphic designers, earning an advanced degree might be the best option for building a solid career as a graphic designer. However, a Master of Fine Arts in Graphic Design isn't necessary for everyone interested in how to become a freelance graphic designer. Earning an advanced degree is something that a graphic designer might want to consider when he or she wants to work in a position like industrial designer, art director, or animator.

On the other hand, many freelance graphic design jobs are temporary in nature and don't require the advanced knowledge and experience of a graduate degree. For freelancers who want to earn an advanced degree, the usual time to completion is about two years. Some degree programs may also require that the student completes an internship or a graphic design fellowship.

To enter an advanced degree program in graphic design, prospective students should already possess a bachelor's degree in graphic design. Students who have a bachelor's degree in a different discipline may need to take some remedial courses or prove that they have experience with programs like Adobe Photoshop. Some programs may also require that the student has some professional experience.


How to Become a Freelance Graphic Designer Without a Degree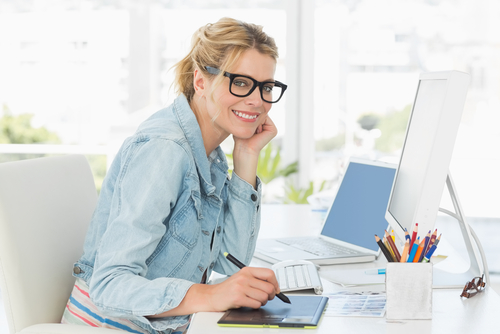 A college degree isn't an absolute requirement for those who want to work as a freelance graphic designer, but it can help when the designer doesn't have any work experience. The first step on how to become a freelance graphic designer without a degree is to learn the important software programs that virtually all graphic designers use. Adobe Photoshop is one of the most important programs for graphic designers, and Adobe Illustrator is another important program.

An excellent online portfolio is another important requirement for anyone who wants to work as a freelance graphic designer without a degree. A portfolio is the best opportunity an applicant has to impress a business owner and can mean the difference between landing a job or not when the graphic designer doesn't have a significant amount of professional experience.

In some cases, it may be necessary to work as an intern or in another assistantship-style job to gain experience that will eventually translate into paid work or regular gigs. Budding graphic designers without degrees can even pitch ideas to businesses with which they want to work.


Building a Client Base as a Freelance Graphic Designer

One of the most challenging aspects of how to become a freelance graphic designer is getting regular clients and landing new jobs. Working as a freelancer often means tracking down new jobs on a regular basis instead of heading into work at the same employer each day for what could become many years of employment.

Getting new clients may feel like a challenge because it does require that the graphic designer is able to sell his or her skills to the business. Not every artist is a natural salesperson, which may make the job of selling one's talents an acquired skill. Although the process may seem difficult at first, it will become easier over time and especially as the graphic designer gains experience with various clients.

Another benefit of building a solid client base is that clients may be willing to offer recommendations to other businesses, which may improve the chances a graphic designer has at securing more work. In some industries, it's possible to get additional work based solely on word-of-mouth, and recommendations may prove highly beneficial for a graphic designer who is seeking further projects.

The internet is an excellent tool for the freelance graphic designer because it allows him or her to find work in virtually any area of the country or the world. A look at the Occupational Employment Statistics page for graphic designers from the Bureau of Labor Statistics (BLS) indicates that the greatest concentrations of graphic design jobs are in the states of New York, Illinois, and Minnesota. It's likely that much of the graphic design work available in those and other states would be available to remote workers in other states.


Working as Once's Own Boss as a Graphic Designer

Another challenging facet of how to become a freelance graphic designer is having the skills to work as one's own boss. Even though a freelance graphic designer might work for a particular business for weeks or months, the very nature of freelance work is that the employee frequently works without supervision or without a direct supervisor.

Operating successfully as a freelancer often means setting personal goals and sticking to them. Some of the essential qualities that a graphic designer might need to act as his or her own boss include the following.


Time management skills
Expert-level graphic design knowledge
Decision-making ability
Budgeting and financial knowledge

One of the biggest problems some freelancers have in building their own freelance businesses is in delivering a project on time despite the fact that there is no one offering daily encouragement or admonishment regarding deadlines. It can take some time for new freelancers to understand the scheduling and goal-setting requirements of an independent schedule.


Related Professions for Graphic Designers

Graphic design is a highly competitive area of the job market, and making one's mark as a freelance graphic designer is challenging. It may take some time until a freelancer has enough independent work to sustain a suitable income, which means a new digital artist might need to work in related areas while building his or her clientele as a graphic designer.

Further, veteran graphic designers may want to expand their skills to include the skills of related occupations. Becoming skilled in more areas can mean advances in the career level of a graphic designer, as well as opportunities to own a business or work as an art director, industrial designer, web developer, or multimedia animator.


Get Gigs with a Solid Portfolio

At the end of the day, one of the strongest recommendations for any graphic designer is having a solid portfolio that includes examples of work used in past jobs, as well as examples created privately and during school. It may help to create unique portfolios for each client where work is showcased that might appeal to whatever it is those clients are searching for in a graphic designer.

A portfolio should not only present the graphic artist's work in a unique way, but it should also be designed in a way that caters to brief attention spans. Graphic design jobs are a highly competitive area of the art world, and companies hiring freelance graphic designers receive many applications for each job. Only the most unique applicants will rise to the top of the stack.
Whether looking to work in a specific area of graphic design or to build a diverse portfolio, graphic designers are in high demand. Freelance graphic designers are able to find clients all over the world looking for skilled, creative, knowledgeable professionals to take on projects.
Related Resources: