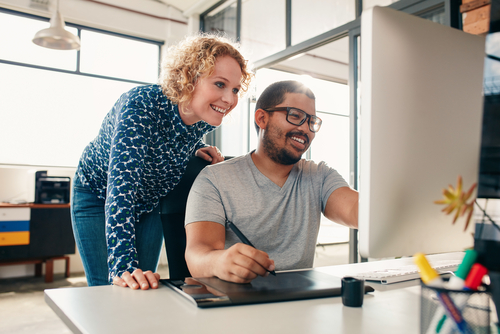 If you are currently a graphic designer, marketing communications specialist or a profession involved in the design industry, it is important to pay attention to the rise and importance of social media. Whether its Instagram, Pinterest, Facebook, Twitter or Tumblr, social sites and their various platforms are definitely changing the digital marketing landscape. Here is a comprehensive overview of why graphic designers should learn how to master social media.
Web 2.0 Changes the Internet
With the advent of social sites like Facebook and Twitter, it is important to understand that the internet has become a much more live, robust and interactive marketplace. Long gone is the relative flatness of the internet. For businesses of all sizes to remain relevant, it is important for them to create a comprehensive social strategy. While front end development and the actual layout and design of a website it is important, it is just as important for a firm or business to have a serious social presence. Developing and sustain relationships with online audiences through social platforms is how businesses reap and grow huge profits in the long run.
How does a Graphic Designer play a role?
Graphic designers play a large role in social media mainly because audiences are going to demand more real-time and interactive content. Various outlets will still have ample opportunities for advertisers and marketing agencies to develop visually appealing content such as ads, memes, banners and other imagery. Graphic designers also play a role in maintaining a site's user experience. This means that graphic designers will work hand in hand with user experience architects, content strategists and other digital marketing professionals to ensure a live, interactive and appealing feel.
Will Graphic Design Diminish in Importance?
Graphic designers become even more vital to companies using social media. Social sites will increase the relevance of graphic designers because users will demand more content more frequently. Graphic designers will then need to stay abreast of new changes in the design industry in order to constantly appeal to users across the board. Whether its experimenting with new typography or figuring out new ways how to create appealing ads, graphic designers will always have a place.
Do Social Sites hire Graphic Designers?
Without a doubt major social sites like Facebook, Twitter and Pinterest will need to hire savvy and innovative graphic designers. Even news sites and other major online portals are creating their own web 2.0 functions that require the need for a graphic designer. More importantly, many businesses have figured out ways to maximize their social presence and will need the help of graphic designers to do it.
It is without a doubt that graphic designers will always have a role to play in the digital marketing world. Many ways exist for digital and print designers to help websites increase their relationships with their online audiences. The best thing any graphic designer can do is to always stay abreast of changes in the social media industry to learn how to better integrate their skills.