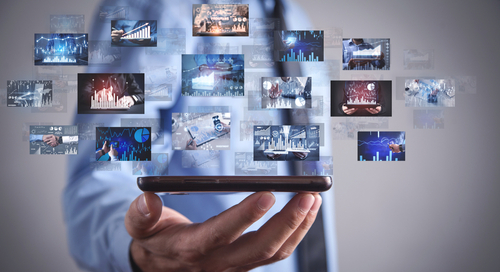 If you have ever thought about pursuing a career in a technological field that emphasizes the creative use of computers and other electronic devices, an important question has probably crossed your mind: "How is multimedia and web graphics different?" By reading the information found below, you can obtain an answer to this question and several others that pertain to the fields of multimedia and web graphics.
Multimedia-A Brief Overview
In defining multimedia, Margaret Rouse states that it involves the use of more than one presentation mediums to communicate with an audience. Thus rather than incorporating text or sound, multimedia would incorporate the use of two presentation formats such as text and sound. In addition to melding formats such as text and sound, multimedia can incorporate the simultaneous use of the following mediums:
Text, sound, and animated images
Text, sound, and images from videos
Sound and video
Multiple display areas, presentations, and/or images presented at the same time
Speakers or actors who make use of "props" with text, sound, images, and/or motion videos
Although one can observe a confluence between multimedia and traditional movies or motion pictures, the production scale is typically less expensive and smaller for the former mode of presentation. Additionally, multimedia can incorporate audience involvement, in which case it becomes a form of interactive multimedia. The interactive elements used within multimedia can include things such as text entry, voice command, touch screen, mouse manipulation, live participation, and video capture of the user.
Web Graphics-The Basics
Web graphics are basically visual representations that appear on a website. The purpose of web graphics is to enable or enhance the representation of a feeling or idea for the purpose of appealing to the user's emotional, intellectual, and/or aesthetic sensibilities. Graphics can educate and entertain users while strengthening a business's branding efforts. Additionally, web graphics can facilitate clarity of illustration. Some examples of graphics include photographs, maps, family trees, designs and patterns, engineering and architectural blueprints, diagrams, typography, line art, schematics, flowcharts, and pie charts.
Multimedia and Web Graphics: The Fundamental Differences
Once you grasp the basic definitions of multimedia and web graphics, the fundamental differences between the two entities becomes plain. While multimedia incorporates the use of multiple mediums to present information or entertain, web graphics make use of visual representations for this purpose. Thus while multimedia involves the synergistic use of at least two modes of information transmission, web graphics can incorporate just one: visual images. Additionally, web graphics are specifically designed to appear on an internet site, whereas a multimedia presentation can exist in the format of a movie, PowerPoint Presentation, interactive DVD, CD-Rom, and more.
Another interesting difference between the worlds of multimedia and web graphics concerns career opportunities in the respective fields. For example, an individual who works as a multimedia artist is responsible for creating visual and animation for television, video games, movies, and other media formats. On the other hand, a web graphic designer works by creating visual concepts that will be displayed on a website. As mentioned earlier, the difference between the two fields is that the former incorporates use of multiple communicative platforms (visuals, animation, etc.) while the latter incorporates singular presentation (visual).
Conclusion
If you are thinking about pursuing a career in the fields of multimedia or web graphics, you should know that doing so can be personally and professionally rewarding. Now that you have obtained an answer to the important question "How is multimedia and web graphics different?," you can determine which vocational path would be most suitable for you.
Related Resources: