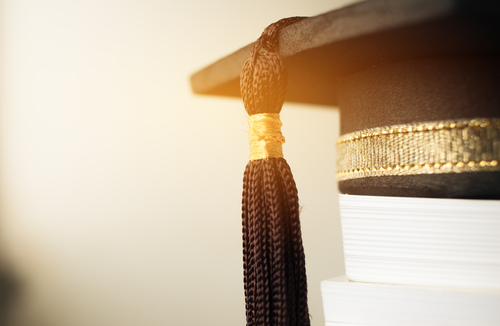 Getting a master's degree is always a difficult decision because of the significant academic and financial commitments involved. Still, there are definite benefits to getting a master's in graphic design for certain students.
Extended Education
Competition is stiff for graphic design internships and jobs. Students without job experience can gain academic-based on the job training through tangible tasks and interactive work environments. A master's program may substitute for an internship. A master's program will increase marketability and improve the attractiveness of a resume. For working graphic designers, a master's in graphic design will allow students to enhance and expand their skills under the watchful eyes of graphic design teachers. A master's in graphic design is an excellent choice for an established professional who wants to increase their career options through specializing in a certain field.
Program Specializations
Many master's programs offer specializations that will teach the student advanced techniques and emerging technologies. A multimedia design specialization will include career-enhancing courses about advanced imaging, illustration and animation. Students will learn about how to create web videos and construct 3D models. A motion graphics specialization will focus on the graphic elements and sequences that are the technical foundations of the media and entertainment industries. Motion graphics programs teach students how to create web-based ads, mobile device graphics and professionally handle project conceptualization and image making. An animation specialization will help students develop the skills and creativity needed to generate real-world design scenarios.
Program Options
According to the Professional Association for Design (AIGA), there are different academic options available for masters in graphic design programs. A Master of Fine Arts (MFA) is the universally recognized prerequisite for any graphic designer who wants to become a college professor. These programs generally take two to three years to complete. Master of Design (MDes) and Design Master of Business Administration (DMBA) programs are usually two-year programs that specialization in a certain field. The DMBA offers an equal focus on design and business skills. Master of Arts (MA), Master of Science (MS) and Master of Professional Studies (MPS) programs are typically shorter and only take one to one and a half years to complete.
Career Opportunities
Employers now expect potential hires to have in-depth training and advanced skills that bachelor's degrees alone do not provide. A master's in graphic design will empower the student to work smarter and make more money. Employees with a master's accreditation statistically earn higher pay because they win more promotions and are offered more challenging projects. They will also enjoy higher job security and lower unemployment rates. The competencies and knowledge gained from a master's in graphic design program will elevate the individual above their colleagues. Master's degrees are an investment that will result in future career opportunities.
In addition to these reasons, master's degrees also open academic doors for entering a doctorate program if the individual wants to become a college professor. A master's degree is also a valuable investment for students who want to hone their skills and study applied and advanced technologies.
Related Resources: