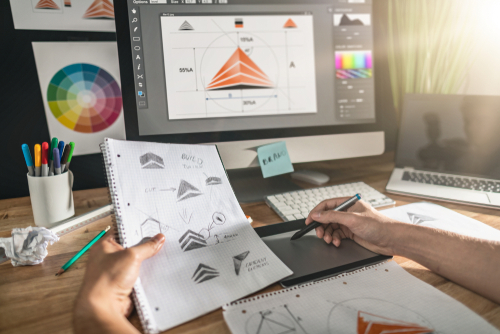 A master's degree in graphic design provides many career opportunities. The primary reason to get a master's degree in graphic design is to become a manager, specialist or corporate professional. Educators get a master's degree in graphic design if they want to teach in business or academic settings. Below are additional job opportunities within the field of graphic design.
Graphic Design Teacher
A graphic design teacher uses established curriculum to develop new materials, innovative assignments and engaging content for classes. Their main job is to teach students about current industry best practices through contemporary trends and techniques. They leverage a variety of delivery methods, such as one-on-one coaching and small group lectures, to create academic environments that are conducive to student growth and professional development. Graphic design teachers score tests, projects and assignments based on industry standards and future client expectations. They must help students understand, implement and complete all production phases of a product's life cycle. Some graphic designers participate in curriculum development through recommending textbooks, equipment, library materials and online resources. Graphic design teachers must stay current with technological changes and developments in their areas of expertise.
Systems Designer
Many systems designers work for corporations to re-develop or re-design web-based content. For example, they may work with corporate trainers to revise online instructional content and multimedia. This means that they must maintain strategic partnerships with departmental managers in order to understand their work processes, standards and expectations. They may work with production managers to understand safety regulations and quality work procedures in order to create engaging and accurate online training content. When discussing OHSA safety rules, they may use design elements like interactive text and graphics to communicate the logical sequence of mandatory actions. These graphic designers may develop new solutions to meet defined objectives, target audiences and required content. They must understand complex content from different sources in order to proficiently communicate it to others.
Publication Specialist
A publication specialist produces engaging graphics for a variety of digital and print publications. They coordinate with managers and graphic designers on multiple projects while working with publication staff to edit and finalize graphic deliverables. These graphic designers must have impeccable attention to detail and organizational skills to maintain perfect quality. They work with cross-function publication personnel to develop, present, edit and finalize graphic concepts and illustrations. They usually develop and maintain graphic archives or libraries of past projects. They use archived materials to create standard templates for staff. They work with management to standardize layouts, formats and workflows. They create graphic requirements and technical checklists for vendors to ensure high quality materials. These graphic designers must be skilled in information retrieval, reference and organization.
The Professional Association for Design (AIGA) states that there are unique degree options for master degrees in graphic design. The Master of Fine Arts (MFA) is the most common degree for graphic designers. The Master of Design (MDes) and the Design Master of Business Administration (DMBA) degree programs focus on both design and business content. The Master of Arts (MA) and Master of Science (MS) degree programs are usually shorter and offer generalized content.
Related Resources: